Transparent supply chains are a vital step to improving working conditions.
Knowing where your clothes are made, and who made them, is a vital step in improving working conditions.
Rizwan said that supply chain transparency is useful for workers like him, especially during strikes. 
Rizwan said that following repression by factory owners and the government during the recent workers' wage strikes in Bangladesh, local grassroots organizations and unions were able to help workers by alerting brands that they produced for and work toward a resolution. They were able to do so because many more brands had publicly disclosed the names, addresses, and other information about their factories, making it easier for workers to reach out to them through labour advocates. - (name changed for safety)

Take action!
Call upon companies to take action. American Eagle Outfitters, Armani, and Urban Outfitters have refused to publish their factory lists or not even engaged us at all. We have been asking them to #GoTransparent since 2016! Take action now, because whether a company sells luxury garments or discounter clothes, whether they are a supermarket, retailer, high street brand store or high end designer, workers and consumers have a right to know where they make their clothes:
Read our latest report "Fashion's Next Trend" and tell your friends about it.
Check whether your favourite brand is doing enough to tell the world who makes their clothes. If not, send them a note on social media using the hashtag #GoTransparent.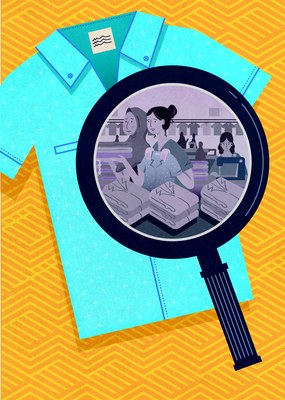 Campaign victories

We started in December 2019 by targeting five different brands. Some of them already acted.
In February 2020, River Island - one out of five campaign targets in the 2019-2020 #GoTransparent campaign - signed The Transparency Pledge!
In 2021, also Carrefour published its supplier list but without signing the pledge or fully living up to its standards, so it still has a way to go.
What is the problem?
Do you know how to find out exactly where your clothes were made, and under what conditions? Neither do we!
We often lack meaningful information about where our clothes and shoes were made. A T-shirt label might say "Made in China," but in which of the country's thousands of factories was it made? What were the working conditions of the workers—mostly women—in these factories?
Demanding that apparel companies publish their supplier factory information could help workers by allowing unions and other labour advocates to alert brands to labour abuses in these factories. Knowing the multitude of brands that a factory produces for can help brands co-operate on solutions to labour rights problems.
Often workers do not know who they are producing for and thus cannot contact the company at the top of the supply chain if they experience workplace violations. Often workers and activists have to take high risks to collect brand labels in orders to know who to reach out to for justice. This information could be available with a few simple mouse clicks if only brands would be more transparent.

Who needs to act?

In recent years, a number of brands have taken promising steps. Clean Clothes Campaign, together with eight other organisations, asked brands to sign The Transparency Pledge, and start publishing their production locations as a first step toward making the industry more transparent and fostering an environment of accountability and protection of human rights of workers.
When we first reached out to brands in 2016-2017, some companies have been very responsive, others only caved in after a public campaign and 70.000 signatures being delivered to their front door. In 2019 we asked them again, now also including some important online retailers, and although many took steps, including Amazon, still a lot of companies have refused to take action.

In 2019 we reached out to Responsible Business Initiatives in which brands work together to create more sustainable supply chains, asking them to make transparency a requirement for their members. As they say they want to work towards industry best practices, being transparent should be high on that list.

The importance of transparency became horrifyingly clear after the Rana Plaza collapse in Bangladesh in 2013.
At first, most brands denied that they were producing clothes there.

Labour rights advocates had to literally rummage through rubble for months to find brand labels.
This should never happen again.
This is the reason this campaign started, why the Transparency Pledge Coalition was founded and why transparent supply chains are one of our focal points.
There are many situations where it is vital to know which brands are producing in which factory.

When a problem occurs, like workers being denied their payment, union busting, sexual harassment or any of a number of other rights violations, it is often the brands that can have the most influence on correcting the situation, as these violations are often also explicitly against their own stated rules of business.

Trade unionists, worker rights activists and others actors can work much more effectively with this information.

And of course it should be a fundamental right of yours, as a consumer, to have a simple answer to the question "Who made my clothes, and under what circumstances?".

The eight human and labour rights organizations and unions that created the Transparency Pledge in 2016 have laid down the results of their outreach to brands in two reports: Follow the Thread (2017) and Fashion's Next Trend (2019). Below you can find the outcomes of the 2019 outreach in two tables, showing which companies are aligining with the Pledge standards and which ones are still very far from it. 
Publications on transparency