Good news: major wins on Pay Your Workers factory cases
Three cases of severance and wage theft and union busting that the Pay Your Workers coalition campaigned on as part of its struggle for a binding agreement on back wages, severance and freedom of association have been won recently!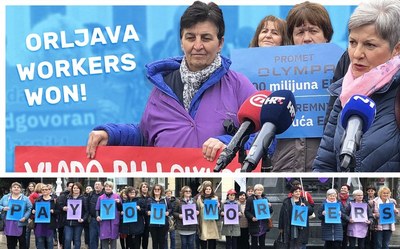 Trax Apparel union leaders receive back pay and rehire opportunities
In February 2023, at adidas supplier factory Trax Apparel in Cambodia, eight union leaders who had been fired and discriminated against were given the option to be reinstated with full back pay after being fired nearly three years ago. In June 2020, Trax Apparel suspended, then terminated, 368 workers, including the leaders of a newly formed independent union, citing a need to downsize. By December 2020, management had offered to rehire most of the workers affected by the downsizing, but refused to rehire any of the union leaders and activists. After activism by the Pay Your Workers coalition, including students in US universities with adidas apparel, these union leaders received back pay and the opportunity to be rehired. 
JNB workers in Guatemala
In March 2023, seven JNB workers in Guatemala who were cheated out of their right to severance and were fired illegally in February 2021 have been rehired and the rights of all 400 workers were restored. During the pandemic, workers had been forced to sign new contracts with falsified (later) hiring dates, thus stripping them of built up benefits. Those who refused were dismissed unlawfully. After engagement and campaigning, including solidarity by retail workers at Target stores, JNB replaced the JNB Global workers' illegal contracts with new ones that correctly state their original dates of hire, restoring the workers' full rights to severance and other seniority-based benefits.
Former Orljava workers receive severance
In March 2023, after 18 months of struggle, including international campaign actions, press conferences, and protests, workers at the Croatian factory Orljava won their fight for severance. Orljava is a garment factory in eastern Croatia, which produced business shirts for the German high-quality shirt brand Olymp for over 50 years. When Covid-19 hit, Olymp began drastically cutting orders at the Orljava factory, forcing the factory to begin laying off some of its 300 workers. By April of 2021, Olymp - the factory's largest buyer, representing 80% of production at the factory - stopped making orders altogether. Orljava went bankrupt and laid off the remaining 172 workers. The 237 former Orljava workers will receive a total of €491,074.40, more than €2000 per worker, from the Croatian government, which owned the factory. This is a precedent-setting victory, not just for the Orljava workers and their union Novi Sindikat, but for all workers at government-owned factories.
The struggle continues
While we believe workers shouldn't have to fight for what they are legally owed and all brands should sign the #PayYourWorkers agreement to ensure this, we know that we will have to continue to support individual cases until brands realise that signing an agreement is a much simpler solution than engaging with every single factory fight as well as push brands to sign the agreement to settle all cases.
Later in March therefore, activists in the US interrupted a breakfast meeting with North American adidas CEO Rupert Campbell. Activists spoke up in the packed room about the struggles of adidas workers in Indonesia and Cambodia, including the plight of the Hulu Garment workers, unfurled a banner and started chanting "adidas, Pay Your Workers". The event was ended early right after that and participants passed more protesters on the way out.
In April, activists together with former Hulu Garment worker Chhorpesal Chhom prevented an adidas representative from speaking at a sustainability event by picketing outside. 
The struggle continues.