Compensation arrangement agreed for victims of the Ali Enterprise factory fire in Pakistan
An agreement in excess of US$5 million has been reached to provide compensation for loss of income, medical and allied care as well as rehabilitation, to the victims of one of the worst industrial accidents in Pakistan. It results from the ILO facilitation and coordination of consultations during a recent mission to Pakistan from 25 July to 5 August.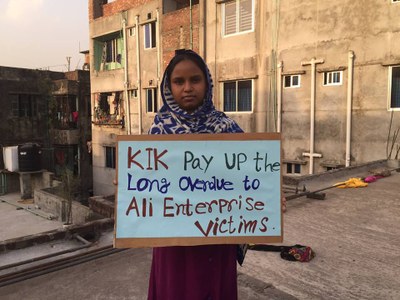 The tragic fire at the Ali Enterprises garment factory in Baldia, Karachi, on 11 September 2012, is reported to have taken the lives of more than 255 workers and left 57 workers injured at the time of the accident.
On requests of the German Federal Ministry of Economic Cooperation and Development and the Pakistani Ministry of Overseas Pakistanis and Human Resource Development, the International Labour Organization (ILO) has been enabling talks with the German retailer KiK, IndustriALL Global Union and the Clean Clothes Campaign since May 2016 to arrive at the compensation arrangement, in accordance with the ILO's Employment Injury Benefits Convention 121.
Victims of the Ali Enterprises fire have been receiving some payments from public social security schemes in Pakistan to compensate for loss of earnings and medical care as per the Sindh Province Employees' Social Security Act.  KiK, which was Ali Enterprises' main customer, had already paid US$1 million in emergency compensation in December 2012.
As a result of the recent discussions, KiK voluntarily agreed to pay an additional US$ 5.15 million to fund the gap to top up the statutory benefits due from the Sindh Province Employees' Social Security Institution to meet the requirements of Convention 121.
All Parties are pleased with the agreement and look forward to working together at the national level for a tripartite-plus process to pay the additional periodical payments to the victims starting at the beginning of 2017.
At the same time, stakeholders called for more robust social insurance schemes in Pakistan and a pressing need to improve garment factory safety and inspection procedures as well as compliance with social security laws to prevent another such tragedy from occurring.
The factory fire at Ali Enterprises in Baldia, Pakistan, represents one of the most deadly accidents in the garment sector, along with those such as the Rana Plaza collapse and the Tazreen factory fire in Bangladesh.
Gerd Müller, German Federal Minister for Economic Cooperation and Development, said: "Our Textiles Partnership is making a difference. And it is doing so in a totally new way. What had not been possible in four years of controversy between the parties has now been achieved through our mediation work and will provide tangible assistance to the victims and bereaved family members of the terrible fire at the Ali Enterprises textile factory in Pakistan. In other words, the environmental and social standards that we have jointly drawn up are not just a piece of paper but are leading to concrete improvements in the living and working conditions of garment workers in factories on the ground."
Gilbert Houngbo, Deputy Director General of the ILO, said: "It is satisfying that the ILO facilitated resolution to the long standing discussions on compensation for workers around the fire of the Ali Enterprises is now completed. The ILO believes that significant further investment is needed to improve the situation of workers in Pakistan in the garment and other sectors, including the effective access to employment injury benefits. We reiterate that good practices in the world of work can only continue to benefit both employers and workers. The ILO would like to thank all parties for their cooperative and constructive approach in this matter."
Patrick Zahn, CEO of KiK Textilien und Nonfood GmbH, said: "We welcome that all the parties involved on an international level have now finally come to an agreement that will benefit those affected by the Ali Enterprises factory fire. With our financial contribution, we have taken over responsibility for the victims on a voluntary basis going beyond national requirements. This was truly important to us. We are grateful for the support of many parties in the past months and years, among them the Ministry for Economic Cooperation and Development, which has enabled constructive talks within our Partnership for Sustainable Textiles. We especially thank the ILO for its thorough fact-finding and its recommendations aligning the manifold expectations."
Jyrki Raina, general secretary of IndustriALL Global Union, said:  "Finally, on the eve of the fourth anniversary of the Ali Enterprises factory fire, the injured survivors and families of those killed in the Ali Enterprises fire can look forward to proper compensation. We commend KiK for agreeing to fund compensation that meets international standards and our thanks go to all the parties that have worked hard to produce this agreement. Now we must fight for a safer garment industry in Pakistan so that this terrible tragedy is never repeated."
Ineke Zeldenrust, International Coordinator of the Clean Clothes Campaign, said: "We welcome this agreement which will now ensure direct payments are made to those who suffered such huge losses as a result of this disaster. This agreement was negotiated with the support of Pakistan organizations that are directly supporting families of those killed and the survivors of the fire. We take this opportunity to pay tribute to their bravery and strength in their ongoing fight for justice."
The content of the agreement:
The implementation, administration and governance of the Arrangement will be developed in a process facilitated by the ILO. It will involve close consultation with relevant constituents and stakeholders, as well as a supervisory role for the Sindh High Court.
The total amount for payments for loss of income and medical costs under ILO Convention 121 amounts to US$6.6 million. KiK will have covered US$5.9 million in total (this includes an amount of US$ 1 million already disbursed as part of an earlier separate agreement reached on 21 December 2012), while a further US$0.7 million has been funded by SESSI. KiK will also fund a US$0.25 million margin for a fluctuation in costs. 
The amount each claimant will receive will differ according to each individual's financial situation and number of dependents.
It was agreed to use the ILO proposed proxy wage of Rs 25,525 as the reference wage to calculate benefits as the actual wage records could not be available. The parties agree that these are not living wage levels, but do agree on the proxy wage used as a fair and generous reflection of the actual wages earned, based on ILO findings and considering that the ILO standard of Convention 121 is intended to ensure income replacement as is normal under social insurance.
Other payments made to victims in the past or future, such as payments by government representatives, employers or other institutions than SESSI that covered other type of losses, or charity payments will not be subtracted.
The Arrangement does not cover damages for pain and suffering.