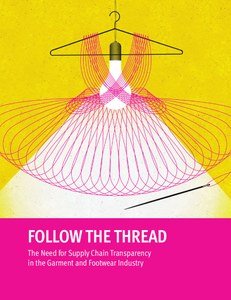 Follow the Thread - Demand transparency now!
Do you know how to find out exactly where your clothes were made, and under what conditions? Neither do we! We often lack meaningful information about where our clothes and shoes were made. A T-shirt label might say "Made in China," but in which of the country's thousands of factories was it made? What were the working conditions of the workers—mostly women—in these factories? 
Demanding that apparel companies publish their supplier factory information could help workers by allowing unions and other labor advocates to alert brands to labor abuses in these factories. Knowing the multitude of brands that a factory produces for can help brands co-operate on solutions to labor rights problems.
The "Follow the Thread" Campaign is asking Forever 21, Urban Outfitters, Walmart, Primark, and Armani to commit to the Transparency Pledge developed by the coalition by May 31, 2017 and implement it by December 31, 2017. This is the first step in making the industry more transparent and fostering an environment of accountability and protection of human rights of workers.
Sign the petition. Find out more by reading the report. Find out more about what level or transparency brands committed to.
Brand responses: an overview
Below you find the overview of how brands have reacted to the Pledge.
You can also view the full table online, where you can filter and search.