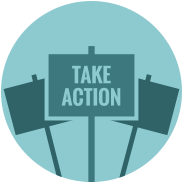 There are many ways to help the fight for better conditions for garment workers.
Our experience shows that momentum for change is growing, and that the power of connecting the struggles that garment workers are conducting with active citizens in garment-consuming countries is working. There is still a long way to go, but together we can make change happen.

Use your voice on social media!

Help spread the word, amplify our message or ask your own critical questions of brands. We can be found at the following places:

Ask questions!
When you shop, please show you care about workers rights in the brand or retailer's supply chain by asking questions on how the clothes you are buying are being produced.
To help you do that, we've made a handy PDF card which you can print out and give to the employees in the shop or send to a brand or retailer's headquarters.
Stay informed!
Subscribe to our newsletter Threads, appearing six to eight times a year, to keep informed of our most recent news and action requests.
Support campaigns and petitions!