70,000 people demand that Armani and Primark reveal where they make their clothes
70,000 people call upon major garment brands and retailers Armani, Primark, Urban Outfitters, Forever 21 and Walmart to make transparency part of their New Year's resolutions and publicly disclose the factories that produce their clothes. Throughout January, activists will deliver golden boxes of signatures to luxury brand Armani and cost-cutter Primark in major European cities. Other targeted brands can also expect to find signatures left on their doorsteps.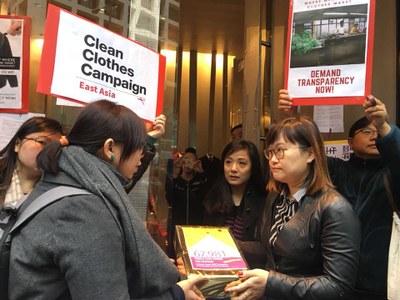 The golden signature gift boxes are the culmination of the global #GoTransparent campaign, led by Human Rights Watch, Clean Clothes Campaign, and International Labor Rights Forum. The campaign launched a minimum global standard of transparency for the garment sector - the "Apparel And Footwear Supply Chain Transparency Pledge", and convinced seventeen brands to commit to publish information about the factories they source from, including addresses and numbers of workers.
The #GoTransparent campaign specifically targeted the five brands Armani, Primark, Urban Outfitters, Forever 21 and Walmart, which are considered to be among the most secretive about their supply chain data and who refused to commit to more transparent supply chains by signing the pledge.
The information that the "Transparency Pledge" is meant to unveal is vital for workers and activists to be able to alert brands to labour rights violations in their supply chains. Transparency in supply chains will help prevent such dramatic gestures as needed after the Rana Plaza collapse in Bangladesh in 2013, when workers and activists had to re-enter the ruins of the building to search for brand labels. They had to risk their lives to establish who should be held responsible for the tragedy.
The five targeted brands appear to be out of sync with the growing trend towards more transparency in the garment industry. A decade ago, universities in the United States started to require more transparency from the companies producing university apparel. More recently, many global brands are taking the necessary steps to reflect international standards towards supply chain transparency. Several brands in 2017 decided to make the move from no transparency at all to full compliance with the "Transparency Pledge", including ASICS, ASOS, Clarks, New Look, Next and the Pentland Brands. Following their commitment to the Pledge, ASOS summarized the change in sentiment among these brands as such: 'All roads lead to transparency. If our practices in the fashion industry are not good enough to tell our consumers about, then they're just not good enough.'
Ben Vanpeperstraete of Clean Clothes Campaign says: 'Any brand that refuses to share information about their supply chain should be a huge red flag for consumers. What are these brands hiding? Do they even know where their clothes are coming from? If brands are taking the necessary steps to prevent labour abuses in their supply chains, then they shouldeagerly want to share detailed information about the factories and workers who make their clothes with the public.'
Background:
The current momentum towards supply chain transparency is reflected in a number of recent global initiatives, such as a motion by the European Parliament in April 2017, on "the Flagship Initiative in the Garment Industry", calling for transparent supply chains and due diligence. Also in April 2017, 79 European civil society organizations sent an appeal for more transparency in the garment industry to the European Commission. Furthermore, footwear brands were urged to show more transparency, in a petition by the Change Your Shoes coalition, consisting of a range of labour rights organizations in Europe and Asia.
Read more on our campaign page.