This blog aims to collect daily information about how the new Coronavirus COVID-19 is influencing garment workers' rights in supply chains around the world. It will be updated as new information comes in from media and the Clean Clothes Campaign global network. Information is posted as it comes in from the network and cannot always be double-checked.
31 March 2020
Global: An article in Huckmag gives an overview of effects the pandemic and measures following it has on workers. The article reports that "in Bangalore, the shutdown has affected nearly 600,000 workers. "The State Government of Karnataka has instructed companies to pay the salaries and not terminate any kind of workers either casual or contract, but the management has informed the workers that they will need to compensate for this by doing overtime and working on Sundays," says Jayaram K R from the Garment and Textile Workers Union (GATWU) in Bangalore. ... In Sri Lanka, Anton Marcus of the Free Trade Zones & General Services Employees Union says garment factory owners are reporting brands curtailing orders by up to 40 per cent. "Some employees said their brands informed them not to send garments they have manufactured because they can't take the responsibility and their warehouses are closed and therefore they cannot send funds," Marcus says. "These employees were told they will be paid salaries for the month of March, but they will not be paid April's salary.""
UNI Global Union urges fashion retailers to take responsibility for their workers during the coronavirus pandemic by guaranteeing employees a full income and committing to protect their jobs until the recovery.
Bangladesh: Articles in the New York Times and Forbes sum up the consequences of declining Western orders for workers and factories in Bangladesh. CCC network organizations report that many workers cannot return to their home towns or villages because of suspension of public transport, cannot practice social distancing in crowded hostels, and do not know when they will be paid. 

Cambodia: Media report that nearly 200 factory workers of Jacka Shoes Manufactory Co Ltd in Kampong Speu province's Samraong Tong district staged a protest after being suspended without due compensation.
India: According to media reports many workers are stuck in factory hostels where social distancing is impossible. An article by the BBC describes how the lock down in India has turned into a humanitarian crisis. CCC network organizations report they deliver food support to migrant workers who do not return home as they are not entitled to state food support. 

Pakistan: CCC network organization NTUF is providing emergency food support to workers together with the EDHI foundation.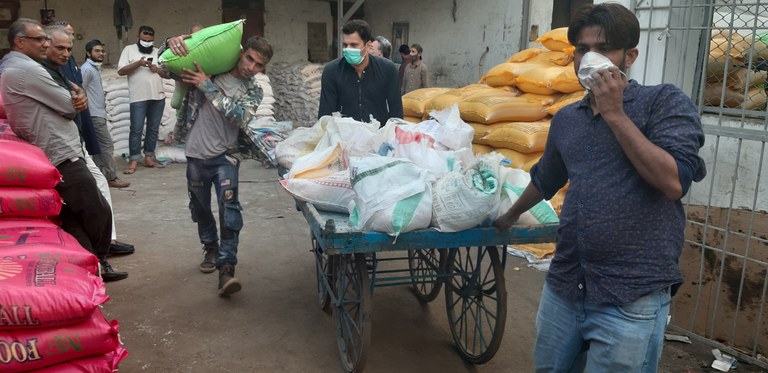 Ukraine: Reports from the CCC network state that workers are requested or forced to take unpaid leave during the lock down. This is against the law as leave should be voluntary.
30 March 2020
Global: A new academic paper "Abandoned? The impact of COVID-19 on workers and businesses at the bottom of global garment supply chains" gives an analysis of recent developments in garment supply chains.
H&M has announced that it will pay for the orders that have already been completed after all. It will pause new orders. The company also announced that it has donated to an emergency fund.
Albania: Despite early and strong measures on public life, including closure of schools and public offices, CCC network organizations report that many business in Albania continue operate, such as mines, call centres and garment and shoe factories. Women in garment factories continue to work close to each other, in no conditions to ensure their safety and of the rest of the communities they live with. Two weeks ago, women workers were protesting in the yard of a factory in Tirana, because they were fearing for their life under these circumstances. The next day another protest took place in another factory in the suburb of Tirana. Factory owners state that workers are free to choose if they want to come, but they won't get paid if they do not show up. In some factories in South Albania factory managements are reported to "explain" to workers that the virus is exaggerated by media. When in the ProDyn factory in Tirana a first case of a 38-year-old woman worker infected with Covid-19 virus was confirmed, the factory continued to operate normally despite the concern expressed by the workers. Just three days later, after 10 other workers showed symptoms of the virus and did not show up, the owners decided to suspend work for two weeks.
India: Thousands of domestic migrant workers continue to walk hundreds of kilometres to their home towns. The vast majority of workers do not have paid sick leave and many workers are left stranded and without resources. According to media reports, at least 22 people have died on the walk home. Reports also coming in of migrant workers having to undergo disinfecting measures on the way, including potentially with hazardous chemicals.
Myanmar: More factories are closing in Myanmar, according to media reports, as factories after shortage of raw materials are now hit by cancelled orders from Europe and the US. The new situation, right as raw material starts coming in from China again, has led to mass lay-offs and strikes. Report from the CCC network state that more than 100 workers from the Myanmar Royal Apollo and Su Xing Garment factories protested in front of the Yangon ministry to demand social security and lost wages after their factories closed overnight earlier this month. On the monthly payday, the workers found out the factory owner had fled the country, leaving the workers without their wages or any compensation for losing their jobs. The workers were producing jackets and trousers for well-known European brands such as Bestseller (the brand Only), Inditex (Zara) and Mango, yet as they operated as subcontractors, it is to be seen if the brands will take responsibility for the wage theft from these workers down their supply chains. The total amount owed to the workers at Myanmar Royal Apollo is estimated at 300 million Kyat (almost 200,000 Euro).
Poland: CCC network organization Buy Responsibly Foundation has received information about a sewing room not paying full salaries in March, citing closure and lack of revenue for the brand. Seamstresses are told to take unpaid leave.
Sri Lanka: CCC network organization FTZ GSEU has sent a letter to the minister in charge expressing appreciation for the evacuation of the workers of Katunayake, Biyagama and Seethawaka Free Trade  on 27 and 28 March and requesting him to advice the employers of the Free Trade zones to pay the wages of the month of March without further delay to all workers including Man Power employees. The tripartite task force on employment decided that wages need to paid during factory closure because of COVID19.
FTZ GSEU members at Star garments have receive letters from the management stating that they have transferred their March wages. The annual bonus due in April has however been suspended until further notice. FTZ GSUE continues to press this issue.  Read more.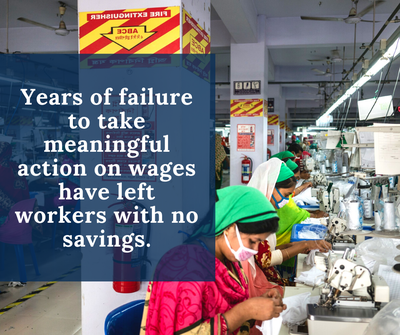 Donate to the CCC relief fund in USD:
24 March 2020
Global: The Ethical Trading Initiative, a multi-stakeholder initiative of brands, trade-unions and NGOs, has closed its offices world-wide and said in its statement: "Where business has had to cancel orders and shut their business temporarily, it is important that they share the responsibility of ensuring that wages already earned by workers in factories in their supply chain are paid and that to the extent possible arrangements are made to provide support for workers during shut-down periods. While some countries may have national programmes that will support workers, some may not. Business can work with others to collectively create alternative mechanisms for the support of workers, who otherwise might quickly be destitute."
Around the world brands are stating they are switching production from garments to face masks, notably in the US, Italy and elsewhere. Garment Worker Center raises that workers need to be properly protected if they have to continue working. In Italy many luxury brands have switched to producing face masks and have asked seamstresses sent home for health and safety reasons to volunteer for making these items.
Global Union Federation IndustriALL has issued a statement: "Social distancing measures taken in countries currently most affected by COVID-19 are driving wholesale closure of thousands of garment factories with millions of workers being laid off without a social safety net. As the virus spreads within the garment-producing countries themselves, more factories will be forced to close, putting potentially millions more workers out of work.
While garment retailers are shutting up shop in affected countries, garment workers are expected to pay the price for the clothes they have already made.
Not only are major brands and retailers cancelling future orders, they are refusing to take responsibility for garments that have already been produced, using emergency provisions in contracts to stop shipments and avoid paying for the goods they ordered. This leaves factories holding the goods, unable to sell them to the customer that ordered them, and in many cases unable to pay the wages of the workers who made them.
Measures announced by companies to protect the wages of retail and other direct workers are to be welcomed, but the security and wellbeing of the workers in their supply chains, who have made the products on which their business is built, must not be ignored.
There are three critical stages for which interventions are needed, and many countries have already reached stages 1 and 2:
1. Payment of wages to workers now for orders that have been filled, but will not be paid for by the brand customers
2. Payment to workers during periods of factory closures, either from lack of orders or from government measures against COVID-19
3. Support for restarting production
Once the crisis has passed and global brands and retailers are able to start trading again, how many factories will still be in business and have a workforce ready to restart production?
Unless measures are taken now to protect factories and workers to enable them to survive the crisis, the short-term decisions being taken by brands and retailers to renege on existing contracts will end up destroying the very businesses they are seeking to protect.
Brands, employers and governments must come together urgently with trade unions to find ways to support garment workers during this unprecedented period to ensure the future viability of the industry once the crisis has passed."
Asia: The Asia Floor Wage Alliance issued a statement identifying developments across the region and listing demands on brands, retailers and the government to protect garment workers: "Three trends can be identified with respect to the degree of institutional response on COVID-19 in the garment-producing countries in Asia:
1. Governments are taking stringent measures to reduce the direct health effects of Covid-19 while also providing economic support for workers. For example, in Sri Lanka, factories in some regions, under government directives, have shut down, with workers entitled to paid leave. Factories that are still operational have to follow adequate health and safety measures due to stringent directives from the Sri Lankan government. In India, till last week most factories continued to work without taking adequate steps to prevent occupational exposure to COVID-19. However, from today onwards, factories across most states in India have closed down till March 31st under strict directives from state governments. Additionally, the Indian government has also issued an order stating that workers must not be terminated nor face a reduction of wages due to this crisis. The order, most importantly also states that workers are entitled to fully paid leave till this crisis is mitigated.
2. Governments are issuing voluntary codes of conduct to factories to mitigate direct health effects while also promising some economic support for workers: For example, in Cambodia and Myanmar, the shortage of raw materials from China has forced many factories to halt production, with thousands of workers suspended. In Cambodia, the government has issued guidelines for workplace health and safety to prevent the spread of COVID-19. Also, factories that have suspended operations must pay 40 percent of the minimum wages to workers. An additional 20 percent of the wages will be provided by the Cambodian government for workers who have enrolled in soft skills training programs organized by the Cambodian Ministry of Labour. In Myanmar, many workers who have been laid off have not been compensated, and the Myanmar Investment Commission (MIC) has announced that factories that refuse to pay workers' salaries will be banned from continuing operations.
3. Governments are issuing voluntary guidelines for factories to mitigate direct health effects of COVID- 19 and ensuring no economic and employment policies to protect workers: For example, in Indonesia, the government has only issued health and safety guidelines for factories that continue to operate and some factories seem to be adhering to these precautionary measures. In general, the efforts to mitigate the income losses and reduced economic activity due to COVID-19, which is also an important incentive to disclose potential infections, has been limited across garment-producing countries in Asia."
Demands to governments, brands and suppliers are: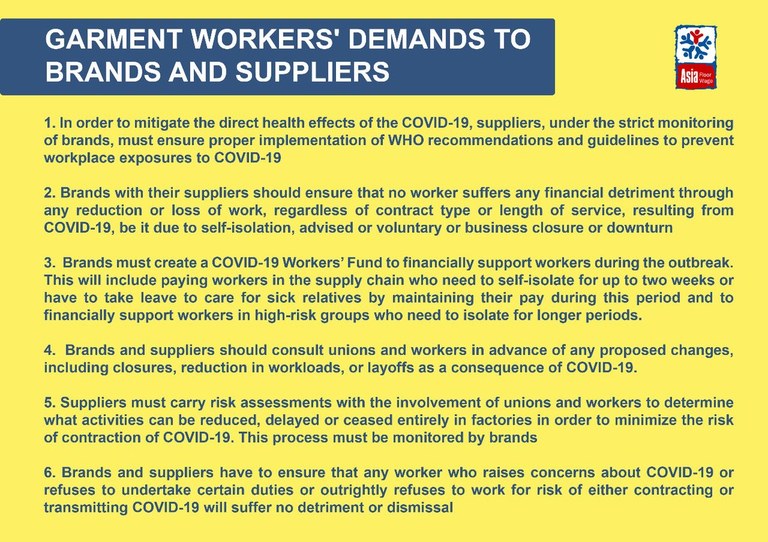 Bangladesh: According to media reports $1.5 billion of Bangladesh garment orders have been cancelled at 1,089 Bangladesh garment factories, employing over 1 million workers. The article states that Primark "which has no online sale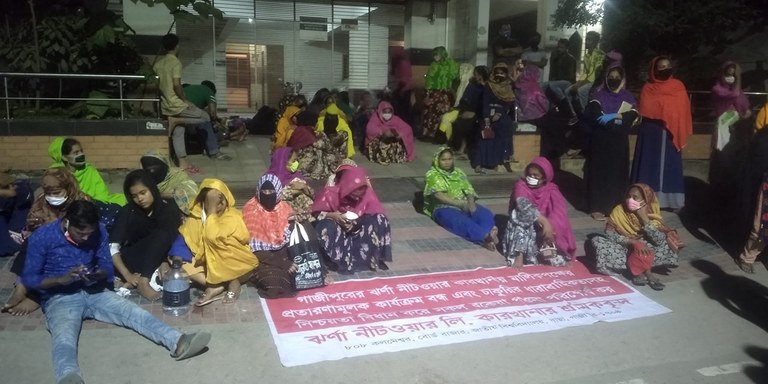 s, is using a force majeure clause in its contracts to cancel orders."
CCC organizations in Bangladesh report that workers from a factory in Gazipur are staging a sit-in protest in front of an owners' house in Uttara demanding their due wages. The factory management was supposed to pay workers that were recently laid off, but now refused to pay on the ground that buyers have cancelled orders and urged all workers to pray for the betterment of the industry in this time of corona.
Cambodia: Fears are mounting that the virus might easily spread in crowded garment factories, many of which do not have sufficient sanitary facilities.
India: A three-week lock down has been announced for India. Before the announcement the state of Tamil Nadu had already ordered a lock down until 31 March. There are reports that workers sent home during the lock down have to take these days from their paid holidays instead of being granted paid special leave.
Pakistan: Media report that the Sindh government has forbidden employers to dismiss workers during the lock down. CCC network organization NTUF reports that contrary to the Sindh government's lock down policy major industrial establishments in the SITE industrial area in Karachi have been forcing their workers to report at factories and resume production work as usual. Workersthat could not reach their workplaces due to lack of public transport were declared absent and as a result cannot claim their wage. The government has given 200 billion rupees as relief to exporters but failed to pass on any compensation to workers. NTUF urges the government to immediately take action against all factory managements who openly violate government instructions and are putting well-being of the society at risk.

23 March 2020
Global: Sourcing Journal explains that technically brands cannot cancel orders at factories as they are considered a binding contract and quotes specialists that urge brands to get out of panic mode and work out solutions with factories that work for the brand and the factory. WIEGO has released a statement calling for more protection for informal workers around the world.
Bangladesh: In Bangladesh, among closure of government agencies and schools, the Accord on Fire and Building Safety in Bangladesh has suspended all inspections and educational activities to protect the health of its employees. Garment factories, however, remain open without many safety precautions. Media report that the Bangladeshi state minister for labour has said that the production in the garment factories would continue unless the prime minister would direct them to shut down. Factory owners reportedly want to keep factories open as long as they still have orders and are seeking government support to pay wages and allowances to the workers during upcoming Eid festivals. Employer organization BGMEA president Rubana Huq has appealed on brands to no cancel orders and support factories. Labour rights groups demand temporary closure of factories and paid leave for workers to protect their health as water, sanitation and hygiene facilities in factories are inadequate and usage of masks and hand sanitizers rare. Read more.
India: The Indian Times reports that 10,000 manufacturing units in Tirupur are struggling to maintain their largely migrant workforce with payments and new orders not coming in. The Karnataka Garment Workers Union (KOOGU KGWU) reports that workers in Bengaluru are refusing to enter their factories. The union urges the government to protect garment workers and all informal and unorganized workers from exposure to the virus without having to suffer pay cuts and dismissal and calls upon brands to reschedule order deadlines and ensure paid leave to all workers in their supply chains, allowing them to practice social distancing for themselves and everyone around the world.
Pakistan: Pakistani CCC network organization NTUF reports on demand of trade unions and labour bodies the Sindh government has announced paid leave for all workers whether they work in factories or another workplace. NTUF calls for other governments to follow this example. The federal government has announced a 200 billion rupees package for the industrial sector, but only 3000 rupees per month for workers which is not sufficient to meet the minimum need of family. NTUF calls upon the federal government to pay the minimum wage to each and every worker during the lock down.
Vietnam: If the virus continues it course 440-880 thousand workers will face reduced hours or job loss. If the virus begins to spread more rapidly, 880 thousand-1.32 million workers will be affected. Some companies are reported to engage in workplace dialogue with their workers in order to reduce worries about being laid off or having incomes reduced due to coronavirus, reports Vietnam Labour Update.
22 March 2020
Global: Fibre to Fashion reports that the Clothing Manufacturers Association of India (CMAI) predicts an unemployment level of 10-15 per cent and the Pakistan Textile Exporters Association (PTEA) is foreseeing "a significant fall in exports and an unmanageable level of unemployment." Garment exports from Central America are also declining, while Turkey is still feeling the result of previously diverted orders to the country when the new coronavirus first emerged.
Bangladesh: Media report that factories are remaining open, but that measures to raise awareness among workers will be taken.
Myanmar: Chairman of the Confederation of Trade Unions in Myanmar (CTUM) U Maung Maung and U Nandar Sitt Aung, director of Our Generation Network spoke to the Irrawaddy stating about the recent closure of 17: "There is a question about whether those factories have closed due to industrial disputes. Labour organizations have asked if those factories were closed due to shortages of supplies or if it was just an excuse. Taking a look at the recent interviews with factory owners, it appears that they had stocks to run until the end of April. If so, why have those factories closed?" Both labour activists also suggested that factories might reopen elsewhere under a different name for tax reasons. They called upon factories "not to take advantage of COVID-19. They should be open about their difficulties and cooperate as it affects the national interest."
India: Garment factories in India remain open, with workers forced to go to work as they cannot miss a paycheck, but also have the concern of how arrange for childcare as schools have closed. Deccan Herald reports: "A piece of cloth exchanges more than 10 hands in a typical garment factory, making it easy for the coronavirus to travel from one person to another. Many workers are aware of this and are afraid of catching the dreaded disease."
21 March 2020
Global: Just Style started a time-line documenting how the new Coronavirus is influencing the garment industry. A Quartz report quotes H&M ad saying it has had to "temporarily pause new orders as well as evaluate potential changes on recently placed orders" due to the global drop in demand, a spokesperson said in an emailed statement. Many brands are currently not responding to journalists asking how they address the influence of COVID-19 in their supply chains. This media article traces one brand's supply chain and the influence the Coronavirus has on production and sales. It indicates describes the safety measures under which work in Chinese and Italian factories continues.
Bangladesh: Media reports claim that brands in Bangladesh are cancelling orders, including some that have already been made, and are in some cases asking for discounts on orders already placed. Concerns on what this will mean for factories' abilities to pay workers are mounting.
El Salvador/Honduras: Solidarity Center reports workers are challenging employer attempts to use the coronavirus as a way to cut wages, lay off workers and stop worker efforts to form unions as well as factories that are not obeying orders by the government to close.
US: Garment Worker Center has issued a state a statement on the COVID-19 pandemic.
20 March 2020
Global: In many countries workers and especially migrant workers do not have easy access to reliable information about the Covid19 virus. For this reason The Hesperian created a fact sheet available in English, Spanish, French, Chinese, Urdu, Bangla, Filipino, Vietnamese, Bahasa Indonesia, Farsi, Sindhi, Telugu, and Hindi. Fact sheets in Shona, Portuguese, Arabic, and Chichewa are on the way.
Fair Wear Foundation issued a statement saying: "international clothing brands also have a responsibility, not just for the employees in their own companies, but also for the workers across their supply chains. This, more than ever, is a time for the garment industry to show what global entrepreneurship really looks like. At the same time, we recognise that these are also trying times for brands, and some unfortunately have needed to close their shops."
Bangladesh: The Bangladesh Garment Manufacturers and Exporters Association stated that more than 100 factories have already lost orders. This could have dire consequences for workers. "These workers live hand-to-mouth and they are panicked because they have heard that orders are being cancelled," said Kalpona Akter, founder of the Bangladesh Centre for Worker Solidarity. Read more on Reuters. Vogue also reports on orders to Bangladesh and other countries being put on hold and has reached out to brands, who usually do not pay the full price for an order until it is delivered. Calls to close factories in order to stop the spread of the virus are also being heard.
Guatemala: Labour rights organization ATRAHDOM reports that the government has decreed suspension of work for the public and private sectors, but that factories continued to work. When they were called out for this workers had to take up vacations, to prevent factories from giving paid special leave.
Sri Lanka: CCC network organization FTZ-GSEU reports that the union at the end of February has demanded the government to suspend permissions to send migrant workers to the Middle-East. The union has also been calling for the establishment of a tripartite task force to deal with the crisis in the garment sector, which was eventually agreed upon on 10 March and set up by the labour ministry. On 11 March the Prime Minister called a special meeting to discuss the impact of the virus on the garment industry with four unions, which emphasized the need for workers to be paid minimum wages in case of temporary closer and additional payment to cover the loss of overtime payments over a longer period. The task force first met on 17 March and discussed workers' health protection. Garment workers in Sri Lanka face a range of issues including being forced to report for work even though the government requested to give them leave and factories being unable to give workers paid leave because brands are withdrawing orders. FTZ-GSEU has urged the government to take action to address the situation, including taking responsibility for worker wages, and calls upon brands to take responsibility for their supply chains. The union is concerned that if factories close without paid leave for workers this will exacerbate the crisis as workers might return to their villages and potentially impact measures of the government to contain the virus.
19 March 2020
Global: The International Labour Organization published a paper on the impacts of Covid19 in the world of work, also address global supply chains.
Cambodia: Media report that 800 workers of a Cambodian garment factory will receive bonuses and pay after protesting being sent home without wages in February.
Thailand/Cambodia: Migrant workers from Cambodia in Thailand are asked not to return home for the Khmer new year in order not to spread the virus according to media reports. Another fear is that they could lose their jobs if places in quarantine, according to media.
18 March 2020
South Asia: Home-Net South Asia put together a short worker education power point presentation focused on the health and safety of home-based workers.
Pakistan: CCC network organizations in a press conference yesterday called upon the Pakistani authorities to take more action to protect workers' rights during the crisis. Nasir Mansoor of the National Trade Union Federation called for free testing and medicine and stated that " [Factories] may close or send their workers on leave but with pay." Zulfiqar Shah of the Pakistan Institute of Labour Education and Research said that "export orders are getting cancelled, which will have a direct effect on the workers. So if they don't die of coronavirus, they certainly will die from hunger" reports Dawn, also read more in The International News.
Hong Kong: On Monday, the South Korean Confederation of Trade Unions (KCTU) and the Hong Kong Confederation of Trade Unions (HKCTU) held an online meeting to share their experiences in combating the COVID-19 pandemic. The organizations issued a set of demands to governments to ensure the health, safety and livelihood of workers. The demands are:
Use public funds to provide emergency unemployment and living subsidies to all workers who are temporarily unemployed, underemployed, or taking unpaid leave during to the COVID-19 pandemic;
Ensure all workers suffer no loss of wages or conditions during any period of quarantine;
Ensure all infected workers, are entitled to paid sick leave and suffer no loss of wages or conditions during any period of recovery from COVID-19;
Ensure all workers are not subjected to any form of discrimination upon returning from any period of recovery or quarantine;
Provide comprehensive personal protective equipment to all workers who may come into contact with infected people or anyone that has come from an infected area;
Provide comprehensive personal protective equipment to all workers who are carrying out essential public services or working in public or highly frequented areas;
Ensure the above measures 1 to 6 are applicable to all formal and informal workers, including sub-contract, dispatch, casual, self-employed, disabled, and migrant workers etc. without any discrimination;
Provide transparent and up-to-date information to the public, workers, and trade unions about the number, location of infections and any other information needed for protection;
Regular consultation with trade unions to devise appropriate measures and procedures to ensure workplace safety;
Ensure all public spending and resources on essential public services are not to be slashed during and after the COVID-19 pandemic.
El Salvador: Due to the first case of COVID-19 in El Salvador, president Bukele ordered to close all world market factories and call centres, saying that: "These are places of high concentration of people, producers have enough money to live 20 lives, so they shouldn't be thinking that they are going to lose 20% of their capital".
China: China labour bulletin reports that now that workers in China return to work also collective protests are flaring up again.


17 March 2020
Global: In a statement published today the Clean Clothes Campaign network expresses its concern about the threats the COVID-19 virus poses to the health and livelihood of garment workers in global supply chains. The statement calls upon apparel brands to:
Ensure that their supplier factories follow government requirements or recommendations regarding the suspension of large gatherings and close factories as necessary for the appropriate duration to protect the health of workers and their communities, while maintaining all workers' contracts and payment of their full regular wages;
Ensure that workers who are sent home because of a lack of work are compensated at their full regular wage;
Ensure that workers who contract the virus, or suspect they have the virus, can take sick leave without negative repercussions and are compensated at their full regular wage during the period of recovery and self-isolation;
Ensure that, when factories reopen, deadlines for orders are reassessed to prevent workers from working mandatory overtime to make up for delays;
Ensure that measures to fight the virus do not unduly restrict workers' freedom of movement or their freedom to organise.
Dutch trade union federations FNV and CNV called upon the Dutch Agreement for Sustainable Garment and Textiles to take responsibility for their brands' global supply chains.
Some general media resources of the past days:
Op-eds and statements:
16 March - The real economic victims of coronavirus are those we can't see

13 March - Time for governments and employers to protect supply chain and precarious workers

12 March - Workers in Cambodia and Myanmar hit hard by Coronavirus fall-out

Myanmar: According to reports from the media and our network, approximately 10% of garment factories in the Yangon region of Myanmar are now temporarily closed, and garment workers are not being paid their salaries. In Myanmar, workers are owed severance pay if the factory closure lasts beyond three months; however, severance pay itself only amounts to half a month's salary per year employed in a factory, after an initial six months probation period. Many factories in Myanmar only opened in the past five years, and the turnover of workers is very high, meaning many workers will be left with nothing. According to media reports and information from our network, factory shut-downs are also being used to quell labour organising throughout the country.
Garment workers also fear that the coronavirus will impact on their right to paid public holidays. The Water Festival, the Myanmar New Year, is in April and is celebrated annually with a ten-day paid public holiday. This year public festivities have been cancelled due to infection fears, and workers worry that factories will not allow them to take the public holiday, instead counting any time off as unpaid sick leave.
Some media resources:
15 March - 4000 workers in Myanmar unemployed over shutdown, workforce reduction

12 March - Chinese garment factory in Yangon goes bankrupt

2 March - Workers say Yangon garment factories using virus outbreak to dodge disputes

Cambodia: Tens of thousands of garment workers could lose their jobs in the coming weeks if the raw materials situation does not improve. Under Cambodian law, employers must seek authorization before suspending workers, and must pay them 40% of the $190 monthly minimum wage, with workers given an option of taking training courses to earn an extra 20% of their wage. Government reports now suggest that workers could receive 60% of the minimum wage for six months. However, some factories have suspended workers without authorisation. Many workers already live in debt, borrowing to make up for shortfalls in their low wages, and they are now in a position where they cannot afford their monthly loan repayments. Workers may have put their family's land up as security for their loan and this is now at risk.
Some media resources:
10 March - Assistance for suspended workers needed

10 March - GMAC: Raw materials from China not enough to sustain factories

9 March - China Sending Textiles for Cambodian Factories Amid Materials Shortage

27 February - Coronavirus Effect on Supply Chain Will Impact 200 Factories, 160,000 Workers in Cambodia

Media resources from other countries (before 17 March):