This blog aims to collect daily information about how the new Coronavirus COVID-19 is influencing garment workers' rights in supply chains around the world. It will be updated as new information comes in from media and the Clean Clothes Campaign global network. Information is posted as it comes in from the network and cannot always be double-checked.
31 August 2020
Global: IndustriALL is organising a global day of action to support the many workers across the textile and garment sector who are standing up for their rights to form a union as part of their global campaign to protect the rights of workers in the sector. The online global day of action will take place on 4 September and will focus on making our collective voice heard to demand that union busting in the textile and garment supply chain must end. IndsutriALL general secretary Valter Sanches, textile director Christina Hajagos-Clausen, union leaders Athit Kong from Cambodia and Khaing Zar from Myanmar will discuss union busting in the textile and garment supply chain on IndustriALL's facebook page. The event can be accessed here. 
Bangladesh: Media report that over 95,000 Bangladeshi migrant workers have returned to Bangladesh in the last four months, after losing their jobs amidst the coronavirus pandemic. Official figures show that 88,406 of returnees are male and 6,656 are female migrant workers. The government informed that the affected Bangladeshi migrant workers will get investment credit with 4% interest from a Tk700 crore fund. 
Media report that IWW Ireland has organised a third picket in front of Lidl stores last Saturday in solidarity with workers from Dragon Sweater in Bangladesh, who are still fighting to get their full wages and compensation. "As part of a month of action called by the International Confederation of Labour (ICL – CIT) in solidarity with 6000 sacked garment workers, members of the IWW continue to hold information pickets at Lidl Stores in Ireland. The action is seen as an international effort to help raise awareness with the public, of the ongoing struggle by garment workers in Bangladesh, represented by members of the Garment Workers Trade Union Centre (GWTUC)", IWW Ireland, wrote. 
Cambodia: IndustriALL reports that the Coalition of Cambodian Apparel Workers Democratic Union (C.CAWDU) has called on Irish clothing retailer Dunnes Stores to stop union busting in its supply chain and ensure that four dismissed union leaders are reinstated to their original positions at Greefield Industry. On 17 June, eleven workers at Greenfield Industry, which produces garments for Dunnes Stores, held a meeting to form a factory level union of C.CAWDU and elected 11 union officials. Three days later, the 11 union officials were informed that the company could not renew their employment contracts due to a "lack of orders and poor performance by the workers". The factory used the coronavirus pandemic as an excuse to union bust. C.CAWDU filed a complaint with the Ministry of Labour and Vocational Training, who ordered Greenfield Industry to reinstate the four union leaders with full back-pay from the date of dismissal. The company refused to accept the order and banned them from factory premises.
Media report that The youth activist group that has been driving this month's protests in support of union leader Rong Chhun plans to hold an 8-day protest for the release Chhun, group members Chhoeun Daravy and Hun Vannak, activist Sar Kanika and Khmer Win Party leader Suong Sophorn. "What we want is [for the court] to drop charges and free teacher Rong Chhun and the other four people, as they didn't do anything wrong as they were charged", one of the activists explained. Naly Pilorge, from Licadho, said that lawyers had filed a bail request for Daravy and Vannak on 24 August and were still waiting for a response.
China: Media report that, according to official data published earlier today, factory activity in China declined in August, particularly affecting small companies. Indeed, over 50% of small companies reported insufficient market demand and over 40% reported capital shortage, as their production and operation still face many difficulties.
India: The Suno India Show has published a podcast on how home-based workers in India have been affected by the COVID-19 crisis. The episode features Sujatha Mody from Pen Thozhilalargal Sangam, a working women's organisation in Chennai, to understand how women who work from their homes are recognised and how their lives were impacted by the pandemic. Aajeevika Bureau reported that migrant women workers who do home-based work for over 8 hours a day are only making Rs 10-15 during the pandemic. In India, there is no specific national policy for home-based workers, as their employers are often challenging to identify. 
Media report that, as businesses face labour shortage due to COVID-19 migrant crisis, some business owners are now offering better pay and conditions, including overtime or bonuses, in an effort to bring back migrant workers in order to restart operation. "The importance of migrant workers has been fully highlighted by this lockdown", the managing director of the Prajapati Group said. 
Malaysia: Media report that Malaysian Trade Union Congress (MTUC) urged the government to take action against employers who failed to improve the living conditions of migrant workers amidst the coronavirus pandemic. According to MTUC, many are still living in cramped and shabby conditions at the worksites or rented houses. In some cases, as many as 15 to 20 workers are sharing a three-bedroom apartment of less than 1000 square feet with one or two bathrooms. In such conditions, the coronavirus is likely to spread. 
Myanmar: Media report that over 10,000 businesses in Myanmar have applied for low-interest loans from a second tranche of K100 billion. Businesses have warned that more assistance is needed and that it should target a more diverse range of businesses. "There's not enough to support everyone, but it's really difficult to decide on the priority industries. Also, we are still getting some applications from businesses in sectors that were prioritised in the first batch of loans, but not this time. We have to follow the rules so we can't accept their application", U Aye Tun, secretary of the chamber's COVID-19 Fund Working Committee, said. 
Nepal: Media report that Nepali migrant workers stranded in Gulf countries are being charged exorbitant fares for air tickets as the government of Nepal decided to allow airlines to operate scheduled commercial flights instead of chartered ones. As a result, companies are taking advantage of migrant workers' situation and charging almost double the regular fare. "The government can't force any airlines company in terms of the airfare; they are free to charge the rate as per the supply and demand situation. The airlines have grabbed the opportunity and selling only the higher-class tickets", the article reads. 
Sri Lanka: IndustriALL reports that, according to the Free Trade Zones & General Services Employees Union (FTZ&GSEU), a garment factory in Sri Lanka, Isabella Pvt Ltd., which produces for Hugo Boss and HanesBrands Inc., dismissed union members and union leaders instead of entering into a meaningful dialogue with the union. Management then started threatening workers to resign from their union membership and that, after reopening the factory consequent to the easing of curfew measures, some of the union activists were stopped from going back to work. IndustriALL sent a letter to factory management calling upon them to "immediately stop intimidation and victimisation of union members" and urging them to enter into a good social dialogue with the union and its federation, the FTZ & GSEU.
Thailand: Media report that Thai government agencies are increasing patrols along the Moei River to prevent undocumented migrant workers from neighbouring countries to cross the border. Another article reports that, as the crackdown continues, more and more migrant workers attempt to cross the border as businesses in Thailand call them back to work. Thai businesses report that labour shortage related to tighter border controls is hurting their recovery. Meanwhile, media report that 35 migrant workers from Myanmar were arrested while attempting to cross the border. The arrests highlight the "plight of thousands of poor people from neighbouring countries who depend on work in Thailand", the article reads.
United Kingdom: Media report that Leicester's garment district, which is home to more than 1,000 factories, has received fewer than 60 health and safety inspections and only 28 fire inspections since October 2017 despite long-held concerns about working conditions.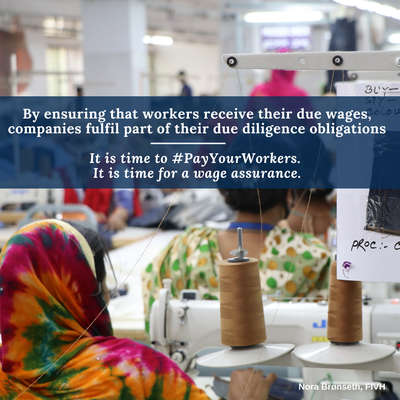 Donate to the CCC relief fund in USD: