September 2020 Covid blog
This blog aims to collect daily information about how the new Coronavirus COVID-19 is influencing garment workers' rights in supply chains around the world. It will be updated as new information comes in from media and the Clean Clothes Campaign global network. Information is posted as it comes in from the network and cannot always be double-checked.
30 September 2020
Global: Media report that labour rights groups are calling on leading businesses such as H&M, Primark and Nike to ensure that the workers who make their clothes are compensated in full, both during the pandemic and beyond. 
Bangladesh: Media report that experts and businesses recommended that the government adopt an alternative stimulus package disbursement process for micro and small enterprises, as 50% of these businesses are yet to receive any relief despite having been severely hit by the economic impact of the coronavirus pandemic. 
Cambodia: CARE International reports that CARE Cambodia is distributing dignity kits to garment factory workers who have either been suspended or lost their jobs amidst the coronavirus pandemic. Meanwhile, media report that the World Bank has forecast a sharp contraction of negative two percent for the Cambodia's economy this year, adding that the country's unfavourable growth outlook alongside disruptions to jobs and lower household incomes means that poverty is likely to increase. The bank added that "significant uncertainty" remains for Cambodia's economic growth outlook because of the COVID-19 crisis, deeper and prolonged decline in tourist arrivals and increased global trade tensions. "Cambodia's economy and its key growth drivers – namely construction, tourism and merchandise exports - continue to be severely affected by the global crisis unleashed by the COVID-19 pandemic", the World Bank said.
India: Media report that two garment workers from Jay Jay Mills in Tamil Nadu, India, have been falsely implicated in a kidnapping case while they resisted sexual harassment by a factory manager. When the manager tried to harass the two women workers in a secluded area outside the factory, they retaliated against him by using pepper spray and chilli powder and later raised a complaint to the local police that they had been sexually harassed for many months. Instead of registering the case as sexual harassment, the police filed a case against the workers alleging that they had kidnapped the manager. Workers have now been bailed out with support from their colleagues. The Asia Floor Wage Alliance (AFWA) has demanded that a proper investigation be held and that the perpetrator be punished. 
Indonesia: Media report that Indonesia has launched its Decent Work Country Programme (DWCP), which aims to promote decent work and productive employment. The programme will run from 2020-2025 with immediate affect and, according to key labour actors, has taken the impact of the ongoing COVID-19 pandemic into account. 
Myanmar: UK brand Regatta Outdoors has denied responsibility for the two workers who have been fired for leading the union fight for safe working conditions at Htan Ta Pin factory. The company said that they sourced from another factory, but a union organiser reports that the factories are owned by the same person. Workers are yet to be reinstated, even though a court order told the factory to do so.
Philippines: Business and Human Rights Resource Centre (BHRRC) reports that it invited adidas, lululemon, Under Armour and Saucony to respond to reports that thousands of workers were laid-off in factories located in the Mactan Economic Zone, from which these brands supply. While adidas, lululemon and Under Armour responded, Saucony did not. Adidas said that the supplier denied labour advocates' findings. Lulemon said that they will "continue to be in close contact with the supplier and with the other buyers in the facility to monitor the situation." Under Armour said that they have "advised Sports City to take all necessary steps to safeguard its workers' health and safety including those related to COVID-19 arising under local governmental directives and recommendations." Sports City, which was also invited to respond to the reports, said that they informed workers in early August.
Slovenia: Media report that, according to the Workers' Counselling Service (WCS), the first port of call for migrant workers having issues with their Slovenian employers, abuse of labour regulations has worsened since the onset of the COVID-19 pandemic in March. Currently, anyone arriving from a long list of countries, including Bosnia and Herzegovina, is subject to mandatory quarantine in Slovenia, originally 14 days but this month cut to 10. WCS reports that quarantine has cost many migrant workers their jobs and explained that employers have been insensitive to the personal reasons that cause migrant workers to visit home and incur quarantine on return to Slovenia. "We have a case of a worker who left because his wife suffers from cancer, she is having chemotherapy. With his wife feeling weak, the worker went home to Bosnia but on return to Slovenia he was fired", Goran Lukic, from the Service, explained. 
Thailand: Media report that Thailand has extended its state of emergency for another month in order to control the spread of the coronavirus. 
United Kingdom: Media report that campaigners for garment workers' rights have renewed their calls for government action after fast fashion retailer Boohoo reported a massive increase in profits despite the controversy over conditions in its Leicester supply factories. Boohoo's pre-tax profits soared by 51% year-on-year in the six months to the end of August, while revenues rose 45%. 
29 September 2020
Global: According to reports from media and CCC network, Clean Clothes Campaign has launched a new campaign: "Pay Your Workers". The campaign challenges brands and retailers to publicly show that they are committed to safeguarding the livelihood of their workers by publishing the wage assurance on their website. This assurance means that brands commit to ensuring that their workers are paid what they are owed, both during the pandemic and beyond. 
Media report that global remittances are projected to decline by about 20% this year, which showcases how migrant workers have been affected by the economic impact of the ongoing COVID-19 pandemic. Gary Rynhart, senior official at the ILO, explained that "[j]ob losses have often hit migrant workers hardest, because they are more likely to work in informal jobs which can lack safety nets, in case of job loss or illness." In addition to the threat of job losses, the COVID-19 pandemic has also highlighted the poor conditions that many migrant workers live in, as workers in crowded dormitories have been disproportionately affected. 
Bangladesh: Media report that, according to the Swiss organisation Global Alliance for Improved Nutrition (GAIN), around 43% of workers in the Bangladesh's ready-made garments (RMG) industry suffer from malnutrition. 
Media report that the government's COVID-19 stimulus package has been disproportionately distributed, particularly in terms of how quick businesses were to receive the funds in different sectors. The article reports that while sectors like export-oriented and large industries were quick to receive their funds, SMEs are still waiting for relief, making it difficult for them to pull through the losses incurred by the pandemic. Meanwhile, media report that Bangladesh's trade deficit for the current financial year narrowed by over 65% year on year in July-August, mainly do to a rebound in ready-made garment exports. The article further reports that the Policy Research Institute made clear that, while the government-announced stimulus package had helped the country's export sector rebound, the package designed for SMEs was "not picking up pace".
Cambodia: Media report that, according to the World Bank, poverty rates are likely to increase for the first time in twenty years. Hit by the global economic slowdown of the COVID-19 pandemic, Cambodia's economy is projected to contract by 2%. Like other countries in the region, Cambodia has been heavily impacted by the global economic downturn, as the country's key sectors - tourism, construction and retail exports - are heavily dependent on the global economy. 
Central America: Media report that union organisations in Honduras, Nicaragua, El Salvador and Guatemala, which together comprise the Regional Coordinator of Textile Maquila Unions in Central America (CRSM), have announced the launch of a regional campaign aimed at recuperating the salaries of 200,000 garment workers whose contracts were suspended during the COVID-19 pandemic. The campaign also calls for health and safety protocols to be followed in factories, for COVID-19 to be considered an occupational illness or injury, and for a social fund able to provide income to workers when their contracts are suspended to be created. The campaign will involve public campaigning throughout the region and will initiate dialogue with major brands. 
Malaysia: Media report that the latest data released by Malaysia's Department of Statistics show that the textile, apparel, leather and footwear sectors are still struggling to recover from the impact of the coronavirus pandemic. Figures show that textile and garment production has decreased from -9,6% in June to almost -13% in July. These figures have generated doubts regarding the government's stimulus package's ability to shield the sector amidst the pandemic. The same article reports that, even though companies across all sectors are able to apply for the government's relief schemes, the two Hong Kong-based garment giants, Esquel and TAL Apparel, have shut down their operations in Malaysia, affecting over 7000 workers.
Myanmar: Union organiser reports that 700 union members from Dihuali factory, Yangon, which make clothes for Mango, remain in the streets, months after having been fired for demanding clean drinking water, toilets, fire safety, and social distancing protections. 
Media report that tens of thousands of workers will face financial difficulties as COVID-19 stay-at-home orders mandate 47 factories in Bago Region to close until 11 October. "All work has been suspended. Workers are usually paid on the fifth of every month, but now may be paid only when the factories reopen on October 11. This will cause a huge financial problem for tens of thousands of workers", Ma Honey, chair of the Bago textile labour union, made clear.
United Kingdom: Media report that Labour Behind the Label (LBL) has welcomed the publication of the independent inquiry led by Alison Levitt QC into Boohoo's Leicester supply chain as a "damning indictment" of the fast fashion retailer's practices, culture and failings. LBL urged the UK government to act to "curb the abusive business practices of brands" and to "urgently assess" the need for mandatory due diligence. Another article reports that the Ethical Trade Initiative has said that the inquiry's findings cannot be fully trusted.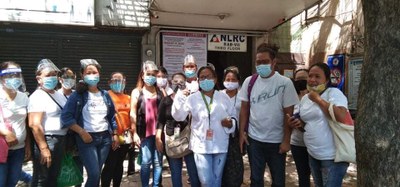 Petitions and relief efforts
Oxfam Australia focusing on Australian brands.
Public Eye petition in German and French.
Abiti Puliti petition in Italian.
Traidcraft focusing on UK brands.
Remake focusing on global brands.
Donate to the CCC relief fund in EUR:
Donate to the CCC relief fund in USD: