Subcontracting work is the norm in the industry, often several layers deep. That means workers don't get a regular contract, but a series of short-term contracts or not even that. Forced overtime is common. Home workers and other vulnerable groups are even more at risk, as are workers in special "Free Trade Zones" or the informal sector. Most workers in the garment industry work on temporary, insecure or informal contracts.

The problem
Garment production has always been a fast paced industry. Most factories contracted to produce garments and footwear for the companies selling these items are not able to meet production targets without sub-contracting more workers. This is often also due to high demand for certain products. The companies selling an item of clothing may suddenly double their order and expect it within the same delivery time.
It is through the employment relationship that reciprocal rights and obligations are created between the employee and the employer. It continues to be the main vehicle through which workers gain access to the rights and benefits associated with employment in the areas of collective bargaining, labour law and social security. The reality is that many workers have continuous 3-month contracts, for years on end, with no guarantee of future extension.
As brands and retailers develop buying policies that are based on lower prices, shorter lead times and terms of trade and credit more favorable to them, their relationships with suppliers are becoming increasingly unstable and temporary. This in turn is translating into an increase in job insecurity and worsening working conditions. Manufacturers continue to restructure and flexibilise employment relationships to meet the demands of the buyers, to maximize profits, and to keep the workforce under control. Employers and buyers are actively seeking ways to keep wages low and limit the employment relationship by creating precarious work arrangements.
Recently Human Rights Watch conducted research into business practices of large brands, finding that factories hire workers through contractors to avoid making social security and pension contributions that would otherwise be legally required—a key cost-cutting strategy. They also found that in Cambodia, factories repeatedly use short-term contracts in excess of legally permissible limits, citing seasonal variations in brand orders.

Precarious work arrangements are contractual arrangements that have the effect of depriving workers of the protection they are due under the employment relationship. The impact is especially hard on groups that are already vulnerable such as women, migrant workers and workers in free trade zones, and upon those working in the so-called 'informal economy'.
Homeworkers in Latin America - 2016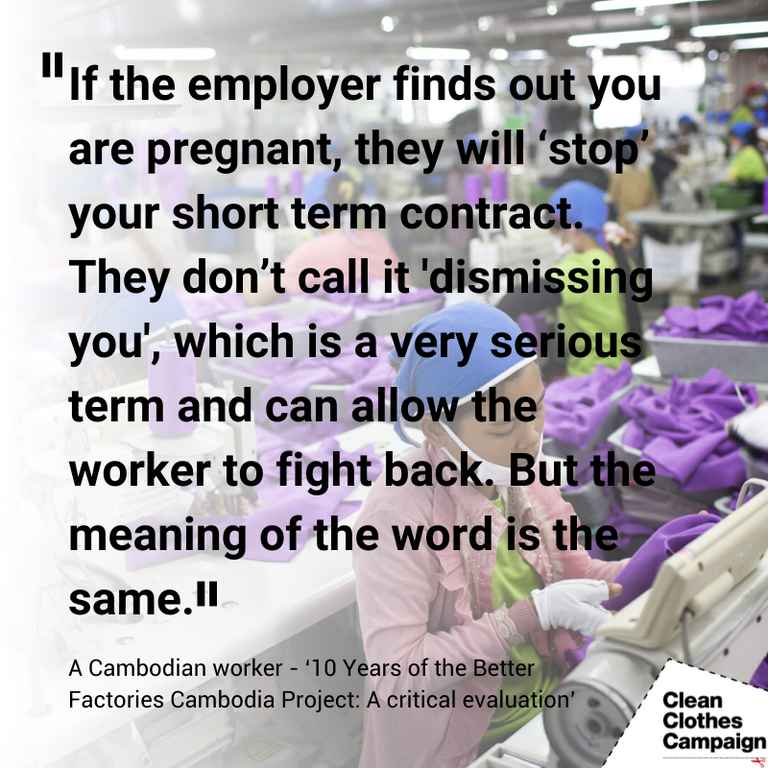 Homeworker, Made in Europe - 2016
What we do
Through our Urgent Appeal system, the CCC Network supports all workers who lost their job after a workplace conflict or violation of their rights. Informal workers are also the hardest hit in times of economic collapse. They are usually not supported by national security systems or eligible for relief. Our network supports these workers by running awareness campaigns and establishing relief funds these workers can access.

Our partners also work directly with migrants, who are usually in the most precarious situations legally and economically in addition to their informal work status. You can find information on migrant workers in the garment industry here.

An important aspect of the fight for better working conditions in the garment industry is the ability of workers to freely organise themselves. We make sure brands and companies respect the freedom of association of all workers, also when they are on a temporary contract. You can read more about what freedom of association means for garment workers here.
Background
The garment and sportswear industries rely on production networks that utilize global outsourcing and subcontracting arrangements. Retailers and brands outsource the cut, make and trim (CMT) part of the garment manufacturing to trading companies or to employers. These in turn (sub)contract to other units or to home-based wage or own-account workers (also referred to as 'bogus self-employment' schemes). Increasingly this includes the use of labour contractors.

Governments are either 'modernizing' current labour laws, consciously refraining from implementing and enforcing them, or failing to protect private sector workers under the assumption that cheap labour is the only possible advantage in the current global economy, under pressure from international trade negotiations or because of corruption. Where legislation protecting the employment relationship is in place, implementation is often weak.
In sum, flexibilisation and precariousness of production have gone hand in hand with flexibilisation and precariousness of employment relationships, leading to what has become known as precarious work arrangements.