Statement on the closure of two Sri Lankan factories amid severe financial crisis
Approximately 1,500 workers employed at two factories – Koggala I and II - owned by Esquel Sri Lanka are facing imminent closure of their workplaces with no assurance that they will be reemployed when the factories are sold to another company.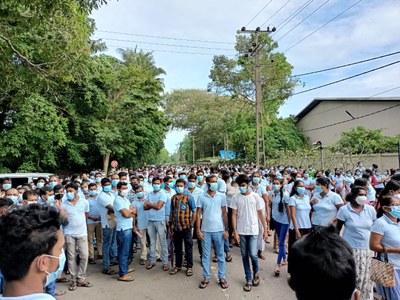 The closures are taking place at a time of severe economic crisis in Sri Lanka in which people, including garment workers, are facing a rapid rise in their cost of living, shortages of electricity, food and other necessities, and a declining value of the national currency. "Many of these workers have been employed by Esquel for decades. Over the past 1.5 years, we have tried to negotiate in good faith for an agreement to ensure fair compensation and a re-employment plan with both Esquel and their buyers, who continued to profit while workers suffer," says Anton Marcus, Joint Secretary, Free Trade Zones & General Services Employees Union.
Workers suspect that the factories will be reopened with new owners, but fear that union members and supporters will not be rehired. They report that some major employers in the sector are already refusing to hire former Esquel workers affiliated with the Free Trade Zones & General Service Employees Union (FTZ & GSEU). Esquel has a long history of union busting and discrimination against union activists.
The two Koggala factories have been non-operational since 15 March. The company had requested permission from the Commissioner General of Labour to terminate the workers' contracts. That ruling remains pending. 
Under pressure from management, some of the workers agreed to sign "voluntary" resignation agreements with the understanding that they would receive more than their legal entitlement as promised by the company in writing, but with no financial details provided to justify the closure. Approximately 1,000 workers who agreed to resign have filed a legal case against the company with the labour authorities.
The approximately 300 workers who did not agree to resign are legally obliged to stay on the payroll until the Commissioner General of Labour rules on the termination of their employment contracts, but have had their annual bonuses cut, in violation of earlier agreements reached with the union, in a clear act of retaliation by Esquel.
Over the past year and a half, international brands have been ending their business relationship with Esquel Sri Lanka because of US trade sanctions against its parent company, the Esquel Group, for its links to forced labour in Xinjiang, China. Since then, the companies have been doing subcontracting for local manufacturers. The Esquel Group is one of the world's largest shirt manufacturers with a huge domestic market in China.
The workers' union FTZ & GSEU and its allies in the CCC global network are calling on Esquel and on companies and brands that have or used to have a business relationship with Esquel Sri Lanka to ensure that the workers receive their full legal compensation and are offered reemployment opportunities by the new owners, or with their other suppliers in Sri Lanka.
"Esquel is doing everything they can to close their facilities without paying workers in full, and to punish the unionized workers in the process. This process has been going on for over 1.5 years, and now is the time for all the other actors engaged to step up and make sure an agreement is negotiated with the FTZ-GSEU," says Ineke Zeldenrust, Clean Clothes Campaign International Coordinator.
They are also calling on Sri Lanka's Commissioner General of Labour to provide reemployment guarantees for the workers who lose their jobs as a result of the factory closures.
Esquel Sri Lanka operates two additional facilities, Ekala and Kegalle. The approximately 2,000 workers at these facilities also face unsure futures as both leases run out by end of this year.