Clean Clothes Podcast E2 - Women fight for safe workplaces
What does it take to make the workplace safe for women, free from sexual harassment and gender-based violence? What are some of the ways women have won improvements, and how did they build their power to do this? In episode 2 of the CCC Podcast workers and campaigners from the CCC network talk about the importance of women leaders in campaigning for women's rights.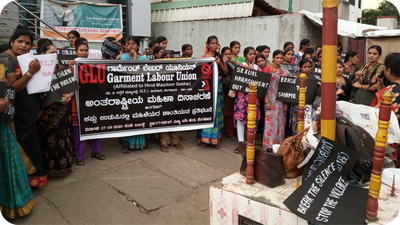 In this episode:
Dian Septi Trisnanti, FBLP, Indonesia talk about a union in Indonesia declares an industrial park a 'harassment free zone',
Motheba Ramaema and Sam Mokhele, NACTWU, Rola Abimourched, WRC talk about the Enforceable Brand Agreement aiming to end severe gender-based violence in factories in Lesotho,
Rukmini GLU, India, tells her story of becoming a union founder, and why more women need to lead worker struggles,
Priscilla Robledo, CCC Italy and Sina Marx, FEMNET, Germany talk about our campaigns calling for the ratifcation of ILO Convention 190 on Violence and Harassment.
Speakers:
Dian Septi Trisnanti, founder of FBLP union (Federasi Buruh Lintas Pabrik) , Chairperson of KPBI union, Indonesia
Motheba Ramaema, shop steward, National Clothing, Textile and Allied Workers Union, Lesotho
Sam Mokhele, General Secretary, National Clothing, Textile and Allied Workers Union, Lesotho
Rola Abimourched, Senior Program Director at the Worker Rights Consortium, USA.
Rukmini Vaderapura Puttaswamy, President of Garment Labour Union (GLU), Bangalore.
Priscilla Robeldo, campaigner and lobby and advocacy coordinator with CCC Italy.
Sina Marx, Coordinator International Projects and Campaigns, FEMNET, Germany.

Please share your feedback, comments and questions, by emailing: podcast @ cleanclothes.org