Clean Clothes Podcast E1 - Organising workers in the time of COVID
In the first episode of Clean Clothes podcast we explore how organisations in different countries from across our network supported workers in the time of COVID. Duration: 33 minutes.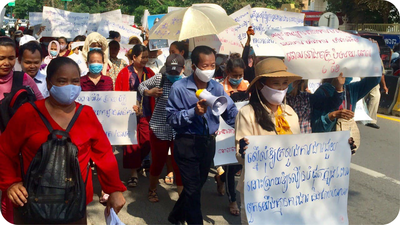 In this episode we hear how:
community mobilisation defended a garment worker in Romania,
trade unions and worker organisations made gains in Bangladesh and Sri Lanka,
the effects of the pandemic in Turkey has led to a re-think on future campaigns to support worker rights,
plus thoughts and reflections on the impact of COVID on worker organising.
Speakers:
Laura Stefanut, campaigner and former investigative journalist, Romania
Anton Marcus, Joint Secretary of FTZ&GSEU (Free Trade Zone and General Services Employees Union), Sri Lanka
Kalpona Akter, Executive Director of BCWS (Bangladesh Center for Workers Solidarity)
Bego Demir, Clean Clothes Campaign, Turkey
Christie Miedema, Clean Clothes Campaign International Office, Netherlands
Mandy Felicia, EILER (Ecumenical Institute for Labor Education and Research), Philippines
Please share your feedback, comments and questions, by emailing: podcast @ cleanclothes.org