Clean Clothes Podcast E3 - Cracking corporate immunity
In this episode, our contributors reflect on laws and regulations for holding brands and retailers accountable for violations of worker rights in the factories that supply them. Duration 30 minutes.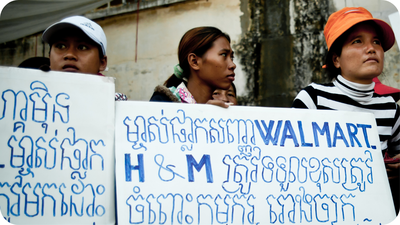 In this episode we hear how:
Nayla Ajaltouni from Collectif Ethique sur L'Etiquette in France tells how campaigners succeeded in getting the first law protecting human rights in supply chains passed in France – and how this law might set a European precedent for stronger worker rights protection.
Nasir Mansoor from NTUF in Pakistan reflects on the experience of using legal mechanisms to hold KiK accountable for the Ali Enterprises fire.
Muriel Treibich from the CCC International Office introduces human rights due diligence and presents opportunities including the European Supply Chain.
Scott Nova from WRC in the USA highlights the closing of a loophole means the section of the US Tariff Act that prohibits companies importing goods made with forced labour could be enforced.
Speakers:
Nayla Ajaltouni, Coordinator, Collectif Ethique sur L'Etiquette, France
Nasir Mansoor, General Secretary, NTUF (National Trade Union Federation), Pakistan
Muriel Treibich, Lobby and Advocacy Coordinator, Clean Clothes Campaign International Office, Netherlands
Scott Nova, Executive Director, Worker Rights Consortium, USA
Please share your feedback, comments and questions, by emailing: podcast @ cleanclothes.org