Clean Clothes Campaign marks the OECD Forum with a call for brands to pay up and for regulators to intervene
At the start of the 2022 OECD Forum on Due Diligence in the Garment and Footwear Sector Clean Clothes Campaign welcomes the strong emphasis on purchasing practices in the official agenda. As a global network dedicated to improving working conditions and empowering workers in the global garment and sportswear industries, we have been vocal about the need to address this major cause of worker rights violations.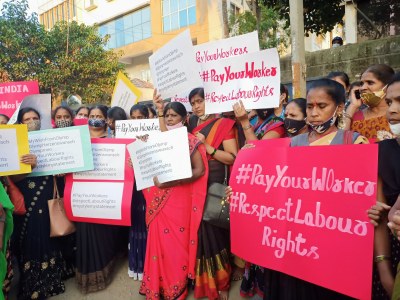 The OECD Forum should galvanize the industry as well as regulators into taking long overdue action to ensure that workers can survive the pandemic and that companies' purchasing practices create the space for workers' rights to be respected in the future.
Despite OECD sectoral guidance in this area, the Covid-19 crisis has made it more obvious than ever that many fashion brands, retailers and e-tailers use their market power to impose unfair business deals on their suppliers and fail to observe due diligence with regard to their purchasing practices. Their disregard for responsible business conduct principles has greatly aggravated the impact of the Covid-19 pandemic on garment workers.
Irresponsible purchasing practices have devastating consequences
It is well-documented that fashion brands and retailers responded to the onset of the Covid-19 pandemic by canceling and delaying payment of orders worth billions of euros and asking for discounts. As brands and retailers placed new orders with suppliers during the continued pandemic, irresponsible purchasing practices, such as demanding price discounts and longer payment schedules, have remained widespread.
Pricing strategies that harm the viability of suppliers' business have tangible negative consequences including the spread of union-busting and wages going unpaid. Garment workers had worked for poverty pay to begin with, yet they lost 11.85 billion USD un in unpaid income and severance between March 2020 and March 2021; and this is a conservative estimate.
On the occasion of the OECD Forum Clean Clothes Campaign is once again urging garment companies to immediately ensure that workers are all paid during this crisis and receive the severance they are owed if they lose their jobs.
Ten cents more would make a world of difference
We have calculated that it would take just ten extra cents per T-shirt for brands to make sure garment workers survive the pandemic as far as their incomes are concerned. That increase is the most critical change to purchasing practices that garment workers need right now.
That immediate income support for workers should be distributed through an enforceable agreement that will not only cover back wages but also establish a Severance Guarantee Fund and bind brands to guarantees in the field of the freedom to organize. Such an agreement supports respect for labour rights and stronger social protections for workers related to unemployment and severance benefits, in line with the relevant ILO conventions.
Labour rights organisations and unions in the Clean Clothes Campaign network and beyond have been asking for brands to sign a binding agreement comprising a wage assurance and severance guarantee through the Pay Your Workers/Respect Labour Rights campaign that all OECD Forum participants are urged to support.
The Severance Guarantee Fund will mitigate the devastating consequences of unemployment for workers in the future by directly compensating workers and financially supplementing or strengthening government social protection programmes for unemployment or severance benefits. Brands and retailers would contribute to both funding streams through a fee based on volume sourced from each country, and employer fees would be a percentage of their wage bill in each country. As social protection systems improve, the brand premiums will be reduced accordingly.
This should be part of a larger effort to establish more sustainable and resilient industries in the near future including better planning and pricing models. A costing model that covers fair payment schedules as well as financial space for living wages, safe factories, and social benefits – that is where purchasing practices need to go from here.
From improved purchasing practices to actual gains for workers
As for wages beyond the pandemic, a broad coalition of unions, worker centers, NGOs and other advocates have come together as Wage Forward, with a proposal for a legally binding and enforceable wage agreement that would move the industry toward the actual payment of a living wage.
That is because even radical improvements in purchasing practices would, on their own, not lead to corresponding improvements in workers' wages, work safety and other rights by default. That would only happen if direct employers pass the gains – due to the improved purchasing practices – on to workers: in the form of better wages, fewer working hours, better contracts, improved safety and other improvements in working conditions. In the current context – of regulatory and enforcement gaps as well as shrinking civic space in many, if not most, sourcing countries – this distribution of gains to workers cannot be expected to take place. That is, not without an agreement such as the one proposed by Wage Forward.
We therefore appeal to brand and (r)etailer representatives at the OECD Forum to become industry leaders by signing onto this innovative initiative that addresses the gap between channeling more money to a factory owner and making sure workers see an actual wage increase on their payslips.
Self-regulation will not disrupt the system of poverty pay and exploitation
The OECD Due Diligence Guidance on Responsible Supply Chains in the Garment and Footwear Sector recognizes the harmful impact of purchasing practices on workers' rights including low wages. The numerous product cycles or seasons per year associated with the 'fast fashion' model, late and delayed payments, and price negotiation strategies requiring cost-cutting by suppliers are all singled out for their potential of adverse effects. The OECD Guidance recommends that businesses: assess whether their purchasing practices contribute to harm; implement control measures to prevent contributing to harm; and develop management procedures that purchasing departments should follow to mitigate against harm.
If the OECD sectoral guidance and the OECD Guidelines for Multinational Enterprises, along with the United National Guiding Principles on Business and Human Rights, were adequately implemented through companies' self-regulation, or through various collective initiatives, the reality of the garment industry would be very different from workers' rights violations on a mass scale that we see today.
Namely, Clean Clothes Campaign's Urgent Appeals mechanism continuously addresses requests for assistance from workers and their unions experiencing violations while producing garments for some of the world's best known fashion brands that typically present themselves as 'ethical' or 'sustainable' in one way or another. Freedom of association is at the forefront of those cases, but workers frequently start organising over other issues, and are then fired, harassed and/or threatened as a result. The issues they try to address by organising are typically related to wages, bonus, overtime and/or production targets – all of which are affected by the buyers' unfair purchasing practices.
Given companies' reluctance to meaningfully and comprehensively address their own practices that are causing or contributing to human rights violations in their value chains, we have been calling for regulatory interventions, including in the area of purchasing practices. The ongoing EU-level legislative process on corporate due diligence presents one clear opportunity to address this issue across different sectors, as we pointed out in an open letter last year. Together with other NGOs and trade unions we also called for complementary measures to address unfair purchasing practices in specific sectors including garments and textiles.
Without such interventions there are no grounds to believe that companies will stop exploiting regulatory gaps in sourcing countries and reduce the profits they have been deriving from a system of poverty pay and exploitation of the most vulnerable people. Various responsible business conduct initiatives and their guidelines cannot adequately address this. That is not only due to their lack of ambition but especially because they are not accompanied with enforcement. They can also never create a level playing field. That means that powerful laggards will always be dragging down the standards of the whole industry and perpetuating human rights violations with severe consequences for workers, their families and broader communities.