Campaign targets Rana Plaza buyer Auchan for its failure to address factory safety
Today, Clean Clothes Campaign members and partners in a range of countries are starting a campaign to convince French supermarket chain Auchan (Alcampo in Spain) to sign the International Accord for Health and Safety in the Textile and Garment Industry. As a company that sourced from one of the factories in the collapsed Rana Plaza building in April 2013 in Dhaka, Bangladesh – the incident that led to the creation of the first Accord programme – Auchan has a special responsibility to sign the new safety agreement.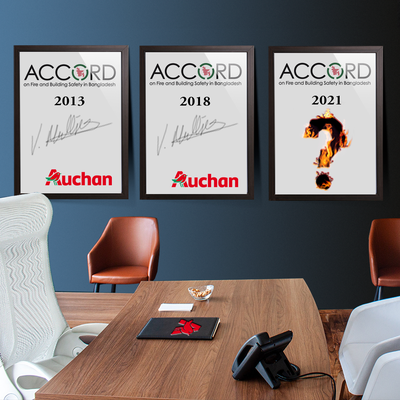 The International Accord took effect in September 2021 and builds upon the work of two previous binding safety agreements (both called "Accord on Fire and Building Safety in Bangladesh"), initiated in 2013 and 2018. All three programmes are meant to improve factory safety in Bangladesh in the aftermath of the deadly Rana Plaza collapse of 24 April 2013. The International Accord was announced by unions and brands in August 2021 and aims to expand the programme's coverage beyond Bangladesh and broadens the concepts of health and safety, in response to the different health needs during a pandemic. 161 garment and textile brands and retailers have signed this agreement up to date, among which are many of the companies that bought from Rana Plaza factories, but Auchan's signature is failing.
This is remarkable because, as one of the brands that sourced from a Rana Plaza factory, Auchan should have put safety at the centre of its Corporate Social Responsibility politics, at least since 2013, and be very much aware of the need for thorough, independent, and transparent monitoring of factory safety and renovation efforts. The company did sign the previous two Accord agreements. It however has failed to sign the new agreement even though it should be perfectly aware that progress in the field of safety needs to be constantly guarded to be maintained.
Auchan has no reason to be complacent about the safety of the factories in its supply chain. Research carried out in the last month of the previous Accord's tenure showed that Auchan sources from at least forty factories in Bangladesh, three quarter of which still lacked fire alarms and/or sprinkler systems that meet the standards of the Accord. With its over three dozen suppliers in Bangladesh, Auchan is one of the largest signatories to the previous Accord that has failed to sign the new agreement. Many major competitors, including French supermarket chains Carrefour and Monoprix, have already signed on. By not signing the new agreement, Auchan is lowering its standards on safeguarding workers in its supply chain, especially as it used to rely on the Accord as a part of its vigilance plans under the French Duty of Vigilance law.
The organisations which today are starting their campaign push, urge Auchan to continue its commitment to the only programme that addresses factory safety in garment supply chains transparently, in a legally binding manner, and with union participation. The organisations call upon Auchan and any other major company buying from Bangladesh, including Levi's, IKEA, Walmart, Abercombie & Fitch, and Disney, to immediately sign the International Accord to keep garment workers safe in their workplace.
Read more in our Q&A on the International Accord.