German shirt brand Olymp urged to stop wage theft in Croatia
This week, activists all over Germany deliver a letter from former workers of the Orljava factory to Olymp stores across the country. The activists and workers hold the German brand to account for the wage theft of 172 workers. The Orljava factory in Croatia produced business shirts for the German high quality shirt brand Olymp for over 50 years, until it stopped all orders after the covid pandemic hit.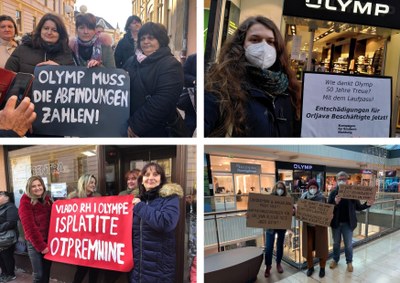 When the pandemic hit in 2019, Olymp had just celebrated its 50 year anniversary. Covid-19 restrictions prompted Olymp to push the burden on the people making their profit, drastically cutting orders at the Orljava factory. Since April 2021 the shirt brand stopped putting orders in alltogether, resulting in the factory going bankrupt. 172 workers who lost their jobs are fighting to receive their legally owed severance pay worth 500.000 euro. 
Orljava is a garment factory located in eastern part of Croatia, in the town Požega. Before the COVID19 pandemic the factory was employing about 300 workers, with Olymp, as a direct supplier of Orljava, representing more than 80% of orders.
From Bielefeld to Dresden and Dortmund to Hannover campaigners are standing side by side with workers protesting in Croatia. In the letter to Olymp, the workers call on Olymp to make sure they get paid what is owed to them: 'It is hard to find a job and many of us need to work just a few more years until retirement. What is more important, despite difficult working conditions, we loved our job, and many years ago we were proud of working in Orljava for Olymp. As the biggest and exclusive buyer, we hold you responsible for our low salaries and for closing the company.'
Brands such as Olymp that claim to be socially responsible have abandoned the garment workers who make their clothes. Because Olymp have underpaid the workers who make their clothes for decades, the former Olymp workers are the least able to pay the price for the pandemic. Olymp must ensure workers receive their full severance if they lose their jobs. 
Read more about the #PayYourWorkers campaign on our campaign website.