Urge brands to end wage and severance theft and union busting for garment workers in the global supply chain.
Wage theft in the garment industry has reached unprecedented levels since the start of the COVID-19 pandemic. Poverty wages already were the harsh reality of making clothes, workers being denied legally owed wages on top of that, as well as severance when they've lost their jobs, has devastated thousands of workers' lives.

Millions of workers in the global garment supply chain haven't been paid their full wages or have lost their jobs without adequate financial compensation since the start of the pandemic. Many factories which closed down during the first months of the pandemic to 'cut costs' were unionised. Union members have also reported elevated levels of harassment, intimidation and threats.

Earning poverty wages for decades have left garment workers no savings to fall back on. Workers and their families are now going to bed hungry with no hope for their future. We call upon ALL companies in the fashion supply chain to take responsibility for the people that make their clothes and profits. We want to ensure that garment workers are always paid what they're owed.
TAKE ACTION: Tell brands like adidas to #PayYourWorkers

What are we asking?
For brands to calculate what amount of their workers' wages have remained unpaid and ensure workers are made whole.
For brands and suppliers to protect workers' right to organise unions and bargain collectively.
For brands to pay into a severance guarantee fund to ensure workers will receive what they're owed if they lose their jobs.


We are particularly calling out adidas, but ALL brands need to sign the Pay Your Workers agreement.
Learn more in our Frequently Asked Questions.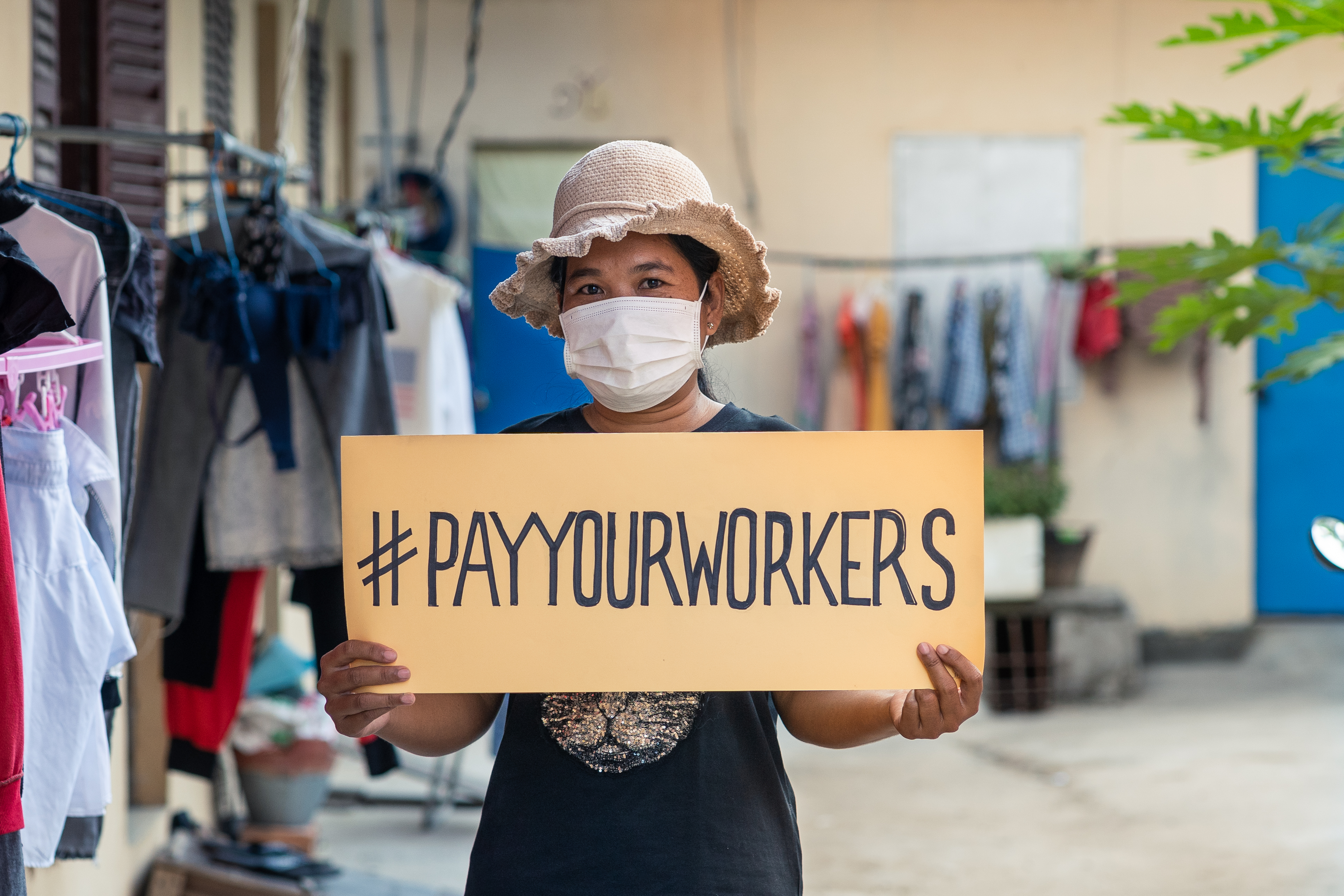 Why do brands need to #PayYourWorkers and #RespectLabourRights?
Brands and retailers have a responsibility under international standards as well as a moral responsibility to ensure that the workers in their supply chains are not paying the price for this pandemic. As the primary profit makers in the value chain, brands have the capacity and the obligation to intervene. The UN Guiding Principles on Business and Human Rights clearly state the role and responsibilities of businesses with respect to the human rights of the people their business affects. Brands must ensure that the workers who make their clothes are paid income equal to or greater than what they received at the onset of the crisis and severance if they lose their jobs.
They can publicly show that they are safeguarding the livelihood of their workers by coming to the bargaining table with unions and signing the Pay Your Workers agreement. This will commit them to ensuring that workers in their supply chains are paid what they are owed during the pandemic, and that they will join a severance guarantee fund so that workers are never again left penniless if their factory goes bankrupt.
Attacks on labour laws, plant closures targeting unionised factories, and brands' failure to perform human rights due diligence have systematically undermined worker protections and left workers in garment supply chains extremely vulnerable. Brands must protect workers' right to organise and bargain collectively.
Take action by spreading our clothes labels in shops or taking other actions from our guerrilla campaigning action pack!

We want to put workers' voices on blast; where better than in the clothes they made but weren't paid for? The QR code leads people to this action page! Please take pictures of your action and share them online, to amplify the workers' voices even more.
Other campaign options are to write the #PayYourWorkers hashtag or a worker's quote on a sign and take a picture near one of the closed shops or at home.
Post your picture on social media using the hashtag and tagging adidas and any other brand you want to call out.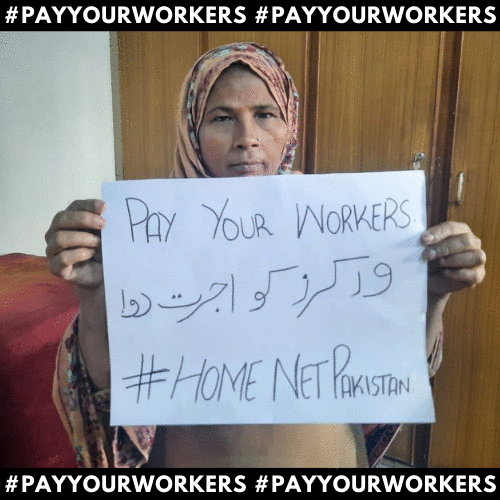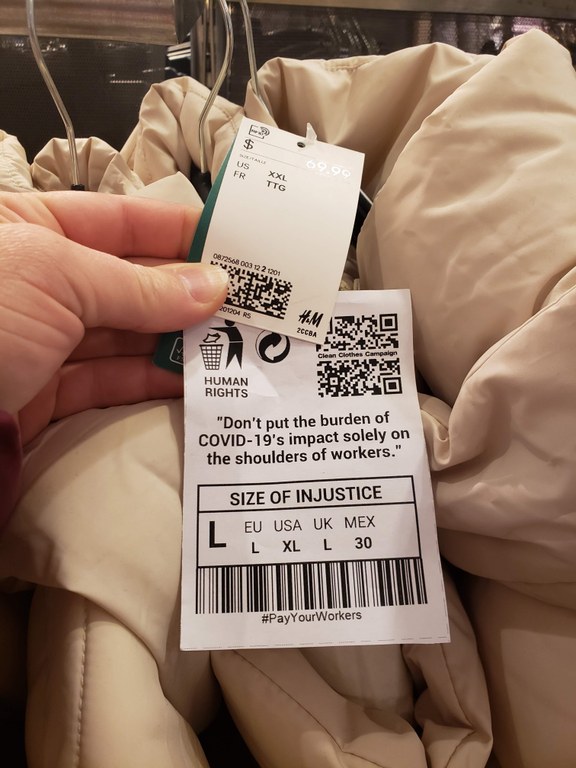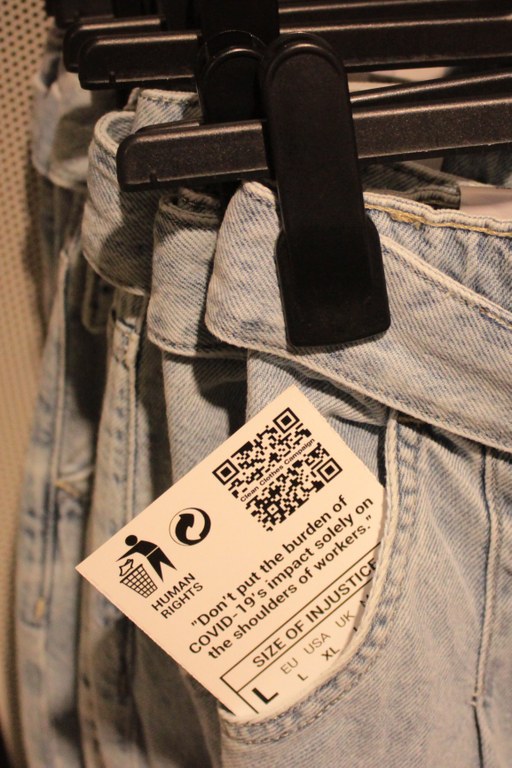 What you can do? Read, share, and take action:
Read more about our research into the garment industry wage gap in our reports.
Ask adidas or your favourite brand on social media: what are you doing to #PayYourWorkers & #RespectLabourRights?
Check out our dedicated websites PayYourWorkers.org and adidasSTEALS.com for more up to date information.

Keep posted! More action is coming from all across our network, we will not accept that workers are left unpaid!