Garment workers have been left unpaid, jobless, or have received only a percentage of their usual poverty wages after global fashion brands refused to pay for over $16 billion worth of goods. Now workers are owed at least $3.19 to $5.79 billion for the first three months of the pandemic alone. As the primary profit makers in the value chain, brands must take responsibility.
Millions of workers in the global garment supply chain have not been paid their full wages or have lost their jobs without adequate financial compensation during the COVID-19 pandemic. The people who make our clothes have been earning poverty wages for decades which have left them no savings to survive a crisis on. Garment workers and their families are now going to bed hungry with no hope for their future. We call upon ALL brands to take responsibility for the people that make their clothes, and ensure that garment workers are paid what they're owed.
Read more about how garment workers in global supply chains, especially those of H&M, Primark, and Nike, have been affected by the chaos brands caused during the pandemic and join us in asking global fashion brands: Do you #PayYourWorkers?
Why do brands need to #PayYourWorkers?

Brands and retailers have a legal and moral responsibility to ensure that the workers in their supply chains are not paying the price for this pandemic. Agreeing to #PayUp for orders gives no guarantee that workers' owed wages will be paid. As the primary profit makers in the value chain, brands alone have the capacity to intervene. UN Guiding Principles on Business and Human Rights clearly state the role and responsibilities of businesses in respect to the human rights of the people their business affects. Brands must ensure that the workers who made their clothes at the onset of the crisis are paid their legally owed wages and severance.
They can publicly show that they are committed to safeguarding the livelihood of their workers by publishing the wage assurance on their website. This means they commit to ensuring that their workers are paid what they are owed, both during the pandemic and beyond by joining a severance guarantee fund that will make sure workers are no longer left penniless if their factory goes bankrupt.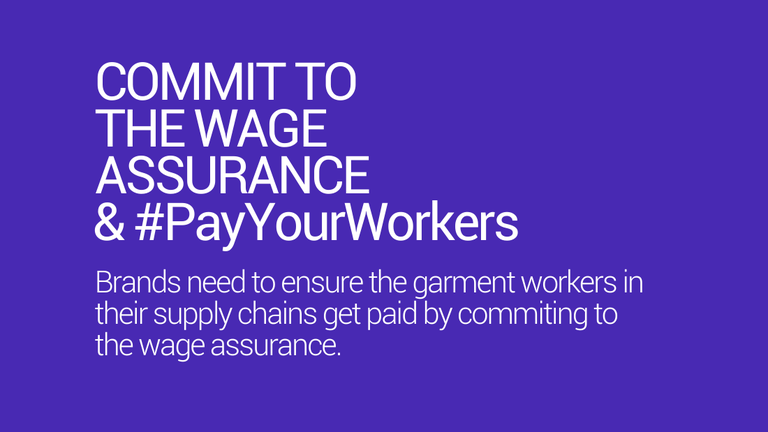 We took action during CFS+ and called on brands to commit to the wage assurance. Visit the take action page to see more.

Our COVID-19 snapshots takes statistics from the liveblog and stories from our network to show you why brands need to take action.


TAKE ACTION: Tell brands to #PayYourWorkers

Is @Nike paying the workers fired from Violet Apparel, shut down due to lack of orders? Over one thousand workers, including pregnant women, lost their jobs and wages with no notice, leaving them penniless in the midst of a pandemic. @Nikewomen #PayYourWorkers
Is @hm making sure the people who made their clothes get paid? 1,200 workers lost their jobs overnight when ECC II, who only supply for @hm, suddenly shut down despite H&M committing to paying all suppliers for orders in full. #PayYourWorkers - Tweet

When workers making Primark's clothes at Fakir Knitwears Ltd protested to receive their wages in full, they were arrested and falsely charged with vandalism. What are you doing @Primark to make sure you #PayYourWorkers? - Tweet

In the two months before @Nike supplier Violet Apparel shut down after loosing orders, the factory was already suspending workers due to lack of work. Is @Nike making sure these garment workers are paid more than 30 USD a month? #PayYourWorkers - Tweet

Over 1,400 social protection measures adopted by governments since the outbreak of COVID-19 are insufficient, according to the UN's expert on extreme poverty. Brands need to take responsibility for their supply chains and #PayYourWorkers - Tweet

Over a dozen brands have already committed to ensuring their workers are paid in full during the pandemic, including Nile, Kuyichi, Taiyo, and Known Supply. It is up to bigger companies to follow suit.
We are particularly calling out H&M, Nike and Primark, but ALL brands need to commit to the wage assurance. 
Take action by spreading our clothes labels in shops or taking other actions from our guerrilla campaigning action pack!

We know that this won't be possible in all countries and cities, so it's even more important for people near cities that aren't locked-down to get involved.
We want to put workers' voices on blast; where better than in the clothes they made but weren't paid for? The QR code leads people to this action page! Please take pictures of your action and share them online, to amplify the workers' voices even more.
Are shops closed where you are? No problem, write the #PayYourWorkers hashtag or one of workers' quotes on a sign and take a picture near one of the closed shops or at home.
Post your picture on social media using the hashtag and tagging H&M, Primark, Nike and any other brand you want to call out.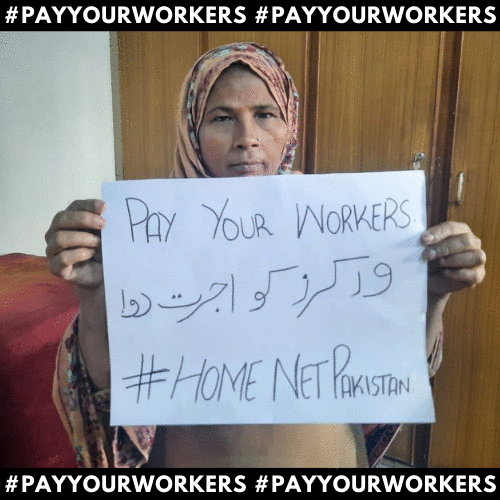 What you can do? Read, share, and take action:
Read more about our research into the garment industry wage gap in our August report: "Un(der)paid in the pandemic." and visit our COVID-19 campaign page for more background on the situation.
Call upon brands to take responsibility for their supply chains by paying up on orders - #PayUp and ensure workers receive their full income - #PayYourWorkers.
Ask H&M, Nike, Primark or your favourite brand on social media: what are you doing to #PayYourWorkers?
Visit the Remake website to increase the pressure on brands. You can also find more petitions here.
Keep up to date on the consequences of the pandemic on workers in garment supply chains via our live-blog and spread these resources widely.
Keep posted! More action is coming from all across our network, we will not accept that workers are left unpaid!