Garment brands and manufacturers cannot stay silent on Myanmar atrocities
The Clean Clothes Campaign Network condemns the silence of garment brands, including Aldi North, Lindex and Marks & Spencer, on the military in Myanmar committing atrocities since the military coup at the start of February. Brands such as H&M, Next, C&A, Primark and Benetton, who have suspended placing new orders, still have a clear responsibility towards workers to ensure wages and severance are being paid.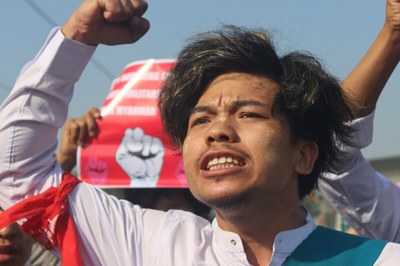 Garment workers played a key role in the ongoing pro-democracy protests, fighting at great personal risk for their rights and freedoms. The military's violent crackdown is increasing as they target those taking part in the civil disobedience movement. In the past two months, the military have killed over 500 people.
At the beginning of March, CCC called on garment brands sourcing from Myanmar to take a series of concrete steps to protect garment workers' rights and safety. Brands who source from Myanmar have willingly exploited lax labour laws and poverty pay for their own profit and gains. Now, in this time of crisis, they owe workers their active support.
Brands that have not responded publicly to the devastating situation in Myanmar include Aldi North, Lindex and Marks & Spencer. It is shameful that they do not prioritise protecting human rights and lives, especially given the urgency of the situation.

Brands such as H&M, Next, C&A, Primark and Benetton must take active steps to ensure workers are paid and thus support the livelihoods of the people making their clothes in this time of crisis. It is key that brands maintain pressure on the military through public declarations, stating that their withdrawal of orders is a direct result of the military coup and the attack on democracy and human rights, and not due to logistical issues

We call on all brands, retailers and manufacturers active in Myanmar to take immediate steps to protect garment workers. It is their responsibility that workers receive their full wages or, in cases of job loss or factory closure, the full severance owed to them. Brands must also work with their suppliers to ensure that workers do not face punitive measures for missing work, regardless of whether that is because they have joined the protests, are unable to get to work or have returned to their villages over concerns for their safety.
The death toll at the military's hands is rising daily. Brands must not stay silent a moment longer.