Global campaign confronts H&M, Primark, and Nike with unpaid workers' voices
The Clean Clothes Campaign global network will put pressure on apparel companies to take responsibility for worker wages in their supply chains with a global week of action. Actions in dozens of locations around the world will amplify the voices of workers whose wages were cut or jobs disappeared without compensation during the pandemic.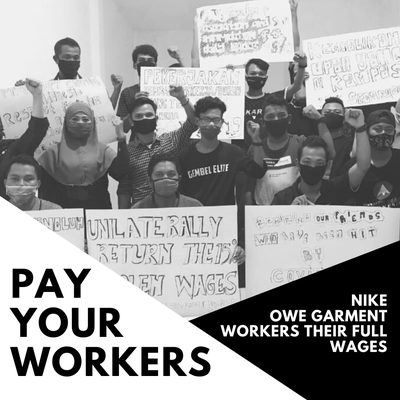 Workers, trade unionists, and labour advocates are pushing brands and retailers to publicly ensure that the workers who made their goods before the pandemic are paid their full wages or, if need be, the severance pay they are entitled to.
Since the start of the pandemic, millions of garment workers have not been paid their full wages or were dismissed without proper compensation. Research by the Clean Clothes Campaign network, published in August, showed that just for the first three months of the pandemic workers are owed between 3.2 and 5.8 billion USD in unpaid wages and legally-owed compensations. Since June, Clean Clothes Campaign has called upon brands and retailers to commit to a public wage assurance to fill this gap by any means and ensure that workers who were already earning poverty wages before the pandemic are not paying the price for this crisis. Over a dozen smaller brands have already responded positively to Clean Clothes Campaign's call to #PayYourWorkers. It is now time that others follow suit, especially large companies that have the most impact, such as H&M, Nike, and Primark.
A garment worker and union organiser in a Nike supplier factory, who wants to stay anonymous, said: "For most of us, the pandemic situation has been hard. Now we have to accept a wage cut, while there's no cut on the bills. Many of us have to pay instalments for our debt, either to the bank, a cooperative or loan sharks. You may ask, why do we have loans? Well, because the wage never competed with our living needs in the first place."
In several dozens of locations around the world, workers, unionists, and other activists will draw attention to the situation of these millions of underpaid workers and put pressure on companies at the top of supply chains to commit to ensuring their workers' wages. Workers' and unionists' voices will be heard directly from countries such as Myanmar and Indonesia that are rife with underpayment. In Europe and North America activists will bring these workers' voices to the shopping streets by projecting protesting workers on buildings, chalking their statements on the pavement, and hiding their notes inside stores. Online and offline, H&M, Primark, and Nike will be confronted with the faces and voices of the workers they have tried to ignore for the past eight months, and who rely on the poverty wages paid in these brands' supply chains for survival.
All three companies have returned to making considerable profits in the past quarter. Primark owner Associated British Foods early November reported a 914 million GBP (1b EUR) profit before tax over the past year, H&M group announced 24,851 million SEK (2,435m EUR) profit over the past quarter, and Nike in its last quarterly report showed a 1.5 billion USD (1.3b EUR) net income and paid out 384 million USD (325m EUR) in dividends to shareholders, up 11 percent from the year before.
Christie Miedema, campaign and outreach coordinator at Clean Clothes Campaign, says: "During a pandemic, we cannot organise worker tours or mass protests to confront brands' headquarters with the violations happening in their own supply chains. We can, however, bring these workers' voices to the shopping streets where these brands and retailers sell their clothes. These companies have built their profits on poorly paid labour and have deprived workers from even these meagre wages since the start of the pandemic. Now, in the middle in a wave of new lockdowns, it is high time for brands and retailers to ensure that workers are paid their full wages in order to survive."