Full support for Bangladeshi garment workers' demands on minimum wage
Ahead of the long overdue meeting of the national Minimum Wage Board, set to take place on Sunday, 8 July, Clean Clothes Campaign expresses solidarity with workers in Bangladesh and full support for their demands. We urge the Minimum Wage Board to increase the minimum wage to 16,000 taka without delay, and to adopt other measures requested by workers and their representatives.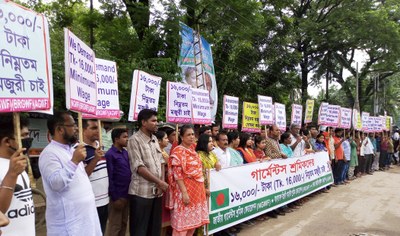 Workers in Bangladesh are paid some of the lowest wages in the global garment industry. The current minimum wage of 5,300 taka (the equivalent of about 63 USD) has not been revised since 2013, and it is far below any credible living wage estimate.
Workers have been demanding a minimum wage increase to 16,000 taka (about 191 USD at the time of writing), along a statutory framework to govern pay grades and promotion, and other welfare measures. The Bangladesh Council of the global union federation IndustriALL (IBC) has formally submitted these demands to the chair of the Minimum Wage Board, and the demands have broad and unified support of many trade unions, NGOs and labour rights groups.
One illustration of this broad support base are the numerous rallies that have been taking place in Bangladesh, such as the one on Monday, 2 July, organized by Bangladesh Garment Workers Solidarity. On Thursday, 5 July, another rally was organized by the IBC members National Garment Workers Federation, Bangladesh Revolutionary Garments Workers Federation and Akota Garment Workers Federation, which together represent more than 100 trade unions.
The president of the National Garment Workers Federation, Amirul Haque Amin, said: "The owners, the government and the buyers should consider that workers' health and quality of life affect the production process and the products that come out of it. Large volume and quality production cannot be expected when workers are hungry, in poor health and unable to meet basic needs."
We call upon the government of Bangladesh to ensure that workers' rights are fully respected, and we urge garment brands to show leadership on the way toward living wages.
Since labour unions started voicing the concrete demand of the 16,000 taka minimum wage and organizing related actions earlier this year, many workers and their representatives have been yet again subjected to extreme pressure including arrests and other threats to freedom of association and other human rights. This follows the wave of repression in December 2016 and January 2017. We strongly condemn the repression and call upon the government of Bangladesh to ensure that workers' rights are fully respected.
As we did in the letter sent directly to major brands sourcing from Bangladesh, Clean Clothes Campaign also appeals to garment brands to show leadership on the way toward living wages for garment workers in Bangladesh by publicly: (1) supporting the 16,000 taka minimum wage demand; (2) making a long-term commitment to continue sourcing from Bangladesh after the wage increase; (3) agreeing to increase the prices they pay their suppliers (i.e. the FoB price) to allow for the wage increase to be met in practice; (4) expressing concern at the repression and harassment of trade unions leaders; and (5) making it clear that they support their genuine engagement in the negotiation process.
The following brands received the letter: H&M, Gap, Walmart, Tesco, Inditex, C&A, VF, Levi's, Marks & Spencer, Primark, Next, Takko, Aldi, Lidl, American Eagle, Hugo Boss, Esprit, El Corte Ingles, Sainsburys, HBC, A&F, Kik, Carrefour, Li & Fung, and Benetton. The brands that have responded so far recognized the need for a wage increase, but none of them has publicly expressed support for the increase to 16,000 taka and overall shown the leadership we had asked for.
It must be noted that the 2014 Cambodia minimum wage struggle showed that garment brands' public support can make a crucial difference. The letter that eight major brands back then jointly sent to the Deputy Prime Minister and the Garment Manufacturers Association clearly emphasized that their purchasing practices would enable the payment of a fair living wage, and that a wage increase would be reflected in the prices they pay to their suppliers. The current situation in Bangladesh provides a very similar window of opportunity for action by brands.
"Many garment brands have been claiming for years that they support and strive for a living wage in their supply chain. Now is the time to demonstrate that those are not just empty words," said Ineke Zeldendrust of Clean Clothes Campaign.
Beside the minimum wage increase to 16,000 taka workers' demands include the streamlining of the job grades that determine worker's pay from seven to five; the introduction of currently inexistent promotion criteria; a 10 percent annual pay increase; and a shortening of apprenticeship periods to the maximum of three months, along with a wage increase for apprentices from 4,180 taka to 10,000 taka.
Ineke Zeldenrust said:
"We fully support all workers' demands and call for an immediate wage increase, so that workers' earnings will enable them to finally lift themselves and their families out of the extreme deprivation they currently have to endure on a daily basis."
 More information: