Brands sourcing from Bangladesh urged to support workers' minimum wage demands
More than 20 of the largest brands sourcing from Bangladesh have received a request for them to support garment workers' demands regarding minimum wage, which has not been revised in five years and is one of the lowest in the global garment industry. Clean Clothes Campaign also urged the brands to call on the government of Bangladesh to immediately end the harassment of workers and labour activists.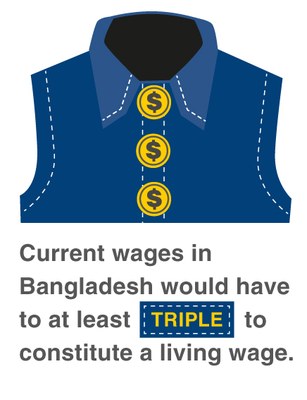 We sent the letter in the week before the minimum wage board was finally set to hold a meeting – scheduled for today -- that should lead to a long overdue minimum wage revision.
The following brands received the letter: H&M, Gap, Walmart, Tesco, Inditex, C&A, VF, Levi's, Marks & Spencer, Primark, Next, Takko, Aldi, Lidl, American Eagle, Hugo Boss, Esprit, El Corte Ingles, Sainsburys, HBC, A&F, Kik, Carrefour, Li & Fung, and Benetton. So far we have heard back only from Kik and Esprit, but neither indicated that they would do what we requested.
This is the full text of the letter:
We are addressing you as one of the main garment brands sourcing from Bangladesh. As you know, workers in Bangladesh are paid some of the lowest wages in the global garment industry, and the minimum wage of USD 68 has not been revised since 2013. Workers' demands for an increase of that amount are therefore no surprise. Recent research done into the garment industry in Bangladesh also indicates that in the period since the minimum wage was last revised prices paid to suppliers have dropped on average by 13% and lead times for production have shortened by over 18%.
At the point in time when the minimum wage board is about to finally conduct a revision of the minimum wage, we are writing to request that you publicly express full support for the workers in Bangladesh who have been demanding a minimum wage increase to the equivalent of USD 192 (16,000 taka), along a statutory framework to govern pay grades and promotion. and other welfare measures. It is important to note that workers and trade unions advocating for 16,000BDT pay rise are currently experiencing significant repression.
Given the volume of your orders from Bangladesh your position on this matter makes a significant difference. We expect your brand to show leadership on the way toward living wages for garment workers in Bangladesh by publicly:
making a long-term commitment to continue sourcing from Bangladesh after the wage increase,
agreeing to increase your FoB price to allow for the wage increase to be met in practice,
expressing your concern at the ongoing repression and harassment of trade unions leaders,
and making it clear that you support their genuine engagement in the negotiation process.
Since labour unions started voicing the concrete demand of the 16,000 taka minimum wage and organizing related actions earlier this year, many workers and their representatives have been yet again subjected to extreme pressure including arrests and other threats to freedom of association and other human rights. This follows the wave of repression in December 2016 and January 2017.
We therefore urge you to accompany your expression of support for workers' demands with a call for the government of Bangladesh to immediately end the harassment of labour activists and workers who have been peacefully expressing their demands.
 Workers are trying to make sure they can feed their families and provide roofs over their heads with the wages they receive for the hard work in garment factories, and your brand is critical in making this possible.