The Bangladesh garment industry has a long history of factory fires and collapses, killing thousands of workers. The Accord on Fire and Building Safety in Bangladesh has made a real change by making factories safer. As witness signatory we keep a close look on the progress made by the Accord.
"The Accord is very important for workplace safety. The Accord works independently and neutrally and has earned a good reputation and credibility, abroad and among workers. The Accord ensures the safety of the workplace for workers. The garment industry is free of accidents due to the Accord."
Babul Akhter, Bangladesh Garment & Industrial Workers Federation (BGIWF), union signatory to the Accord
What is the problem?

Many garment brands have their clothes made in factories in Bangladesh. Until a few years ago, many of these factories were no more than death traps. A safety programme, in which around 200 brands participate, has since 2013 been working to make those factories into safe workplaces. Since its establishment in the wake of the Rana Plaza collapse, the Bangladesh Accord has brought great progress to the safety situation of garment factories in Bangladesh, but its progress needs to be protected.
After a protracted campaign of factory owners and the government of Bangladesh against the Accord, the Accord's Bangladesh-based operations have now been handed over to a new national body in which worker representatives only hold one third, instead of half of the governance seats. We have our concerns and keep on monitoring the functioning of this new body.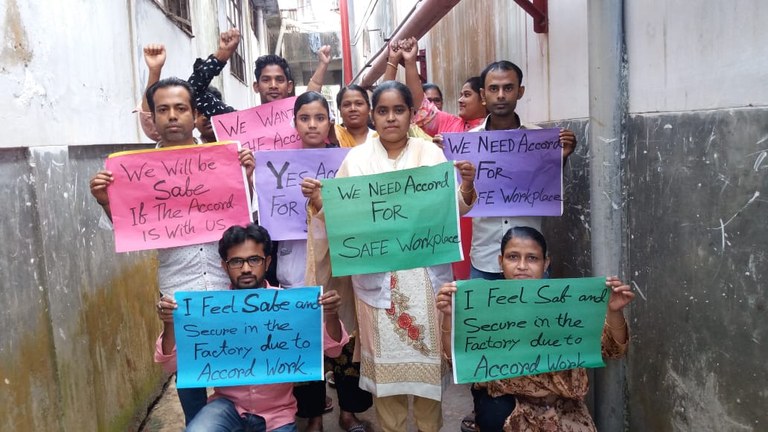 Who needs to act?
Signatories to the Accord need to be alert that the programme remain as effective and transparent as before and need to ensure that they meet their obligations under the binding Accord agreement.
As still the best safeguard to factory safety in Bangladesh, it is vital that brands that have not yet signed the Accord do so as soon as possible. Have a look here to see which brands did and did not sign the 2018 Accord.

Take action
Check our list to see if your favourite brand signed the 2018 Accord. No? Tell them to do so on social media, using this message: [@Brand] Respect your workers. Don't put their lives at risk. Sign the 2018 Bangladesh Safety Accord now. #RanaPlazaNeverAgain #workersafety  

Share on social media how important you find the Accord, tagging your favourite brands and the Bangladesh employer association @BGMEA_info and using the hashtags: #RanaPlazaNeverAgain #ProtectProgress
 Share the video showing why the work of the Accord is an example for how to make change in the garment industry: https://youtu.be/TnPesU_yPgwhttps://youtu.be/TnPesU_yPgw
Background

When in 2013 the Rana Plaza building collapsed - killing 1,134 workers - it was clear that something nee
ded to change to address the notoriously unsafe Bangladesh garment industry. Only a few weeks later the Bangladesh Safety Accord was launched. In the past few years, the Accord has carried out inspections, overseen repairs and trained workers in the field of safety covering over 1,600 factories supplying more than 200 brands.
The Accord is a binding instrument initiated by Bangladeshi trade unions and Global Union Federations together with labour rights groups. The first Accord, which had a mandate for five years, has been signed by over 200 global fashion brands and retailers, Bangladeshi trade unions and Global Union Federations. Clean Clothes Campaign is one of the four witness signatories. The ILO (International Labor Organisation) functions as neutral chair.
The Accord requires the signatory brands to disclose who their supplier factories are. The Accord also requires independent building inspections on fire, electrical and structural safety, worker rights trainings, and a long-overdue review of safety standards.
Fashion brands, together with their supplier factory, are responsible to compensate the workers during any closure for remediation and maintenance resulting from the inspections. The inspections are carried out by safety inspectors from international firms, and Bangladesh engineers. The Accord is unique in being supported by all key labour rights stakeholders in Bangladesh and internationally, and being legally binding. The reports of the Accord's inspections along with their Corrective Action Plans are published on the Accord website.
As witness signatories to the Accord we keep a close watch on its work. We are involved in its governance but are also not afraid to speak out when needed. In the second half of 2015 the four Accord witness factories checked the progress of H&M's most trusted suppliers. The result was shocking: most supplier factories were far behind schedule in repairing the safety defects that Accord inspectors found. Follow up research in January 2016 and May 2016 showed some progress, but still left the majority of these key suppliers without safe fire exits. To increase pressure on H&M we held an international day of action, on which people in over 40 cities worldwide made their voices heard. 
When in June 2017 a follow-up programme to the first Accord was announced, the 2018 Transition Accord, this was in recognition that while laudable progress toward safety was achieved since May 2013 much remains to be done to achieve a safe garment industry in Bangladesh. That is why the Agreement mandated a three or possible four year term commencing 1 June 2018. In October 2017 an agreement was reached between the Ministries of Commerce and Labour, the employers' organization BGMEA, and 2018 Transition Accord signatory representatives about a process to regulate a transition to national oversight structures according to rigorous standards. We campaigned hard to convince brands to sign on to this new programme, summing up our arguments in this blog, and this background memo. Almost 200 brands did, including new garment brands and home textile providers.
This first Accord programme ended in May 2018. A new Transition Accord took over, but under difficult circumstances. The government and employers' organization stated that they no longer needed the Accord. We stressed that there is no other credible way to keep workers in Bangladesh safe. Many worker representatives, brands and other stakeholders joined us in our support for the continuation of the Accord.
The frequent fires that continued to happen in Bangladesh showed that contrary to what the government and factory owners say, national inspection agencies in Bangladesh are not yet ready to take over the work of the Accord. They showed cases of broken promises, unsafe buildings, and factories deemed too dangerous to produce in that continued to operate. Furthermore a closer look at the public data of the national inspection bodies themselves showed many inconsistencies and dangerous lapses. As witness signatories to the Accord we closely follow factory safety in Bangladesh and the operations of the Accord.
Eventually, in 2019 a Memorandum of Understanding was reached between the employers' organization BGMEA and the Accord. We have our concerns about this agreement and will continue following progress carefully.