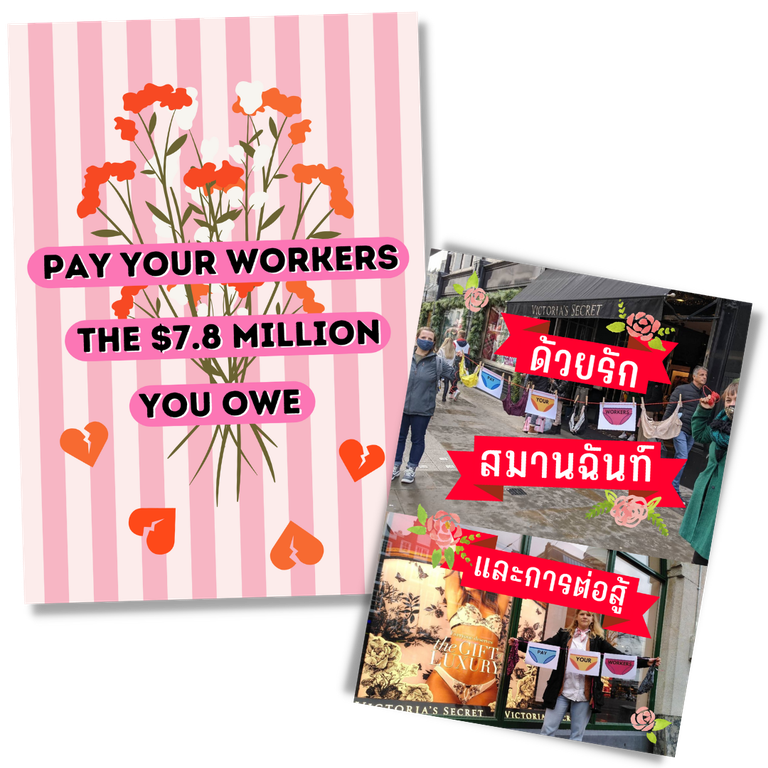 Victoria Secret's store, and one to take a picture with in solidarity with workers.
Tag our social media accounts and we will send the photos on to
the former Brilliant Alliance workers.
1) Protest stories
Add protesting workers to your instagram story! Take a picture of branded clothes, a brand website, or a shop to post to your stories. Search "PYW" in the stickers tab to use our stickers calling on brands to pay the billions they owe! You can also see them on GIPHY.
3) Make a #PayYourWorkers sign
Post a photo of yourself with a #PayYourWorkers sign.
Use one of our designs or make your own. Take a picture at home, in-front of a brand's website or in front of a store and post it online with the hashtag #PayYourWorkers !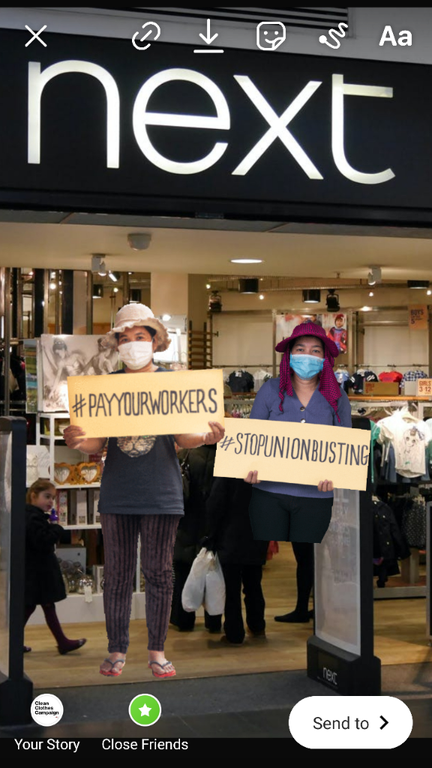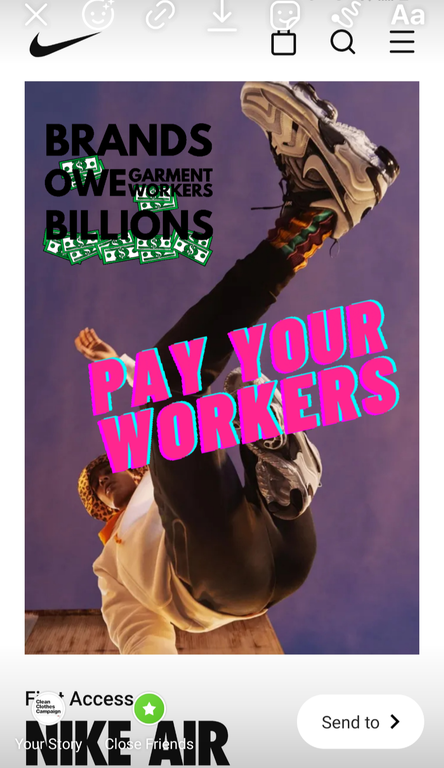 2) Twitter storm
Target brands with the messages bellow. Just one click and you'll be telling them to #PayYourWorkers, #RespectLabourRights and pay #10CentsMore!
When workers in Sri Lanka formed a union to fight for their rights  @nextofficial refused to recognise it. #Next must #RespectLabourRights. Sign here: https://labourbehindthelabel.org/tell-next-to-respect-garment-workers-rights/

1,200 garment workers in #Cambodia continue to fight for their severance and wages after losing their jobs overnight when Violet Apparel #Nike factory closed in July 2020. @Nike #PayYourWorkers and #RespectLabourRights!
It'll cost brands only #10CentsMore per t-shirt to ensure workers in their supply chain won't be left penniless in a pandemic. @Nike, @Nextofficial, @amazon, you can afford this! #PayYourWorkers #RespectlabourRights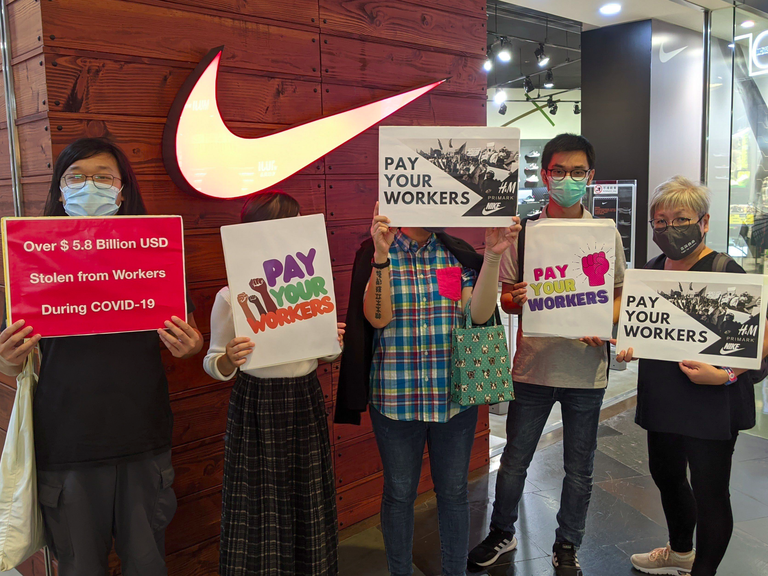 1) Bring workers' voices to the shop with our labels

Print our clothing labels (two sided - print larger than A4 then cut to size) and hide them in pockets and stacks of clothes in the shops. The label contains a QR code which takes you to our campaign page. If you make holes in the labels you can even attach them to the actual clothing labels.


3) Clean clothes, clean pavements

Print put our stencils to reverse graffiti the shopping streets with a high pressure cleaner.
We also have transfer templates for t-shirts and masks! Take a look at our materials or make your own!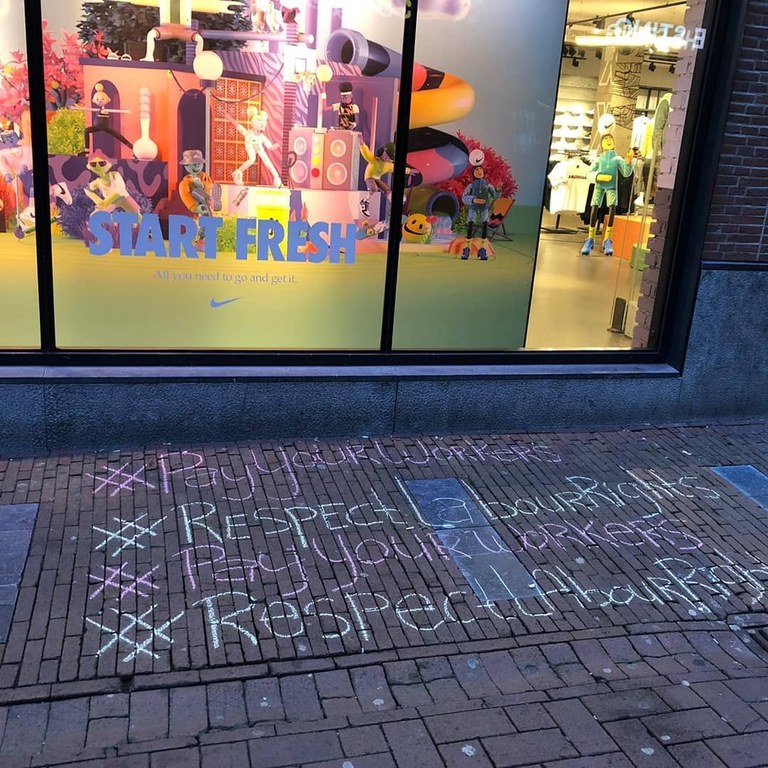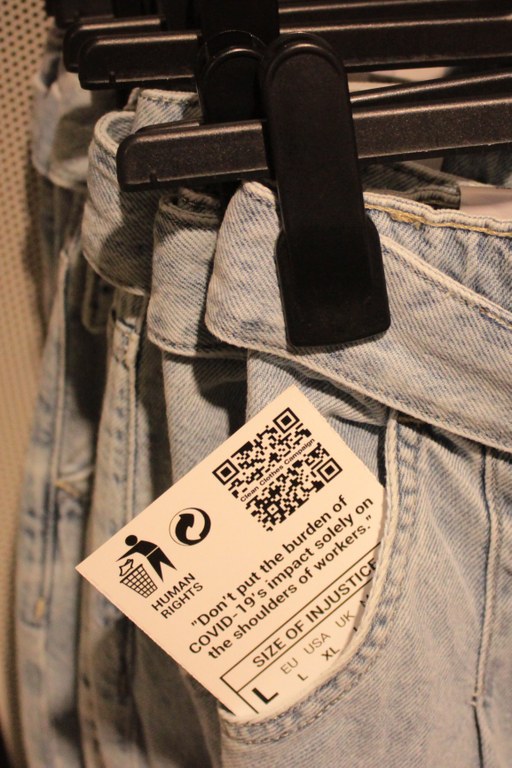 2) Posters and Stickers

Print pictures of protesting workers and quotes and leave them behind in shops. You can make them any size, or use wheat-paste to make them stick. Find a cheap printing company or sticker company near you to help.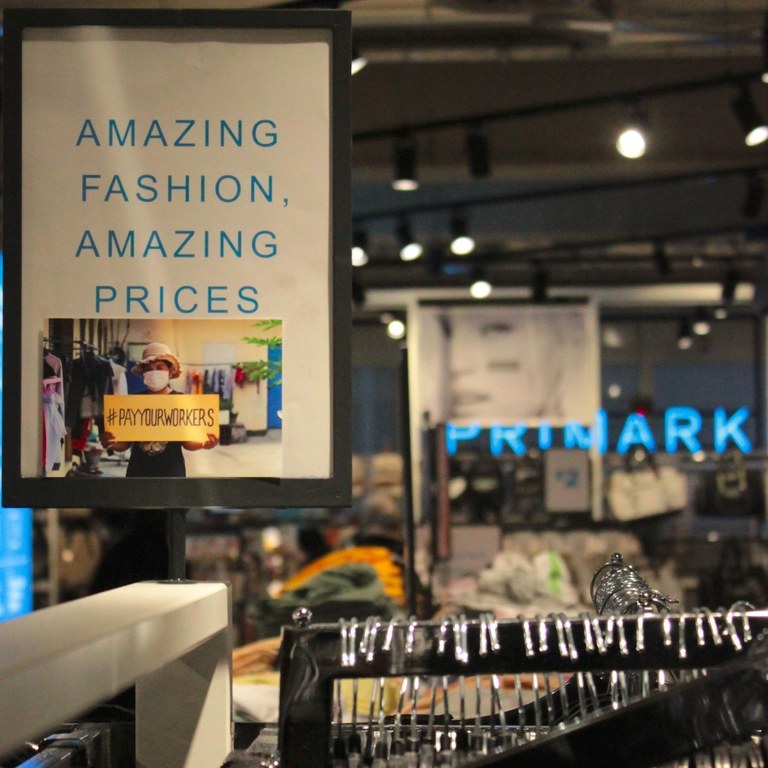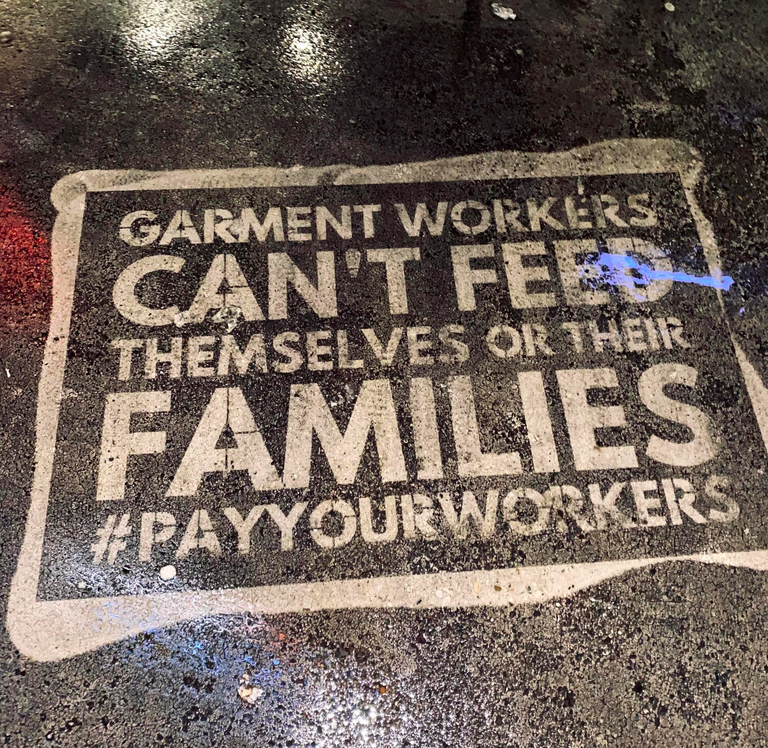 4) Paint with chalk
Either use our stencils or free hand slogans and quotes on the shopping streets. AchAct's action shown bellow was beautiful but there have been more low key contributions already!