More than 30 major fashion brands commit to factory safety in Pakistan
Today, exactly one month since the start of the sign on process for the Pakistan Accord, a binding safety programme based on the model of the lifesaving International Accord for Health and Safety in the Textile and Garment Industry, 33 have signed on to the programme, which means the programme will cover over 300 factories.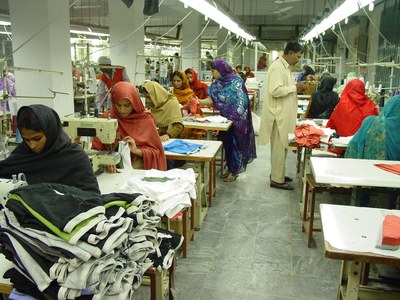 The signatories include H&M, Inditex (Zara), Primark, Asos, C&A, Next, and PVH (Calvin Klein).
Said Christie Miedema, Campaign and Outreach Coordinator at Clean Clothes Campaign: "More than thirty International Accord signatory brands have already signed on to the Pakistan Accord, including some of the largest buyers from the country, and we expect all other International Accord signatories who also have production in Pakistan to announce their commitment soon."
Clean Clothes Campaign urges brands that have thus far failed to take responsibility for their workers in Bangladesh such as Levi's and IKEA to take this new opportunity to do right by their workers in Pakistan. A report published in July 2022 by Clean Clothes Campaign and Wales Institute of Social and Economic Research and Data (WISERD) at Cardiff University revealed that 85% of surveyed workers reported no access to proper exit stairwells in the case of a fire. One in five workers reported that their workplace lacked fire drills and were unaware of emergency escape routes and exits.
Nasir Mansoor, General-Secretary of the National Trade Union Federation in Pakistan said: "We know that brands like Levi's and IKEA have failed to take responsibility before, by refusing to sign the Accord in Bangladesh. We hope they will reconsider now that workers in Pakistan finally have a chance at having safer workplaces. We call on all brands which produce in Pakistan, such as Levi's, IKEA, Amazon and Kontoor Brands to follow the only reliable route of ensuring factory safety that exist in Pakistan. Just a year ago, four people died in a Levi's supplier factory in Karachi, this has to stop."
Unions in Pakistan have worked for many years to get a safety agreement for the garment and textile sector in which workers grievances are heard and acted upon. The Pakistan Accord will finally instate a complaint mechanism and know the factories they work in are subjected to effective safety inspections.
Zehra Khan, founder and General Secretary of the Home Based Women Workers Federation, said: "We are happy that garment and textile workers in Pakistan will no longer have to fear for their lives at work. Workers in other countries should not have to wait another ten years before also being brought under this effective safety agreement."
Background
The Pakistan Accord was announced by signatory brands and unions on 14 December 2022 as the first country in addition to Bangladesh where the International Accord model will operate. This model has proven successful in making garment and textile factories safe thanks to its enforceable character, its equal representation for unions, its transparency and the obligation upon brands to ensure that their supplier factories are able to carry out mandated renovations. Since the launch of the Accord in Bangladesh (2013) over 90% of all found safety hazards at covered factories have been eliminated, making factories safer for over 2 million workers. Additionally, 1.8 million workers have enjoyed safety trainings and over 1,700 health and safety complaints have been filed to the complaint mechanism.