Global Sportswear brands are leaving Cambodian garment workers to languish beneath the poverty line, according to a new report
While the price of sneakers has been going up, the wages of the Cambodian workers making them has been going down leaving them languishing well beneath the poverty line, according to new research released today from global women's rights organisation, ActionAid and Cambodian labour rights organisation, the Center for Alliance of Labor and Human Rights (CENTRAL).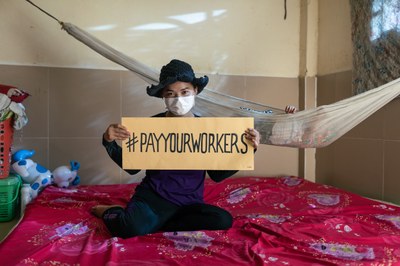 The report, Stitched under Strain: Long term wage loss across the Cambodian garment industry, is an alarming indictment on a global industry that has been allowed to put company profit margins ahead of the rights of the workers that make their clothes.  
Amid soaring living costs, Cambodian garment workers are calling for an increase in their wage so they can afford everyday essentials like food, rent and education for their children. The findings of this research demonstrate the urgency of this demand. Organisations connected with the Clean Clothes Campaign network, such as ActionAid and Cambodian organisations CENTRAL, CATU and the C.CAWDU* are calling on international brands to ensure Cambodian garment workers in their supply chain are earning a fair wage that keeps them out of poverty.   
The research revealed new evidence that workers, including at factories that produce for major brands Nike and Adidas, have experienced systemic wage loss alongside a massive reduction in working hours since the pandemic, which has left workers unable to meet their basic needs.  
25 percent of surveyed workers have experienced a decrease in monthly take-home pay, excluding overtime, since 2020. When overtime pay was included, the majority of surveyed workers were earning less now than they were in 2020, before Covid-19 hit.  
Overtime pay, which workers rely on to meet basic living costs, decreased by more than 60 percent for surveyed workers from 2020 to 2023. Workers have gone from earning, on average, an additional US$36 before the pandemic hit, to an average US$12 per month in 2023. 
85 percent of surveyed workers reported that their salary is insufficient to support them until the end of the month, and almost 50% of surveyed workers are going to work without eating enough. 
91 percent of surveyed workers reported holding at least one current loan, with 70 percent pointing to the economic insecurity of the pandemic as a driver of increased debt. Workers also reported increasingly turning to informal loans that carry interest rates as high as 20 percent, with some workers reporting alarming new trends such as borrowing from factory supervisors directly. 
 
"Our research has revealed damning evidence that brands like Nike and Adidas are failing to uphold the rights of workers in Cambodia producing their products.  Footwear companies like Adidas and Nike mark up the retail price of shoes well beyond the manufacturing costs, while the workers making the shoes are paid extremely low wages that leave them unable to afford basic necessities like food and housing," said Michelle Higelin, Executive Director at ActionAid Australia.  
"Garment workers in Cambodia, most of whom are women, are working a six-day week and still struggling to meet their family's basic needs. Our research showed that because of decreasing overtime time hours and salary reductions, workers are unable to survive without taking on significant debt. The unjust practices of major brands are trapping the workers who make our clothes in a cycle of poverty. We are calling on global brands manufacturing in Cambodia to ensure workers in their supply chains are paid a fair wage," adds Michelle Higelin.  
"Our research provides direct evidence that the current minimum wage for Cambodian garment workers is not enough to meet their daily cost of living and wages have decreased since the Covid-19 pandemic. This month, Cambodian workers are campaigning for a higher minimum wage. Workers and unions need the support of international brands to ensure their demands are met," said Khun Tharo, Program Manager, Center for Alliance of Labor and Human Rights.  
"We need brands to act immediately and responsibly based on their commitments and promises to pay decent living wages to their workers. No one making clothes for the world's most popular brands should be living in working poverty," adds Khun Tharo.   
*ActionAid produced this research in partnership with three Cambodian organisations: the Center for Alliance of Labor and Human Rights (CENTRAL), the Cambodian Alliance of Trade Unions (CATU) and the Coalition of Cambodian Apparel Workers' Democratic Union (C.CAWDU).