Activists' high-profile hoax highlights adidas' hypocrisy
Yesterday (Monday 16th), in a high-profile hoax, stunt activists The Yes Men, working with Clean Clothes Campaign, highlighted adidas' hypocrisy when it comes to garment workers' rights. It began with a surprise announcement from 'adidas', detailing their bold new plan to prioritise and protect workers' rights.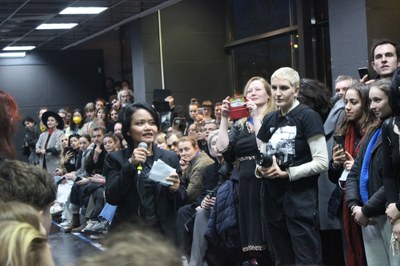 The announcement outlined ground-breaking plans to appoint a Cambodian former garment worker and union leader, 'Vay Ya Nak Phoan' ('textile' in Khmer), to be Co-CEO, alongside Bjørn Gulden, who took charge of the company on 1st January. With 'Phoan' supposedly overseeing 'adidas'' ethical responsibilities, her first step in office was to sign the Pay Your Workers agreement, a real life proposal developed by trade unions and labour rights organisations on wages, severance and the freedom to organise.
'Phoan' also committed the brand to actively resolving current cases of rights' violations in adidas' supply chain, including working with suppliers to: reinstate all eight fired union leaders at Trax Apparel in Cambodia, with 100% back pay; and to respond to the demands of the Pou Chen union in Myanmar, including reinstating workers and union members who were fired for striking, significantly raising wages, and ensuring protections for workers' right to freedom of association. 'Phoan' pledged adidas would pay $2.5 million in legally-owed severance to 1020 workers at the Hulu Garments factory in Cambodia, and the swift payment of over $11 million in wage theft owed to Cambodian garment workers at eight supplier factories. 
The alleged plan was to replace adidas' motto 'Own the Game' with one that proactively addresses injustice in the garment industry: 'Own the Reality.' A press release sent from a fake adidas domain on Monday morning included links to an apparent image of Gulden and 'Phoan' signing the Pay Your Workers agreement, committing to address the systemic problems of wage and severance theft, and union busting. 
Following reports of the prank on Monday, crowds of fashionistas attended a sold out shocking 'adidas' fashion show as part of Berlin Fashion Week, to launch their outrageous new clothing line: 'suffering-forward Realitywear.' Realitywear was said to reflect the plight of adidas' workers in production countries and each piece was supposedly pre-worn by Cambodian garment workers for six months for a truly distressed look, imbuing the clothing with a record of daily life and the hardship of their jobs. While the announcement of a new Co-CEO aimed to present an alternative reality in which adidas is prepared to do right by its workers, the offensively bad-taste fashion show exposed the brutal current reality, where garment workers' rights are violated in the pursuit of profit. 
The Yes Men hoax highlights the hypocrisy of adidas, a brand that portrays itself as invested in women's empowerment, while earning billions in revenue from the ongoing exploitation of women garment workers in production countries that lack adequate social protection systems. The stunt illustrates the power that adidas has over conditions in their supply chain. 
Ineke Zeldenrust, International Coordinator for Clean Clothes Campaign said: "Adidas are masters of spin, but the truth is they refuse to put their money where their mouth is. Tens of thousands of adidas garment workers are owed millions, and the sheer scale of wage theft means this issue can't be solved on a case-by-case basis. The Yes Men have presented an alternative future where leadership prioritises protecting rights, one where adidas takes ethical conduct seriously enough to invest in it financially. We call on Bjørn Gulden to take the urgent steps needed and sign the Pay Your Workers agreement. Words are not enough, workers need real action now, they've already waited too long."
One of the 26 fired workers from Pou Chen factory in Myanmar, who went on strike in October over low wages and union rights, a union member who wished to remain anonymous, said: "I want to ask adidas if they know what happened to us and what Pou Chen is doing to us? Adidas is world famous and shouldn't ignore what is happening to the workers who produce their shoes. Can't they hold Pou Chen accountable for what happened to us and the jobs we lost? As a worldwide brand, don't they have the ability to solve this issue?" 
"The news of their game-changing ethics programme is sadly fake, but the suffering of adidas workers is all too real" said Mike Bonanno of the Yes Men, who collaborated with garment workers and campaigners on the prank. "Adidas can fix it by paying their garment workers what they are owed, signing the Pay Your Workers agreement, and finally owning the reality of the people who make their profits possible." 
Although the action was a hoax, it carries a very real message: adidas needs to get serious about workers' rights and sign the Pay Your Workers agreement to protect them. The agreement will guarantee garment workers the full wages owed to them since the pandemic began, and includes the establishment of a severance guarantee fund to ensure that no workers are left penniless and fighting for the severance pay legally-owed to them, should they lose their jobs. Wage and severance theft have risen exponentially since Covid-19 began, with workers owed over an estimated half a billion dollars in severance theft alone since the pandemic began. The agreement additionally guarantees workers' right to organise, as cases of union busting have also risen sharply, many taking place under the guise of Covid-19 measures.
Read more on https://theyesmen.org/project/adidas