A decade since Rana Plaza factory safety has improved in Bangladesh but recent fire in Pakistan shows that it has not improved elsewhere
What has changed in the ten years since the collapse of the Rana Plaza building in April 2013? This is a much-asked question this month, marking a decade since the tragedy. In an attempt to give a nuanced answer to this question, a new timeline of events, launched today, lists key developments in the fields of worker health and safety, compensation, wages, and freedom of association.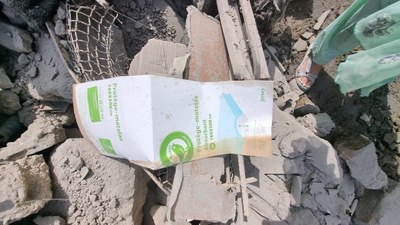 The timeline shows the continuity with activism long before the Rana Plaza collapse and that the disaster could have been prevented if unions' demands had been heeded earlier. Recent events also show how important attention to factory safety continues to be.
The timeline is part of the ranaplazaneveragain.org website, which was first launched in 2020 to safely commemorate the Rana Plaza anniversary despite the limitations of pandemic measures. Since then, the website has offered a way for people around the world to show their solidarity with garment workers in Bangladesh. It is supported by garment worker unions in Bangladesh and the Clean Clothes Campaign network.
Only binding agreements make factories safe
One clear conclusion emerging from the timeline is that the only field where considerable and lasting, although hard-fought, progress was made in the past years is workers' health and safety. The clear reason for this is the fact that only in this area did garment brands lay down their professed new direction after the tragedy in a binding agreement. The International Accord for Health and Safety in the Textile and Garment Industry is the third iteration of this agreement and has been signed by 195 garment brands.
Ahead of the ten year anniversary of the devastating collapse that killed at least 1138 people, the global Clean Clothes Campaign network and US campaign organisation, Remake, have initiated a petition run by the Eko platform targeting, what we are calling the "dirty dozen" brands, such as Levi's, IKEA, and Amazon, which have failed to sign this life-saving agreement in the past ten years. It is of utmost importance that this agreement gets the maximum amount of support in this crucial tenth year of the Accord, and all brands supporting the Accord will presumably do their utmost to ensure it will be prolonged with equal enforceability, transparency, and brand obligation to ensure the financial feasibility of remediations after its current term runs out in October this year.
Amin Amirul Haque, general secretary National Garment Workers Federation, said: "After Rana Plaza, because of the Accord, the safety conditions in garment factories have improved compared to before the collapse, but we need to continue this progress."
Other countries also need to be made safe
This year is also crucial, as it is the first year in which the Accord will be rolled out beyond Bangladesh. After many years in which unions and NGOs in Pakistan have urged for the Accord to fix their factories, the programme is now starting in Pakistan. The Pakistan Accord, which was announced four months ago and has been signed by 45 brands, is starting to roll out the programme, but the pace is slow, and workers are paying the price. Brands and retailers need to put speed behind operation. 
Just yesterday, a massive fire in a textile factory in Karachi, Pakistan, resulted in a building collapse, killing four firefighters and injuring 13 more. This factory supplied to several international brands, once more showing that brands' own safety monitoring mechanisms are woefully inadequate. Packaging material and product of French supermarket chain Auchan has been discovered on site, as well as labels from Dunnes Home and Hampton by Hilton. None of these brands have signed the Pakistan Accord on Health & Safety in the Textile & Garment Industry. All three, as well as any other brands that might be identified going forward, should do so immediately, as well as provide full support for a post-accident investigation. Auchan signed the 2013 and 2018 Accord agreements, but failed to sign the 2021 International Accord nor did it sign the Pakistan Accord. Auchan was one of the brands whose products were produced in the Rana Plaza building and should therefore be very aware of the importance of factory safety.  
Media, workers, and local authorities report that the location, which was previously called Sohail Weaving, is now owned by Usman and Sons, who do not mention this location on their website. Brands sourcing from Usman and Sons include German discounter Aldi South and US retailer Exist. Aldi South would be well advised to make haste to inspect all of its 50+ apparel suppliers in Pakistan under auspices of the Accord and in accordance with Accord safety standards to prevent further deadly incidents. Exist has not signed the Pakistan Accord and should do so immediately.
All brands that sourced from this company should ensure full and fair compensation for the bereaved families and injured firefighters, as well as cover medical costs for the latter. 
Ineke Zeldenrust, International Coordinator at Clean Clothes Campaign: "This fire must be a wake-up call for all stakeholders, including all brands sourcing from Pakistan, the Pakistan employers, and the Pakistan government and governments of the countries where linked brands are headquartered, that there's no room for complacency after the Pakistan Accord has been signed. Work needs to start immediately to make factories safe."
Expansion to other countries
Expansion of the Accord to countries beyond Bangladesh and Pakistan should furthermore not take another ten years. The necessity of further expansion is clearly shown by the recently updated factory incidents tracker maintained by Clean Clothes Campaign, which shows the  tip of the iceberg of deadly and near-fatal textile, garment and related factory incidents in countries not yet covered by the Accord.
Kalpona Akter, president of the Bangladesh Garment and Industrial Workers Federation, stated during a press conference hosted by Clean Clothes Campaign and Remake last month about her union colleagues in Pakistan: "We work shoulder to shoulder to ensure that these improvements go everywhere where our sisters and brothers who are working in the factories are not safe. The Accord is in Pakistan now, and we will be working to take it to Sri Lanka, India, Morocco, Mauritius - every possible place where our workers are not safe."