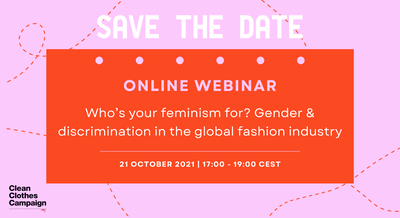 Who's your feminism for? Gender & discrimination in the global fashion industry
21 October 2021, 17.00 -19.30 CEST, (Online event)
Newly produced clothes and shoes have passed the hands of many women before consumers find them in stores. Most of these women face exploitation and a hostile working environment due to discrimination, disrespect and abuse within garment factories. Fashion brands try to convince consumers and society at large with costly public relations campaigns that they produce and sell "sustainably", some even started to use the buzzword "feminism" as a slogan on their shirts. However, working women`s reality in garment factories around the world does not correspond to this image at all. We invite you to hear from women themselves what it means to work in the garment sector, what it means to face discrimination and harassment in the factories but also how women organize themselves to change the situation.
Throughout the event, artists and dedicated people working on the issue of fashion and gender will present their work to support our call for a change – join us!
Register in advance for this meeting here.
Contributions
Anannya Bhattacharjee is the International Coordinator of Asia Floor Wage Alliance, a labour alliance for living wages and a violence-free workplace for garment workers in Asia who are mostly women and who produce most of the world's clothing. She is the President of Garment and Allied Workers Union (GAWU) in North India. Ms. Bhattacharjee has helped build grassroots labour-related collaboration between North America, Europe and Asia for well over a decade. She began this process when she helped to organize the World Social Forum in India in 2004. Prior to that, she lived in the US where she became involved in community & immigrant organising with a focus on violence against women, labour and immigrant rights. She writes and speaks widely on social justice. 
Vivien Tauchmann is a designer, researcher and educator, exploring socio-political relations through embodied and kinaesthetic approaches. By positioning the human body as relational material, she seeks to expose and confront aspects of man-made infrastructure and subvert processes which seem to constitute social and cultural boundaries of power and injustice. Her on-going project, "Self-As-Other-Trainings", was part of inter alia "Stay LIVE at Home!" by Performistanbul and "INSIST 2" at KU Leuven. She is active in initiatives like the Clean Clothes Campaign and is currently based in Leipzig. 
Sofia Ashraf is a digital content creator, rapper and writer. Her first public stage was Justice Rocks – a copy-left initiative of performing arts and music to challenge corporate globalisation, discrimination and hate politics. In 2015 Vettiver Collective along with Sofia produced "Kodaikanal Won't". The video (4 Mio views) addresses the mercury poisoning caused by a thermometer factory owned by Unilever . She also created content under the moniker "Sista from The South" on the badass feminist channel - Blush. Brought up in an extremely austere and orthodox Muslim household in Tamil Nadu (India), Sofia's primary objective is to help girls like her fight years of social conditioning and moral policing to heed their true calling. 
ReSew is a sewing cooperative. Their workshop is located in Kiev, Ukraine. They are united by their love for sewing, design. They like to reflect subjects such as privileges, discrimination, working conditions among other topics. They sew new things from what is no longer needed in the wardrobe, from leftovers and especially from things with history. This allows them to earn a living, while saving the world from yet more overload with textile waste. Their slogan: ReSew - alter things - upcycling, ReSque - save the planet, ReNew - generate new ideas. 
Parvathi Madappa is programme manager with Cividep India, an NGO engaged with workers in India's most significant export sectors like garment, leather, and electronics industries or coffee and tea plantations. It supports workers with trainings about their rights, supports efforts to collectivise, and facilitates grievance redressal. 6 years ago Parvathi has joined Cividep with managing work on human rights in the garment sector and coffee plantation sector, she is now overseeing all projects pertaining to the sectoral work at Cividep. Parvathi holds a master degree in social work and is regularly speaking at various forums and events across the globe to raise awareness for the working conditions and low wages of women workers in India. 
Emina Abrahamsdotter, FLER (Foundation for local economic development): Gender equality / gender mainstreaming expert within the international development cooperation. She has worked in around 30 countries around the world supporting governmental and non-governmental organizations to advance gender equality and empower women. She is also an activist with focus on labor rights and worker's conditions in Bosnia and Herzegovina. 
Marie-Pascale Gafinen is illustrator and graphic designer, specialised in Graphic Recordings in the thematic field of environment and sustainability. Based on two academic careers, in Communication Design and Environmental resource management, she is able to link background knowledge with Communication skills and years of practical experience in visualisation of sustainability issues. Gafinen is working with Changemakers in all sectors of society who want to bring positive changes and want to collaborate for progress in social, economic and ecological issues. 
Facilitator: Anannya Bhattacharjee