Webinar: the European Union's role in ending gender based violence
In the global textile production industry, more than 80% of workers are women, and 75% of them regularly experience gender-based violence in the factories. The Clean Clothes Campaign is organising a webinar on September 30th to discuss concrete legislation measures to improve life and working conditions for female garment workers worldwide.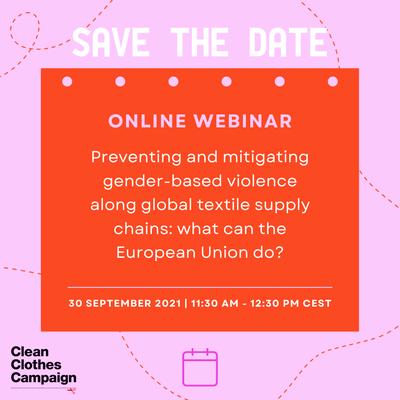 Preventing and mitigating gender-based-violence along global textile supply chains: what can the European Union do?
30 September 2021 h. 11:30 am - 12:30 pm CEST  (online event)
The event will be held in English and will provide simultaneous translation in Italian.
After registering, you will receive a confirmation email containing information about joining the meeting.
About
Gender-based violence, physical harassment and economic injustice in the world of work are among the most pervasive human rights violations: thus, preventing violence against women in textile factories is crucial in order to empower these workers and allow them to work in dignity and to avoid underpayment, violence and sexist employment requirements. Legislation, also in the European Union, plays a role to help achieving women's empowerment.  In the webinar, stakeholders from worker groups worldwide, the European investors community, and policymakers will address the fundamental legislative tools and opportunities which the European Union must consider in relation to gender-based violence and regulation on human rights due diligence to ensure gender equality in the workplace and in textile factories. Register here.
Panel
Kalpona Akter - founder and executive director of the Bangladesh Centre for Worker Solidarity (BCWS); Kalpona Akter is the executive director of the Bangladesh Center for Worker Solidarity (BCWS), one of Bangladesh's most prominent labor rights advocacy organisations, and is herself a former child garment worker. She is also President of Bangladesh Garment & Industrial Workers Federation-BGIWF, a national trade union center. Akter is an internationally-recognized labor rights advocate and has traveled widely to speak about the deplorable conditions that Bangladeshi garment workers face every day. For years Ms. Akter campaigns for fair wages, safe work places, and the free to exercise freedom of association and collective bargaining rights. The government and factory owners have targeted her for this work, including trumping-up charges against her organisation, putting her in prison and forcing government de-registration of the group. Over the years she has been interviewed extensively by local and international media like ABC, BBC, CBC, CBS, In These Times, International Business Times, New York Times, New Yorker, NPR, Salon, The Nation, and Wall Street Journal and including many more Asian and European medias. Akter has received The Alison Des Forges Award for Extraordinary Activism in 2016.
Anna Rossomando - member of Parliament, Italy; Rossomando started her political activity in 1977 with the Partito Comunista Italiano, and was a city councilor in Turin from 1998 to 2006. With the Partito Democratico she has been a member of the Chamber of Deputies from 2008 to 2018 and she is currently a Senator of the Republic (from 2018), responsible for topics of Justice and Rights at national level.
Anja Seiler - ESG specialist, Ethos Foundation; Seiler has accumulated over six years' experience in international cooperation where she worked with different stakeholders on human rights and conflict prevention. She has joined the Swiss- based Ethos Foundation in 2020 as an ESG Engagement Specialist where she predominantly works on social topics. She participates in collective engagement initiatives with other investors and conducts dialogues on human and labour rights issues with listed companies outside of Switzerland. She covers the ICT, textiles, transportation and care sector and also focuses on regions with ongoing human rights violations such as XUAR and Myanmar.
Moderator: Elizabeth Paton - journalist, New York Times; Paton is a reporter for The New York Times Styles section, covering the international fashion and luxury sectors. Her areas of industry focus and interest include business, tech, sustainability, supply chains and labour rights, along with Fashion Week coverage from London, Milan and Paris.