CSOs and labour unions call for the EU to confront systemic flaws of private social auditing and glaring accountability gaps
Evoking collective memory of the fire that caused over 250 preventable deaths nine years ago, 15 human and labour rights organisations are jointly urging EU policymakers to address the systemic issues related to the role of social auditing in that disaster as well as in many others.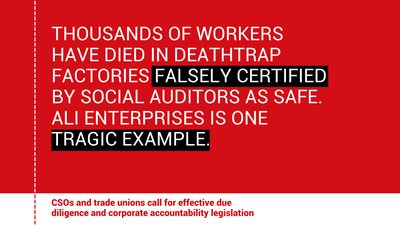 Co-signatories of the open letter released today point out that -- despite serious and evident risks -- a social auditing firm had certified the Ali Enterprises factory in Pakistan as safe mere weeks before the deadly fire. 
With audit certifications being issued on a daily basis despite severe risks and violations at the audited factories and other locations, co-signatories are calling on European Commissioners, Members of Parliament and EU Member States to ensure social auditors' liability and effective legislation on human rights and environmental due diligence (HREDD) and corporate accountability. 
As the open letter points out, this requires robust liability regimes that give victims of corporate abuse access to justice and remedy. This must include situations in which victims have sustained harm as a result of negligent and faulty audits. The CSOs and labour unions state that social auditor liability is vital to achieve the broader corporate legal accountability goal, and to end impunity where companies cause or contribute to human rights violations and environmental destruction. Furthermore, the letter calls for the upcoming legislation to exclude social audits and certification as adequate proof of due diligence in a court of law or in any other relevant enforcement actions. 
Beside Clean Clothes Campaign the letter was signed by ActionAid, Africa-Europe Faith and Justice Network (AEFJN), Anti-Slavery International, Austrian Chamber of Labour (AK Europa), CIDSE, European Center for Constitutional and Human Rights (ECCHR), European Coalition for Corporate Justice (ECCJ), European Trade Union Confederation (ETUC), Global Witness, industriAll Europe, International Federation for Human Rights (FIDH), Platform for International Cooperation on Undocumented Migrants (PICUM), Sherpa, and Women in Informal Employment: Globalizing and Organizing (WIEGO).
In addition to the disaster at the Ali Enterprise factory in 2013, the letter summarises three other examples of severe risks and violations going unreported by social auditors: the Rana Plaza building in Bangladesh which collapsed in 2013; modern slavery practices at the world's largest rubber glove company Top Glove in Malaysia; and the use of forced labour in the Uyghur region in China. 
Read the open letter here.