Fair Labor Association recommends Uniqlo and s.Oliver provide financial relief to former Jaba Garmindo workers
We call for the immediate implementation of Fair Labor Association's (FLA) recommendation with the launch of a new documentary, How to Steal Your Workers' Future, an intimate and powerful portrayal of the long-term devastation that severance theft causes for garment workers and their families.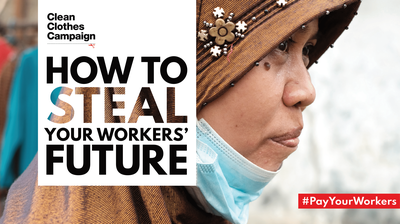 In our new documentary launching today, two women speak for the first time on camera about their experiences after being laid off from the factories they were once dependent on. The film highlights the case of Jaba Garmindo, an Indonesian garment factory producing for Uniqlo, among other brands, that went bankrupt in 2015. Since then, 2,000 former Jaba Garmindo workers have been fighting for the US$5.5 million in severance pay that is legally-owed to them. Life for these workers has been extremely hard, made worse since Covid-19, and many have been surviving on mounting loans or, as shown in the film, by earning a couple of dollars a day collecting and selling trash. Uniqlo, a brand worth $9.2 billion, continues to deny any responsibility towards the workers and refuses to pay up.
The film launch comes a week after the FLA released the results of their 18-month investigation into the Jaba Garmindo case and the responsibilities of two of its member brands, Uniqlo and s.Oliver, who were both buyers from the factory. Clean Clothes Campaign welcomes the recommendation made in the report that brands give financial relief to the ex-Jaba Garmindo workers.
"2,000 former Jaba Garmindo workers have been campaigning for the $5.5 million in severance pay they are legally owed for over six years now and our new documentary highlights the urgent need they are in. It's vital that Uniqlo and s.Oliver follow the FLA recommendation immediately and finally pay up," said Ilana Winterstein, campaigner for the Clean Clothes Campaign.  
The 12-minute documentary, produced by Fat Rat Films, presents a window into the harsh realities of severance theft, and what it really means when big name brands such as Uniqlo turn their backs on workers. There has been an exponential rise in severance theft cases since the pandemic began, with between $500-$850 million in severance pay stolen from garment workers in the first year of the pandemic alone and How to Steal Your Workers' Future highlights the urgent need for brand accountability.