Fashion brands fail to address pandemic-era wage theft in Cambodia
Cambodian garment workers producing goodsfor international fashion and sportswear brands, such as Adidas, VF, Target, Nike, and Gap, were deprived of an estimated US$ 109 million in wages during the April and May 2021 national lockdown, according to calculations by Cambodian trade unions and Clean Clothes Campaign. Unions and activists call on international brands to pay workers' full wages throughout the duration of the pandemic and sign an enforceable agreement to prevent future pay theft.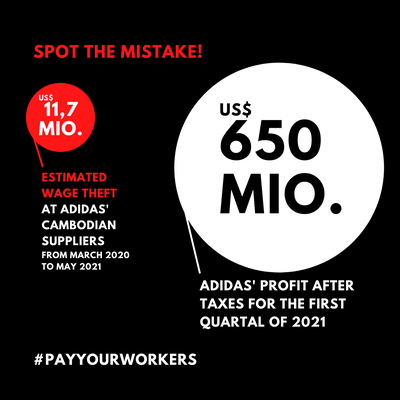 During the Covid-19 outbreak and ensuing lockdown in April and May 2021, the 784 thousand workers employed in Cambodia's apparel, footwear, and leather industry lost an estimated US$ 109 million in wages. This figure is a projection based on a comprehensive assessment of 114 factories conducted by trade union federations. Combined with outstanding wages and severance pay from the first 13 months of the pandemic, the total amount owed to garment workers in Cambodia is estimated to be a total of US$ 393 million.
Adidas is linked to the largest wage theft in the factory sample: the losses inflicted on 30,190 workers across eight Adidas supplier factories since the beginning of the pandemic adds up to US$ 11.7 million, or US$ 387 per worker. While this presents a desperate crisis for the workers and their families, Adidas could easily afford to ensure that all workers in its supply chain receive their regular wages during the pandemic. In the first quarter of 2021 alone, the sportswear giant accumulated 554 million Euros in profits (UD$ 650 m). Other brands linked to the largest amounts of wage theft in the sample are VF Corporation (US$ 7.7 m), Target (US$ 7.6 m), Nike (US$ 7.5 m), and Gap (US$ 6.7 m). In comparison, the ten companies most frequently linked with suppliers in the wage-theft sample had a combined total of more than US$ 4.7 billion in net earnings from the first quarter of 2021 alone.
Cambodian trade unions are calling on manufacturers and brands to urgently address this wage theft. In response, several brands have played down their individual responsibility to ensure proper payment to all workers in their supply chain, often hiding behind international multi-stakeholder initiatives such as the ILO "Call to Action", which have thus far failed to ensure wage payments throughout the pandemic.
The factory assessment shows notable factory-level differences in wage payments during the recent lockdown. The majority of manufacturers only paid workers their regular wage for the days when factories were in operation, providing only a small payment, or no payment at all, for the lockdown period. Only 12 manufacturers (11% of the sample) ensured that workers' earnings did not fall below minimum wage when the factories were closed. This reveals the initial successes of trade union struggles to safeguard wages and demonstrates that individual companies can choose to take action to mitigate the financial impact of the crisis on workers.
Cambodian unions join with the Clean Clothes Campaign and more than 220 rights groups in calling on fashion brands to pay the workers who make their clothes their full wages for the duration of the pandemic, and to make sure workers are never again left penniless if their factory goes bankrupt, by negotiating and signing an enforceable agreement on wages, severance and basic labour rights.
Background on the data
The factory assessment contains wage theft estimates for 114 garment, textile, footwear and leather factories across Cambodia based on factory-specific information on lockdown periods, wage payments, and other forms of compensation for the months of April and May 2021. The information was collected by Cambodian trade unions during May and June 2021. Information on buyers sourcing from the factories was collected by trade unions as well as from public supplier disclosure lists of the brands.
Data collection was hindered by ongoing pandemic restrictions in Cambodia, restricted access to manufacturers' wage payment data, and by the lack of transparency of some companies; therefore it is incomplete, and the possibility of errors cannot be discounted. Estimates for the average wage theft from March 2020 through March 2021 were obtained from Clean Clothes Campaign follow up research to the "Un(der)paid in the pandemic" report (forthcoming July 2021). All factory and brand-specific figures are estimates, based on scarce information available and should not replace comprehensive detailed wage theft assessments.
The data of the 114 factories sample is accessible here.