Detained Myanmar labour activist, Daw Myo Aye, faces up to three years in prison
Trade union leader Daw Myo Aye is one of nearly 5,000 people arrested by the military since the coup in February. She remains in prison where her health is deteriorating.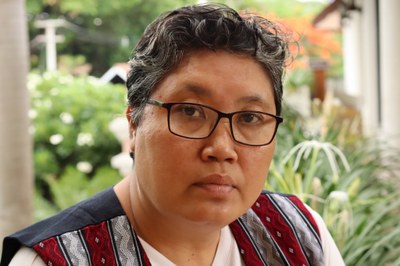 Daw Myo Aye (also known as Myo Myo Aye), director of Solidarity Trade Union of Myanmar (STUM), continues to be held in custody in Insein prison, notorious for its inhumane conditions. She was arrested on 15th April. Daw Myo Aye faces charges for participating in the civil disobedience movement (CDM), leading protests, encouraging civilians and civil servants to join the CDM, and organising and threatening civil servants who did not participate in CDM. She is charged under Penal Code section 505-a, which means she is not eligible for bail and faces up to 3 years in prison.

On 6th May, Daw Myo Aye was brought to the court in Insein for an initial hearing, however due to the high volume of cases awaiting trial, this was unable to take place. As part of the military's ongoing repression of rights, Daw Myo Aye is one of 4,916 people arrested since the coup in February (according to figures from the Assistance Association for Political Prisoners Burma). Most continue to be held in detention, often in undisclosed locations. The mass arrests are part of the military's brutal assault against the human rights of the Myanmar people, and a result of changes made to the Penal Code just two weeks after the coup. Section 505-a enables the criminalisation of those who take part in peaceful pro-democracy protests and are active in the civil disobedience movement. More information on the amendments made by the military to the Penal Code and Criminal Procedure Code can be found in this report (Centre for Law and Democracy).

Daw Myo Aye's health is deteriorating rapidly and, due to kidney problems, she is suffering severe and constant back pain. Medicines sent by her family have not reached her. We are extremely concerned for her health and welfare and call for foreign governments and embassies to actively push for Daw Myo Aye's immediate release and the withdrawal of all criminal charges against her. We also ask them to publicly call for the immediate release of all political prisoners and condemn further arbitrary arrests and the use of force against peaceful civilian demonstrators.