Call for immediate release of arrested labour activist Daw Myo Aye in Myanmar
The Clean Clothes Campaign global network calls for the immediate release of labour activist Daw Myo Aye, who was arrested in Yangoon on 15 April 2021. The leader of the Solidarity of Trade Unions in Myanmar (STUM) was forcibly taken from her office by the army yesterday. Four cars drove up to her office and took her to a police station for interrogation where she was detained overnight.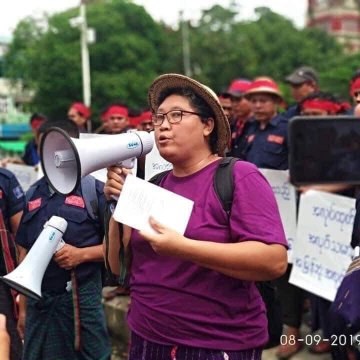 Over the years, Daw Myo Aye has relentlessly worked to defend workers rights, freedom of association and freedom of expression in the country. Her arrest represents one more attack against human rights defenders and the democratic movement in Myanmar.
She is said to be transferred to the Insein prison in Rangoon soon. During the arrest, the military confiscated the phones of the staff in the office.
Since the military took over control in Myanmar on 1st of February, searches and raids against democratic leaders and rights activists have been escalating with a sweep of arrests on Thursday. Many labour leaders are now on the run or are hiding to protect themselves and their families.
The Clean Clothes Campaign network calls for Daw Myo Aye's immediate release as well as the release of others unlawfully arrested. We condemn the military coup and call for the restoration of democracy and the rule of law.