This blog aims to collect daily information about how the new Coronavirus COVID-19 is influencing garment workers' rights in supply chains around the world. It will be updated as new information comes in from media and the Clean Clothes Campaign global network. Information is posted as it comes in from the network and cannot always be double-checked.
30 April 2020
Global: The ILO urged governments across the world to take actions in order to prevent and control COVID-19 in the workplace. "Without such controls, countries face the very real risk of a resurgence of the virus. Putting in place the necessary measures will minimise the risk of a second wave of contagion contracted at the workplace", the ILO made clear.
Anti-Slavery International has conducted an assessment to understand the impact of Covid-19 on survivors of slavery, people in slavery, and vulnerable people and published a set of recommendations on measures that governments, businesses, donors and international agencies should undertake. Anti-Slavery has observed that situations of acute economic distress, including humanitarian emergencies, bring with them increased risks. The lockdowns to try to halt the spread of the virus, have led to mass layoffs as many global brands have cancelled orders and factories have been required to shut down. Unemployment on this scale, even if only temporary, will shrink incomes for the workers and their families. This in turn, will lead to increases in household debt, particularly in places where debt is already endemic, due to poverty. Mass unemployment, high debt and little government safety net creates opportunities for traffickers, as well as business owners. They can cover their financial losses suffered during the crisis, by exploiting the cheap labour of people who have suffered sudden unemployment, once global demand resumes. Read more.

Bangladesh: Media report that Home Minister Asaduzzaman Khan shared that garment workers from outside Dhaka would not be allowed to enter the city, as factories will operate on a limited scale with workers who are already in the capital. "Garment factory workers who are now available in Dhaka can join factories. No one from outside will be allowed to come to Dhaka for work, and necessary steps have been taken in this regard", he said. According to Ecotextile now 1,000 export-focused factories have reportedly reopened as owners say their businesses are threatened by a loss of income which means they are struggling to pay workers' wages. Brands sourcing from the reopened factories include PVH, Sainsbury, H&M, C&A, Marks & Spencer, Next and Esprit. Sourcing Journal points out that the reopening of factories comes just as Bangladesh is dealing with its highest number of new cases since it confirmed its first infection on 8 March.

Media report that Monnujan Sufian, State Minister for the Labour and Employment Ministry, warned that factory owners would not be allowed to announce layoffs until May and that workers could not be fired. The article also reiterated that garment workers unable to join factories this month due to the lockdown will receive 60% of their wages.
Media report that two factories, in Savar and Jashore, have shut down as one worker in each unit tested positive for coronavirus. The same article shared that Nazma Akhter, president of Sammilita Garment Shramik Federation, alleged that many of the large garment factories have continued to operate with the majority of their workforce, disrespecting social distancing measures. 
Media report that garment workers from at least 258 out of 2,072 factories in Gazipur are yet to receive last month's wages, forcing workers to continue protesting for their due salaries. Yesterday (29 April), garment workers started protesting in front of their factory when management announced that workers who had been working there for less than a year were laid off. Also yesterday, workers from two garment factories in Savar blocked roads demanding due wages.
Media report that Tipu Munshi, Commerce Minister of Bangladesh, urged the UK government to intervene in support of Bangladesh's manufacturing industry, as the impact of cancellations by UK retailers hits an estimated loss of £2.5 billion for the industry, that represents about 80 percent of national exports. Media report that Stefan Lofven, Prime Minister of Sweden, has assured the Prime Minister of Bangladesh that Sweden would not cancel any orders placed in the garment industry. "We'll continue importing RMG products from Bangladesh," he said while talking to Bangladesh Prime Minister, Sheikh Hasina, over the phone.
Media report that women bear the brunt of the garment industry layoffs in Bangladesh. Local factories in Bangladesh have laid these women off without warning. "I went home to my village because it was a national holiday. Our factory was supposed to reopen on 5 April. When I went back to work on that day, someone had put up a sign saying that all the workers had been laid off," Khaleda Parvin, a local garment worker from Bangladesh said.

Cambodia: Reports from the CCC network say that over 130 factories are now shut down in Cambodia and over 90,000 workers dismissed, with a right to seven days worth of wages. Unionized workers are dispropotionally often dismissed.
Media report that during normal times experienced seamstresses should be able to easily find a new job. But many Cambodian factories are currently struggling to survive. Instead of recruiting new staff, they are suspending them. Khun Tharo from the Center for Alliance of Labor and Human Rights (CENTRAL), said: "We know some factories are owned by massive multinational companies who will probably be able to survive, but when we start looking at some of the smaller factories and at subcontractor factories, which don't have the financial resources of these bigger companies, it paints a very concerning picture of the near future of the industry." The Garment Manufacturers Association of Cambodia (GMAC), which represents hundreds of employers, has also said that some factories may not survive the rapidly growing crisis, largely because the margins on which these companies operate are small.
India: Media report that the Ministry of Home Affairs has announced that migrant workers, stranded by the nationwide lockdown, will be allowed to return to their home states. Migrant workers will be screened for symptoms at departure and destination, and will have to stay in quarantine once back home. In addition, the movement of migrants will only be possible through state government facilitation, which means that people cannot cross national state borders on their own account. Another article made clear that movement would only be possible by road and that states would have to mutually agree in order for people to cross borders.
Media report that Indian bureaucrat Pranabjyoti Nath saw the COVID-19 outbreak as an opportunity to document the country's legions of migrant workers in order to help boost their rights. As of today, India has no central registry of migrant workers, despite passing legislation forty years ago to establish such a database. As Kerala's labour commissioner made clear, "the lockdown may be lifted, but this data is relevant for coming months. Policy-making is not possible without numbers."
Indonesia: According to information from the CCC network PT. Beesco, an Asics supplier in Indonesia, after having dismissed 2,500 workers last year is now about to let go around 2000 workers. [edited 14 May 2020 with a correction]

Further reports from the CCC network say that about a research shows that two-third of workers in Indonesia are still required to report for work and about a quarter of them does not receive PPE in the workplace. Over fifty percent of workers in Indonesia experience wage cuts. [edited 14 May 2020 for clarity]

Malaysia: A civil society statement from Malaysia points out that non-citizens in Malaysia are particularly vulnerable to Covid-19 and other illnesses due to their high-density living quarters and working areas, and a lack of access to information and healthcare urging access to health care and information for migrant communities, clear guidelines and procedures to ensure that reopening workplaces are operated safely, and a moratorium on all evictions for all residents in Malaysia.
Myanmar: According to reports from the CCC network the ban on public gatherings in Myamnar is used to curb union activities.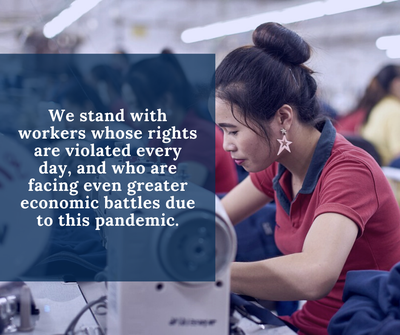 Donate to the CCC relief fund in USD: