A year after crackdown on wage protests in Bangladesh, hundreds of workers still face retaliatory charges
A year ago, tens of thousands of workers in Bangladesh went on strike against the poverty wages that are pervasive in the country's export-oriented garment industry. On 13 January 2019, a minimal wage revision was announced that, together with massive repression, led workers to end the demonstrations that had been going on since December. Thousands of workers were unable to go back to work, however, facing punishment for their peaceful protest through politically-motivated dismissals, blacklisting, and criminal charges. Public pressure has in the past weeks and months led to withdrawal of at least eight criminal cases. Nevertheless, one year on, hundreds of workers continue to face the threat of serving time in prison for trumped-up and retaliatory charges.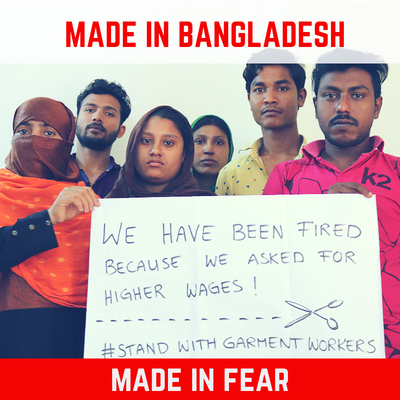 Garment workers in Bangladesh had waited for five years for the minimum wage increase that went into effect at the end of 2018, while living costs continued to rise. The long-awaited wage review process of 2018 turned out to be lengthy, problematic, and insufficiently open to worker participation. The new minimum wage level (8,000 taka/85 euro) that was ultimately announced amounted to only half of the unions' unified demand of 16,000 taka, a demand which still fell short of living wage calculations for Bangladesh. While this meant a 2,700 taka increase for those earning the minimum wage, most workers in higher pay grades received a more limited raise. When in December 2018 workers saw what the wage hike actually amounted to in their pay checks, tens of thousands of them took to the streets.
The protests were met with violent and repressive responses by factory owners and police from the beginning. On 8 January 2019, the police dispersed about 10,000 garment workers using water cannons, tear gas, batons, and rubber bullets, killing one worker and wounding over 50. On 13 January, a small additional wage increase for workers in pay grades above the minimum was announced. In an atmosphere of intense repression, threats, retaliatory criminal charges, and state-sponsored violence, workers returned to their factories in the week after.
During and after the strikes, thousands of workers lost their jobs in acts of retaliation. Repression by factory owners included setting up billboards with names and photographs of terminated workers at factory gates and the use of worker biometric data systems to track and share their names and profiles. Thousands of workers were affected by such blacklisting measures.
Clean Clothes Campaign and International Labor Rights Forum know of at least 33 cases filed under Bangladesh's penal code, cumulatively targeting thousands of garment workers. Almost all cases were filed by factories producing for major international brands, including C&A, H&M, Next, Primark, Mango, Marks & Spencer, and Inditex.
Since the beginning of 2019, national and international labour organizations, including CCC and ILRF, have reached out to apparel brands sourcing from factories complicit in the repression against garment workers, urging them to require their suppliers to immediately withdraw all baseless criminal complaints against workers, reinstate the terminated or forcibly dismissed workers with full back pay, and to put an end to the blacklisting. Several brands, including H&M, Primark, and Next, have in response to this advocacy engaged with their suppliers to address the repression, but according to the information available to CCC and ILRF each of these companies still has at least one trumped-up case that could not be confirmed as dismissed in their Bangladesh supply chain.
This national and international activism has led to all 65 workers jailed on these charges being released and factories to start withdrawing cases filed against striking workers. CCC and ILRF have received definitive confirmation that eight criminal cases, which together had charged at least 1,329 workers, have been dropped by the court after the factories that filed the cases asked for the dismissal of cases. Several other factories have already filed for dismissal, with court decisions still pending or not yet confirmed. CCC and ILRF will continue campaigning in support of the hundreds of workers who are still facing charges and for those who lost their jobs and have not been reinstated or received the severance owed to them.
Apparel companies, factory owners and their representative associations, and the government of Bangladesh all share responsibility to solve this crisis and must take further action to provide justice to the affected workers and to curb the broader chilling effects of the crackdown on garment workers' rights to organise and peacefully protest. These same actors are responsible for ensuring that garment workers are finally paid a living wage: apparel companies by reversing the trend towards ever lower sourcing costs through paying sufficient prices to allow for higher wages, the government by raising the minimum wage level, and factory owners by paying workers a living wage.
-- updated on 14 January 2020 to reflect that confirmation was received that now eight cases have been dismissed.