180+ Orgs Demand Apparel Brands End Complicity in Uyghur Forced Labour
Today, 72 Uyghur rights groups are joined by over 100 civil society organisations and labour unions from around the world in calling on apparel brands and retailers to stop using forced labour in the Xinjiang Uyghur Autonomous Region ("Uyghur Region"), known to local people as East Turkistan, and end their complicity in the Chinese government's human rights abuses.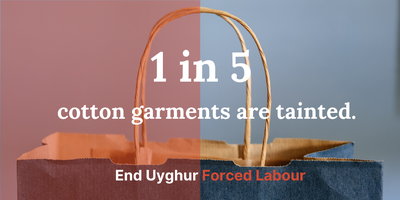 The groups have issued a call to action seeking brand commitments to cut all ties with suppliers implicated in forced labour and end all sourcing from the Uyghur Region, from cotton to finished garments, within twelve months.
"Now is the time for real action from brands, governments and international bodies – not empty declarations. To end the slavery and horrific abuses of Uyghurs, Kazakhs and other Turkic Muslim peoples by the Chinese government, brands must ensure their supply chains are not linked to the atrocities against these people. The only way brands can ensure they are not profiting from the exploitation is by exiting the region and ending relationships with suppliers propping up this Chinese government system," said Jasmine O'Connor OBE, CEO of Anti-Slavery International.
The Chinese government has rounded up an estimated 1 to 1.8 million Uyghurs and other Turkic and Muslim people in detention and forced-labour camps, the largest interment of an ethnic and religious minority since World War II. The atrocities in the Uyghur Region – including torture, forced separation of families, and the compulsory sterilisation of Uyghur women – are widely recognised to be crimes against humanity. A central element of the government's strategy to dominate the Uyghur people is a vast system of forced labour, affecting factories and farms across the region and China, both inside and beyond the internment camps.
Gulzira Auelkhan, a Kazakh woman who was formerly detained in an internment camp and then subjected to forced labour in a factory said: "The clothes factory was no different from the [internment] camp. There were police, cameras, you couldn't go anywhere."

Despite global outrage at the abuses, leading apparel brands are bolstering and benefiting from the government's assault on the peoples of the region. Brands continue to source millions of tons of cotton and yarn from the Uyghur Region. Roughly 1 in 5 cotton garments sold globally contains cotton and/or yarn from the Uyghur Region; it is virtually certain that many of these goods are tainted with forced labour. Moreover, apparel brands maintain lucrative partnerships with Chinese corporations implicated in forced labour, including those that benefit from the forced labour transfer of victims from the Uyghur Region to work in factories across China.
"Global brands need to ask themselves how comfortable they are contributing to a genocidal policy against the Uyghur people. These companies have somehow managed to avoid scrutiny for complicity in that very policy – this stops today," said Omer Kanat, Executive Director of the Uyghur Human Rights Project.

The supply chains of most major apparel brands and retailers are tainted by Uyghur forced labour. Major corporations claim not to tolerate forced labour by their suppliers, but have offered no credible explanation as to how they can meet this standard while continuing to do business in a region where forced labour is rife.
"Forced labourers in the Uyghur Region face vicious retaliation if they tell the truth about their circumstances. This makes due diligence through labour inspections impossible and virtually guarantees that any brand sourcing from the Uyghur Region is using forced labour," said Scott Nova, Executive Director of the Worker Rights Consortium.


"Given the lack of leverage and the inability to prevent or mitigate adverse human rights impacts, apparel brands and retailers must take the necessary steps to end business relationships connected to the Uyghur Region in order to fulfil their responsibility to respect human rights as defined by the UN Guiding Principles on Business and Human Rights," said David Schilling, Senior Program Director of Human Rights at the Interfaith Center on Corporate Responsibility.


"If responsible business conduct has any meaning, it requires fashion brands to act when independent journalists, United Nations human rights experts, and human rights NGOs expose grave human rights abuses," said Jennifer (JJ) Rosenbaum, Executive Director of Global Labor Justice – International Labor Rights Forum. "Business and human rights principles require fashion brands to stop using cotton and labour from the Uyghur Region in their global supply chains."
For more information on demands, and a call to action, see: