Hundreds of women workers part of longest running strike in the Katunayake Investment Promotion Zone
Workers from workwear manufacturing company ATG Ceylon Pvt Ltd. in Sri Lanka have been subject to a range of human rights abuses breaching both Sri Lankan and international labour laws and conventions.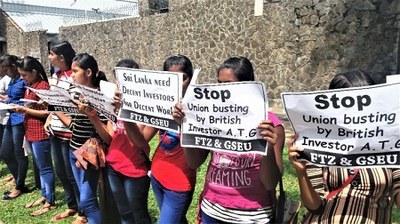 Hundreds of women workers, part of the Free Trade Zone and General Services Employees' Union (FTZ-GSEU) have been on strike for over two months, now the longest running strike in the Katunayake Investment Promotion Zone. Two workers are now on hunger strike.
 
CCC United Kingdom and War on Want handed in the petition to the Sri Lankan government at the Sri Lankan High Commission in London on Wednesday, 13 March, calling on them to take urgent action. Partnering with global union IndustriALL, campaigners gathered over 6,000 petition signatures in five days.
The strike was prompted when the company illegally dismissed five workers and union members in January 2019, and allegations around violent and sexual harassment against a woman worker who was pressurised to leave both the strike and the union.
Dominique Muller, CCC UK's international coordinator says:
"ATG Ceylon workers are now in the second month of their strike against union busting and other serious abuses of labour rights. ATG management appears to believe it is immune to Sri Lankan labour laws and international standards. We hope yesterday's action and our ongoing solidarity with the ATG workers will make it clear that the world is watching."
Liz McKean, War on Want's Director of Campaigns and Policy, says: 
"Workers at ATG Ceylon are facing intimidation, harassment, refused overtime pay and even unlawful dismissals as they collectively demand better working conditions. Company bosses are lining their pockets while not paying workers what they are owed and refusing to recognise the union. We urge the Sri Lankan government to protect its workers against this continual abuse."
This is not the first time concerns have been raised about ATG Ceylon Pvt Ltd lack of respect for Sri Lankan law and workers' rights, and we urge the Sri Lankan government to take immediate action.
More information: waronwant.org/takeactionworkerssrilanka