Demonstrations at Bangladeshi embassies demand respect for garment workers' rights
This week labour activists and trade unionists around the world are expressing their solidarity with garment workers in Bangladesh through demonstrations in front of Bangladeshi embassies and consulates in cities around the world.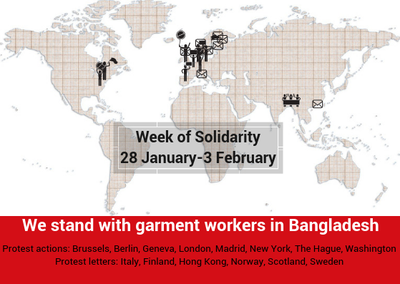 Through this week of global solidarity action, activists, unionists and consumers are calling for living wages, safe factories, and a halt to repression against garment workers in Bangladesh. Global concern for garment workers' rights is mounting after the violent responses to recent wage-related protests, in addition to the protracted court proceedings around the Accord on Fire and Building Safety in Bangladesh, which threaten essential progress in the field of factory safety.
Poverty wages and violence
In December, thousands of workers took to the streets in protest after the implementation of a wage revision turned out to have significantly different impacts for workers depending on their pay grade, with some receiving what amounts to just a few cents more.
The long-awaited minimum wage hike came after a lengthy, highly problematic process, which lacked adequate representation of workers' voices. As a result, the wage revision amounted to only half of the workers' unified demand. It falls far short of any credible calculation of a living wage. After workers saw what the wage revision amounted to in their paychecks, thousands of them went on strike and organised massive protests that were met with police violence, killing one worker and injuring scores more.
Severe repression of workers is ongoing. Factory managers have fired over one thousand workers for participation in the protests. Dozens of workers, including union representatives, have been arrested and now face trumped-up charges that could lead to lengthy prison sentences, including life imprisonment. This adds to the many charges against worker representatives that are still pending since the 2016-2017 protests for higher wages.
Ben Vanpeperstraete of Clean Clothes Campaign says: "The fact remains that, even after recent amendments, workers in Bangladesh still earn poverty wages. The government of Bangladesh is undertaking to intimidate workers and squelch any attempt of workers to organise. Workers have the fundamental right to demonstrate and strike for decent wages and should be able to do so, free from repression. Clean Clothes Campaign urges the government of Bangladesh to respect workers' rights to peaceful assembly and demonstration, to release all workers and union representatives that were arrested and to drop charges related to the demonstrations."
Workers need safe factories
The current spate of violence and repression come at a time of already increased international attention on the Bangladesh's garment industry. Since November 2018, proceedings at Bangladesh's Supreme Court are created uncertainty about the future of the Accord on Fire and Building Safety in Bangladesh. The Accord has achieved concrete and lasting improvements in the country's garment industry following the Rana Plaza building collapse in 2013, which killed at least 1,134 workers. The government of Bangladesh has repeatedly asserted that its own inspection programme, the Remediation and Coordination Cell (RCC), will be ready to take over and that the Accord should only be allowed to continue temporarily with government oversight. However, the RCC has not yet demonstrated the capacity or willingness to inspect and enforce factory safety to the same standards.
Liana Foxvog of International Labor Rights Forum says: "The progress on factory safety in Bangladesh was hard-won over the last five and half years. The uncertainty around the Accord in concert with the recent repression have now put those gains at risk. Preventing another Rana Plaza has two critical components: Factories need to be regularly and thoroughly inspected, and workers need to be free to speak out and organize. If workers are afraid to voice concerns about workplace safety or refuse dangerous work, brands and consumers need to know that unsafe practices will return."
During this week of solidarity with garment workers in Bangladesh, labour rights organizations, unions, and consumer activists around the world are showing that they care about the fundamental rights of the people that stitch our clothes. Demonstrations and delivery of letters of concern will take place in at Bangladeshi embassies and consulates in more than a dozen cities including Berlin, Brussels, London, Geneva, Madrid, New York, The Hague, Washington DC. Online, labour rights advocates are also raising their voices in support of garment workers in Bangladesh and their right to living wages, workplace safety, and freedom from repression.