Six years after deadly garment factory fire, Bangladesh risks new wave of factory incidents
Today marks the sixth anniversary of the deadly Tazreen factory fire, which killed at least 112 workers who were producing clothes for a range of international brands, including Walmart, C&A, El Corte Ingles and KiK. As survivors and families of killed workers commemorate this fateful day, Bangladesh is moving fast towards a situation in which factories could quickly return to the death traps that they were in 2012. The announced forced closure of the Bangladesh Accord's domestic office operations later this month threatens to undermine the positive developments of the last five years and to plunge the country back into a situation in which workers will have to fear for their lives when entering their workplace.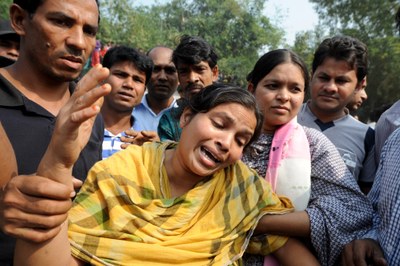 The high death toll of the Tazreen Fashions fire of 24 November 2012 was entirely attributable to the state and management of the factory. Workers were initially told to ignore the fire alarm. When they eventually tried to flee, they found out that gates were locked, emergency exits were absent and windows on lower floor were barred. Hundreds of workers died or were injured for life by jumping from the windows of the upper floors. Dozens were trapped and never came out alive. Many of the deceased were burnt beyond recognition and several of them were never identified.
Raju, an 18-year old machine operator who survived the fire but lost his mother working at the same factory, later described the panic during the catastrophe: "There was a lot of smoke and none of the stairs could be used. I escaped through an exhaust fan hole. There was a bamboo structure outside and I could make it to the house right next to the building.… And, no, I don't know what happened to my mother, I didn't see her. It was all dark."
Fire safety inspections
In the past five years, the Bangladesh Accord on Fire and Building Safety has greatly improved the dire safety situation in Bangladeshi garment factories. Upon starting work in 2013, Accord engineers found that 97% of the over 1600 factories under their purview had no safe emergency exits and 91% had no adequate fire detection or alarm system. Five years later, thanks to the Accord 97% of lockable or collapsible gates have been removed and in total 74% of all found fire safety defects have been corrected, with another 12% still pending verification. Nevertheless, grave concerns remain, as for example 56% of the factories without proper fire alarm still fail to have adequate systems in place.
Ineke Zeldenrust of Clean Clothes Campaign states: "The progress reached on fire safety by the Bangladesh Accord is under severe threat now that its Bangladesh office operations might be closed after 30 November. This will impair the Accord's ability to inspect and monitor factories in Bangladesh and violates previous agreements that Accord would remain fully operational until domestic institutions have the technical capacity and the political will to perform inspections and ensure remediation. The risk of new factory tragedies looms large, which is a reputational and legal risk for brands, but in which workers pay the largest price of all: their lives."
Death traps
The threat to be killed in a fire in an unsafe garment factory continues unabated in Bangladesh. Beyond the over 1600 Accord factories which have been intensively inspected over the last five years, there are at least 930 garment factories that are not covered by any security scheme. A further 809 factories are covered by the Bangladeshi Department of Inspection for Factories and Establishments (DIFE), which only reports a 27% remediation rate on fire safety defects. This number cannot be independently verified because DIFE, contrary to commitments and the practice set by the Accord, does not publish any progress reports on individual repairs. The Remediation and Coordination Cell (RCC), which organizes its inspections through DIFE, aims to eventually cover all Bangladeshi garment factories.
DIFE and the RCC face a considerable task inspecting and remediating the factories currently under their purview and soon might have to cover hundreds of additional factories. Furthermore, they face the added challenge of providing the transparency and enforcement that they committed to under international agreements and which are the only real safeguards for real and lasting improvements. Recent reports and news articles indicate however that the political will to do commit to transparency and enforcement currently is lacking. Failing enforcement costs lives: Tazreen Fashions could continue to operate without safety licenses until it burned down.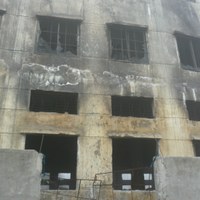 The task is in reality even more daunting. There are around 1500 textile factories that fall beyond any of these counts, because they do not produce ready-made garment but rather home textiles, yarn or washing or dyeing services. These factories are just as susceptible to deadly incidents, as was shown by the Aswad textile mill fire only six months after the Rana Plaza collapse, but thus far failed to be covered by any programme. At least forty workers have been killed and over 500 injured in factory incidents in the textile industry since Rana Plaza. The intention of the Bangladesh Accord to extend its coverage to these factories might be nipped in the bud by the pending restraining order on the Accord's Bangladesh office operations. This would cut short a promising initiative to extend safety to workers beyond those who cut, sew and trim garment for major international brands.
Ineke Zeldenrust states: "At this moment in a large portion of garment and textile factories workers still risk ending up in a death trap during a fire. A tragedy like the Tazreen fire could happen again any day. Will consumers still want to buy their clothes 'made in Bangladesh' after another major fire or collapse? In this situation it would seem reckless to curtail the one credible and successful safety programme currently active in Bangladesh: the Accord. Clean Clothes Campaign urges the government of Bangladesh to do itself, its workers and the garment brands sourcing from its country a service and support the Bangladesh Accord's appeal to lift the restraining order."
Read more about the Bangladesh Accord and the pending restraining order here.