#GoTransparent campaign win: Primark publishes factory locations
This week low-cost retailer Primark published an overview of its production locations, after being presented with close to 70,000 signatures on a petition calling upon the company to do so. Over the last month, activists presented Primarks in different cities with gift-wrapped golden boxes with signatures, suggesting that Primark add transparency to its new years' resolutions. Clean Clothes Campaign is delighted that Primark now has responded to this demand.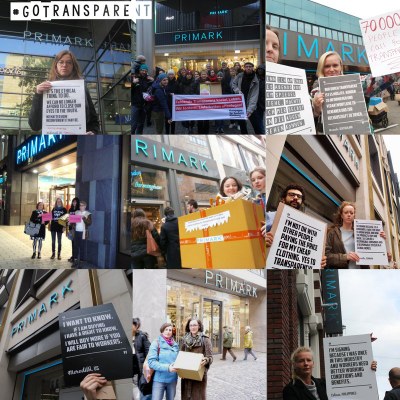 The #GoTransparent campaign of Human Rights Watch, Clean Clothes Campaign, and International Labor Rights Forum was launched in April 2017 and set a minimum global standard of transparency for the garment sector - the "Apparel And Footwear Supply Chain Transparency Pledge". Apart from Primark, the petition targeted Armani, Urban Outfitters, Forever 21 and Walmart; all brands that had proved deaf to the demand to adopt this minimum standard.
Primark's step this week, in which it publishes its production location, shows that the growing trend towards more transparency in the garment industry is being felt even among these more hesitant companies. Primark would show this commitment even more if it would make its list of production location also downloadable in a searchable file and thereby enable workers and activists to make use of the data.
Clean Clothes Campaign calls upon Armani, Urban Outfitters, Forever 21, Walmart, and all other garment companies that are still resisting this trend, to make haste with making their production locations public.