Despite massive profits, big fashion brands refuse to pay workers after factory closures
Starting 14 December, garment workers and activists unite in global actions against wage theft. Over the next week, while holiday shoppers across the world peruse apparel stores, they may also discover messages from garment workers seeking help. The message to consumers reads: "I made the item you are about to buy but I didn´t get paid for making it".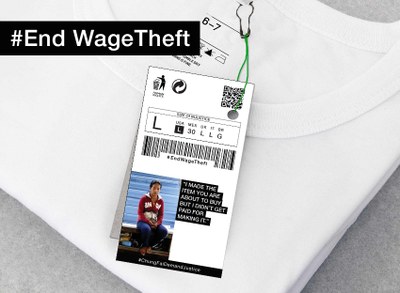 The notes are from workers in Indonesia, Cambodia and Turkey who are all owed money for making clothes for famous industry giants including Zara, Mango, Next, Uniqlo, Adidas, Mizuno, M&S, Bonmarche and Nygard. In four discrete instances between 2012-2016, workers saw their factories suddenly close, even overnight, leaving them jobless and owed months of back wages and severance.
These factory closures (PT PDK and Jaba Garmindo factories in Indonesia; Chung Fai factory in Cambodia; Bravo factory in Turkey) were often preceded by major buyers cutting off orders, without warning or explanation to the workers, most of them women. The consequences for the workers and their families have been quite dire.
Hikmet, who used to work at the Bravo Tekstil factory in Turkey until it closed, says: "I haven't been able to pay my rent for four months. I cannot pay my debts. I am in a desperate situation."
Each of the brands involved, despite collectively earning billions in annual profit, are refusing to pay the workers from these factories their back wages and severance – money they earned over many years of working hard and long hours to produce clothes for these brands. Clean Clothes Campaign believes that to deny these workers their payment is tantamount to wage theft and calls on all the brands involved to ensure these workers receive what they are owed.
Kokom Kolomawati, a former worker of the PT PDK factory in Indonesia, says: ¨International standards, like the UN Guiding Principles on Business and Human Rights, are crystal clear – brands retain full responsibility for their supply chains and must ensure that we are paid what we rightfully earned and are now owed.¨
In the week between 14 and 20 December 2017 activists and workers are joining together in action around the world calling for these brands to end wage theft and urging consumers to support these campaigns for justice. Message drops and protest actions are planned in over eight countries including Indonesia, Japan, Turkey, Germany, the United Kingdom, Switzerland, the Netherlands, and Hong Kong.
Teddy Senadi Putra, of Labour Union PUK SPAI FSPMI, formerly at PT Jaba Garmindo says: ¨The Uniqlo fortune is built from workers sweat, like ours, all over the world. For the 2017 fiscal year, Uniqlo had an operating profit of 176.4 billion Yen (2.05 billion EUR). They can easily afford to pay us what little amount we earned and now need. Brands need to realize that with power comes responsibility: they are more than just buyers. Brands are employers and garment workers are more than just disposable assets.¨
In a letter sent in September 2017 to brands Marks and Spencer, Nygard and Bonmarche, major buyers of the now closed Chung Fai factory, workers wrote: "We are your workers, and we are human beings! Some of us have worked at the factory since 1998. Instead of receiving legal severance and indemnity for our years of service, now we are broke and in debt. We shouldn't have to keep living like this. Our cheap labour has helped you to profit. We are simply asking you to make sure we get what is legally ours."
Over the 2017 fiscal year, Marks and Spencer generated an operating profit of 690.6 million GDP (784.7 million EUR).
Our #EndWageTheft campaign page contains information about how to support these workers in their struggle.