Labour rights groups call for a review of EU-Bangladesh trade agreement following massive crackdown on workers rights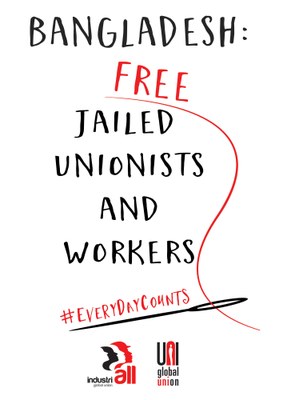 The Clean Clothes Campaign is today joining calls from the global trade unions to demand that the European Union immediately initiate an immediate investigation into serious and systematic violations of fundamental workers' rights in Bangladesh as provided under the EU's "Everything But Arms" trade scheme. The call follows the arbitrary arrest and detention of workers and union leaders, the closure of union offices, mass dismissals and ongoing threats and intimidation of union activists.
The recent crackdown follows years of anti-union activity by employers, acting with complete impunity and the government's refusal to bring trade union laws and practice in line with international standards. Repeated ILO findings and recommendations in regard these violations have been largely ignored.
In December 2016, the Bangladesh government used the pretext of a week-long, non-violent strike for higher wages and dignity at work in Ashulia, - an industrial area close to the capital Dhaka - to launch a full blown attack on trade union activists and organisations operating in the garment sector. Since then at least 25 union and labour activists have been detained, and charges submitted against hundreds of "unnamed" workers - a tactic used to threaten workers who continue to speak out. Many were arrested using Section 16(2) of the controversial "Special Powers Act," which the High Court ruled last week was no longer in force. Most of those charged under the Act, and other charges, remain in jail. Last Friday, nine members of the Bangladesh Independent Garment Worker Union Federation (BIGUF), including senior leaders of the organization, were arrested. They were released on bail today.
Factories and employers have engaged in mass, illegal dismissals of between 1500 and 3000 workers, accused without evidence of participating in the industrial action. Many were forced to sign severance agreements with factories and told to leave the area under fear of further arrests. The government has closed dozens of trade union offices; not only in Ashulia but throughout the capital region and Chittagong, the port city operating as another garment producing hub. A number of unions have reported police raids on meetings and training sessions, including on an ILO training on safe workplaces. Where trade union offices remain open, heavy police surveillance renders them inaccessible to workers, at a time when advice and support to protect their rights is most needed. 
The "Everything But Arms trade scheme, which forms one part of the EU's Generalised Scheme of Preferences system, grants 49 "least developed countries (LDCs)" tariff and quota free access to the massive European market for all products except arms and ammunition. All countries designated as "least developed" by the United Nations are automatically provided access, and generally only leave the scheme when they are no longer designated as an LDC. However, the EU requires that GSP beneficiary countries respect core international human rights standards, including labour rights. According to the GSP conditions, any failure to do so can trigger an investigation which can lead to a suspension of the preferences if no action is taken by the beneficiary country.
Sam Maher of Clean Clothes Campaign states: "The Bangladesh garment industry has greatly benefited from the access it gets to the European Union markets. However, while these benefits are reaching the pockets of multinational companies and Bangladesh factory owners, they are not reaching to the very workers whose lives are spent producing our clothes. Amidst all repression it should not be forgotten that the workers walked out of their factories to demand a wage increase - a reasonable demand in a country where the minimum wage of 63 euro is the lowest in the region and has not been reviewed for over three years. These workers are not criminals, they are ordinary, hard working people who simply want a fair wage for the work that they do."
In the light of the recent events Clean Clothes Campaign is calling upon the EU's DG Trade to fulfil its responsibility to promote human rights in its external relations and enforce the law. The government has been given numerous opportunities to protect human rights but has consistently failed to do so. Indeed, the situation is worsened significantly since the Rana Plaza factory collapse in 2013. Clean Clothes Campaign demands immediate intervention by the European External Action Service (EEAS) to ensure the release of all prisoners, the withdrawal of all charges and restoring full freedom of association. Union repression should end, the closure and surveillance of union offices undone and the retaliation of workers terminated. We also call on the EU Development Cooperation (DEVCO) as well as national government to suspend all financial cooperation with the Bangladesh garment manufacturer representative BGMEA, until the current restrictions on freedom of association are removed.
"Years of inaction by the EU has meant that the Bangladesh government, along with the factory owners, believes it can silence and repress its workers with impunity" said Sam Maher. "This has to end. The EU must now use all its leverage to demonstrate that it is committed to sustainable development and send a strong message to the Bangladesh government that such repression will no longer be tolerated by the international community. Failure by the EU to conduct an investigation now will only render it complicit in future acts of repression in Bangladesh."