Four years since the Tazreen factory fire: justice only half done
Today four years ago, a fire broke out in the Tazreen Fashions garment factory in Bangladesh. Exits were closed, which meant that the women and men working inside were trapped and could only escape by jumping from upper floor windows. 113 workers died, many more were injured. They were stitching clothes for Walmart, El Corte Ingles, KiK, C&A and many more western brands.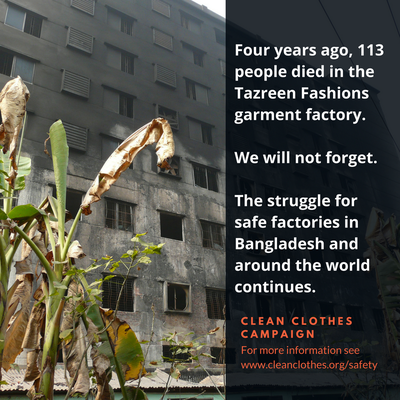 Four years on, we have come a long way. An agreement was reached with C&A to establish a fund which would provide for loss of income payments and long term medical treatment for the survivors and the families of the killed workers. These payments would be calculated using the methodology developed for the Rana Plaza scheme and would ensure equality in treatment between the two groups of factory disaster victims. Several of the major brands sourcing from the factory paid contributions to the fund, including C&A, Li and Fung, Walmart, KiK and El Corte Ingles. ensuring payments could be made to all eligible beneficiaries. Others continue to refuse to take responsibility for the incident to this day.
The claims process was opened in November 2015 with payments concluded in June 2016. A Medical Trust, which will oversee long term medical treatment for those injured, has now been established, comprising of representatives of the government, employers and civil society. The remainder of the Tazreen funds will be managed by this Trust for the provision of both physical and psychological medical treatment.
Nevertheless, there also is still a long way to go before the struggle for justice for Tazreen workers is won. The affected families want more than money: they are demanding that those responsible for the deaths and injury of their loved ones are held to account and they continue to call for the prosecution of Delwar Hossain, the owner of Tazreen Fashions. It is vital, both for justice and for prevention of future incidents, that those individuals whose negligence directly contributed to the deaths of these workers must be held to account for their failure to provide a safe workplace.
Delwar Hossain, among others, has been charged with culpable homicide, but the cases continue to drag on and four years after the fire the Bangladesh state has failed to adequately pursue a prosecution. In over 7 out of 9 court hearings in the past year the prosecutor simply failed to produce witnesses; in the other two hearings those supporting the families claim the performance of the prosecutors was lacklustre at best.
This case follows a long pattern of failure by the Bangladesh government to take action against garment factory owners - who represent a powerful political force in Bangladesh - for their failure to protect their employees' safety. Despite thousands of factory deaths in Bangladesh in the last decade, not a single factory owner has been successfully prosecuted for their deliberate negligence, including the owners of Rana Plaza (collapsed in 2013) and Spectrum (collapsed in 2005) where criminal charges are still outstanding. Actively pursuing prosecution in Tazreen and other cases would act as a powerful incentive to Bangladesh employers to make sure their factories are safe – it is vital that this impunity for employers is brought to an end.
We urge the government to speed up the legal processes now underway against Delwar Hossain, and to ensure that every effort is made to bring him and others to justice.
On this day our thoughts are with those who will reliving those horrific hours trapped in a burning factory, those who so needlessly lost their loved ones and those who continue to suffer the physical and psychological effects of that terrible day: 24 November 2012. Our solidarity with Tazreen families and our demand for safe factories in Bangladesh and around the world continues.