OECD meets in Paris with Rana Plaza on the agenda
Over a year after the collapse of Rana Plaza the compensation fund remains woefully underfunded. Today sees the start of a two day high level international meeting of the Organisation for Economic Co-operation and Development (OECD) in Paris that will discuss efforts to build more responsible supply chains.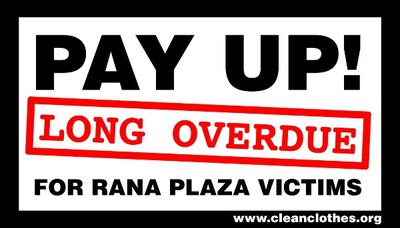 Ahead of the meeting of Ministers from across the world UK Minister for International Development, Alan Duncan MP, has written personally to a number of UK based brands who were associated with Rana Plaza calling on them to make significant contributions to the ILO backed Rana Plaza Donor Trust Fund.
In an interview in today's Guardian, Mr Duncan says ""We have to raise the pressure over a year after the event to make sure a complete compensation package is assembled."  He added that retailers could not claim that they weren't aware of where their clothes were produced because production had been sub-contracted by their suppliers."
Ahead of the high-level Ministerial TUAC and OECD Watch released a new review of the compensation process and held a roundtable on Tuesday that highlights the brands that have still to contribute to the compensation scheme - the only scheme guaranteed to ensure all survivors and victims families receive the compensation for loss of income and medical expenses they deserve.
The latest report from Dr. Mojtaba Kazazi the Head of the Claims Process is that over 2,400 (out of approximately 3,000) claims have been received and registered, medical assessments carried out and bank accounts opened.   An initial round of payments have been made to almost all claimants.