As H&M launch their latest 'conscious' collection, the Clean Clothes Campaign hits back with its own spoof campaign highlighting the plight of thousands of garment workers suffering from malnutrition who work in factories supplying H&M, amongst others.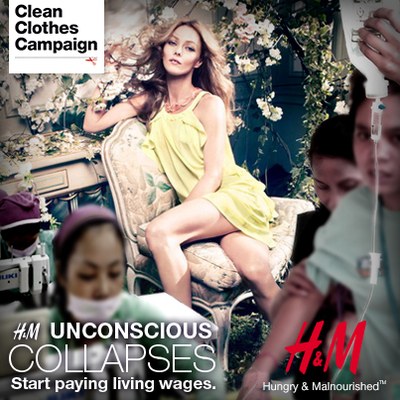 The spoof which shows Vanessa Paradis, model for H&M, sitting in a leafy garden, surrounded by garment workers, with the text 'H&M Unconscious Collapses, start paying a living wage.'
H&M is, alongside Gap, Levis and Zara, one of the main buyers of the booming Cambodian garment industry. Due to the low wage and consequently low calorie intake, many workers in H&M factories are malnourished.The Clean Clothes Campaign is calling on H&M to live up to it's "conscious", "sustainable" and "responsible" claims and lead the industry by committing to a living wage.
Join the petition calling on H&M and other fashion brands to pay a living wage. http://livingwage.cleanclothes.org/#act