Finnish Clean Clothes Campaign Launched
On March 8, 2010, Puhtaat Vaatteet, Clean Clothes Campaign Finland, was launched at a seminar attended by representatives of Finnish clothing brands, journalists and interested consumers. A report on the policies of clothing companies in Finland, which was presented as well, demonstrates that there is much room for improvement in terms of CSR performance.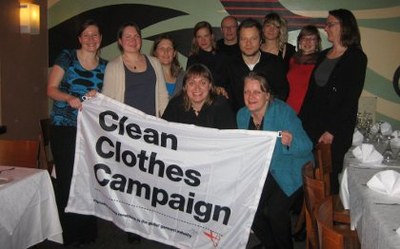 "The first order of business for CCC Finland," said national coordinator Lotta Staffans, "is increasing the awareness among Finnish consumers and companies about the problems in the garment industry. Many people will be interested once they know more." Besides engaging in educational activities, CCC Finland is also planning to take part in international CCC campaigns on topics such as Living Wage.
The NGO SASK, who initiated the founding of CCC Finland, together with Fair Trade Finland, Changemaker and the Finnish textile – and retail unions, form the national CCC coalition in Finland. This coalition is the 15th to join the European Clean Clothes network.
For more information in Finnish on Puhtaat Vaatteet, Clean Clothes Campaign Finland, please see: