Belgian CCCs Point the Way to a Clean T-Shirt
Perhaps the biggest buyers of t-shirts aren't individuals, but organisations. To promote an event or a conference or perhaps the launch of a new campaign, they want a commemorative t-shirt.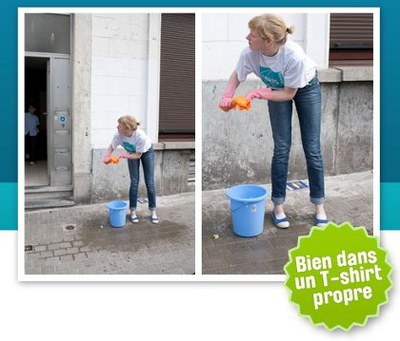 Organisations often ask the Clean Clothes Campaign where they can order 'clean' promotional t-shirts or garments.  To make the answer simple, the Belgian CCCs have introduced a new website that enables organisations easily and quickly to make contact with companies that are engaged with their suppliers to help ensure that their t-shirts are made under good working conditions.
The website, which is in French and Dutch, offers a form to request a price quote from retailers or producers that are members of the Fair Wear Foundation (FWF).  Alternatively, organisations can contact other retailers with a specific request to purchase promotional t-shirts from FWF member companies.  In this way, the Belgian CCCs hope to encourage these laggard retailers to follow the path toward greater respect for workers' rights and improved labour conditions in their supply chains.  The website also features information about Fair Trade and cooperatively owned producers such as the Solidarity Factory in Thailand.
The website targets associations, event organisers, trade unions, companies, public administrations.  Through links to the Belgian CCCs websites, visitors will find information about the supply chain, labour conditions, commitments of the main producers, and possible alternatives for consumption and actions.  The website also emphasizes the impact of end-buyer practices to promote good labour conditions.