Which brands care about workers' safety?
In August 2021 brands and unions agreed on a new International Accord that would continue the life-saving work of the Bangladesh Accord to make factories safe after the Rana Plaza collapse. This new agreement will furthermore allow for the expansion of the work to other countries. A list of companies that have signed on to the agreement, that started to work on 1 September 2021, can be found below. All of the brands that have not yet signed the Accord continue to put workers' lives at risk and we urge them to sign on as soon as possible.
This list was last updated on 25 November 2021. There are 152 signatories to the International Accord. 

Scroll down or click here to take action to tell more brands to sign on!

*These logos represent only a selection of the brands that have signed on
Companies that signed the new International Accord:
Adidas
AEO Inc. (American Eagle, Aerie)
Åhléns AB
ALDI Einkauf SE & Co. oHG (Trader Joe's)
ALDI South
America Today
APG & Co
Artsana (Chicco)
ASOS (Topshop, Miss Selfridge, HIIT)
BåstadGruppen (former Sandryds)
Baumhueter International
Bel & Bo
Belconfect
Benetton
BESTSELLER (VeroModa, Only, Jack & Jones)
Big W
Boohoo (Burton, Dorothy Perkins, Wallis, Debenhams)
Brandco Management Ltd
Brands Fashion GmbH
Brothers AB
C&A
Carrefour
Cassis Paprika
Chicca Body-Fashion GmbH & Co. KG
Cotton On
Country Road Group Pty Ltd
David Jones Pty Ltd
David Peyser, MV Sport/The Game
Daytex Mode GmbH
DELTEX Handelsgesellschaft mbH
Distra Warenhandelsgesellschaft mbH & Co. KG
DK Company Vejle A/S
El Corte Inglés
Ernsting's family GmbH & Co. KG
ESPRIT
Euro Shoe Groep
Face to Face
Fanatics Apparels
Fast Retailing Co. Ltd.
Fat Face
Florett Textil GmbH & Co. KG
Forever New Clothing
G-Star
GALERIA Karstadt Kaufhof GmbH
GEBRA Nonfood Handelsgesellschaft GmbH & Co. KG
G.Gueldenpfennig GmbH
Gina Tricot
HALO
Hanesbrands
Heinrich Obermeyer GmbH & Co. KG (Blue Seven)
HEMA
Hennes & Mauritz AB (H&M)
Holland House Fashion
Hugo Boss
Hummel
Hunkemöller B.V
ICA Sweden AB
ID Rexholm A/S
INDITEX (Zara, Bershka, Massimo Dutti, Pull & Bear, Oysho)
INTERSPORT AB
JBC
JOGILO N.V.
John Lewis
Juritex Import-Export GmbH
KappAhl
Kesko Corporation
KiK Textilien
Kmart Australia
Lidl (Gesellschaft und Umwelt International)
L. ten Cate
Loblaw (Joe Fresh)
Low Land Fashion International B.V.
LPP (Reserved, Cropp)
Mainpol GmbH
Mango
Marks & Spencer
Matalan
Metro AG
Miles / Hanson Im- & Export
Mitchell & Ness LLC
MONOPRIX
MS Mode
MQ MARQET AB
NA-KD (Nakdcom One World AB)
N Brown Group
New Frontier GmbH
New Look Retailers Ltd
New Wave Group AB
NEXT
Nutmeg (Wm Morrison Supermarkets plc)
OLYMP Bezner KG
O'Neill
Orsay GmbH
Otto Group
Ouray Sportswear
Outerstuff Ltd
OVS S.p.A.
Padma Textiles Ltd.
Peak Performance AB
Perrin, Inc (New Agenda)
Polarn O. Pyret AB
Prénatal Retail Group (Prénatal; BimboStore, Mawi)
Prénatal Moeder en Kind B.V.
Primark
Princess-Gruppen AS
PUMA
PVH
PWT Brands (Texman)
Reima Oy
River Island
s.Oliver Bernd Freier GmbH & Co. KG
Sainsbury's
Salling Group
Schijvens Corporate Fashion
Schmidt Group
Seidensticker Group
SOLO INVEST SAS
Stadium AB
Stockmann Group/Lindex
Suprema Strick- und Wirkwarenfabrik GmbH
Sussan Group  
T. Kwaspen BV
Takko Holding GmbH
Tally Weijl AG
Target-Australia
TCC Global N.V.
Tchibo GmbH
Tesco
Tex Alliance
Texsport
The Sting B.V.
The Very Group (Shop Direct)
Tokmanni Oy
Top Grade Int.
Trademark Textile A/S
Tricorp Workwear
Triumph
TVM Europe
Upscape Apparel 
VAN DER ERVE
Varner Group
VDR Fashion Group B.V.
Voice Norge
W Republic Apparel
WE EUROPE BV
Wibra Supermarkt B.V.
Workwear Group
Wuensche Group
Y'Organic
Zalando 
Zeeman textielSupers B.V.
Zephyr (Lakeshirts Zephyr LLC)
Companies that have failed to sign the International Accord:
Abercrombie & Fitch
Alma Mater Wear
Amazon
Amerex Brands
ASDA (George)
Auchan
Avon Cosmetics
Björn Borg
Camaïeu
Camp Valley
Canadian Tire
Carter's
Casino Global Sourcing
Cellbes
Cencosud Paris and Johnson
Cencosud Supermercados
Cherokee/Hi-tech sports
Chicorée
Columbia Sportswear
Desigual
Distra
Disney
Dream Wave
E Leclerc
Ellos Group
Epic Group
Fristad Kansas Sverige AB
Fruit of the Loom
Gap Inc.
Gekås Ullared
Giant Tiger
Gildan
Gloster
Grayers
Haggar
Hakro GmbH
Helly Hansen
Hudson's Bay Company
IKEA
Intersport International
Jachs New York
Jack Wolfskin
JC Penney
JD Williams and Company
Jules
Just Brands
Kaufland
KIABI
Kid Interior
Killtec Sport - und Freizeit GmbH
Knights Apparel
Kohl's
Kontoor Brands (Wrangler, Lee)
Kromtex
LC Waikiki
Levi's
Macy's
Madness Sport
Mammut
Manor
Mavi
Mayoral Moda
Miss Etam
Missguided
Mothercare
Nelly
Nordstrom
Peek & Cloppenburg
RAWE Moden
Rewe Group
Ross Stores
Sears
Target USA
The Children's Place
The Just Group
TJX (TJ Maxx, TK Maxx)
Tom Tailor
Uhlsport
Uncle Sam GmbH
Under Armour
VF Corporation (Timberland, The North Face)
Walmart
Zebra

*These logos represent only a selection of the brands that have failed to sign
Take Action
The brands on the negative side of this tracker will need your encouragement to do the right thing. Write
a direct e-mail
to these brands to tell them that workers' lives must have their absolute priority.
Want to do more? Send out
this tweet
to tell Levi's to #SignTheAccord!
You can tell IKEA that #IKEAmustsign by sending
this tweet
.
It's time for brands to sign this strong and enforceable agreement to keep their workers safe, in and soon also beyond Bangladesh.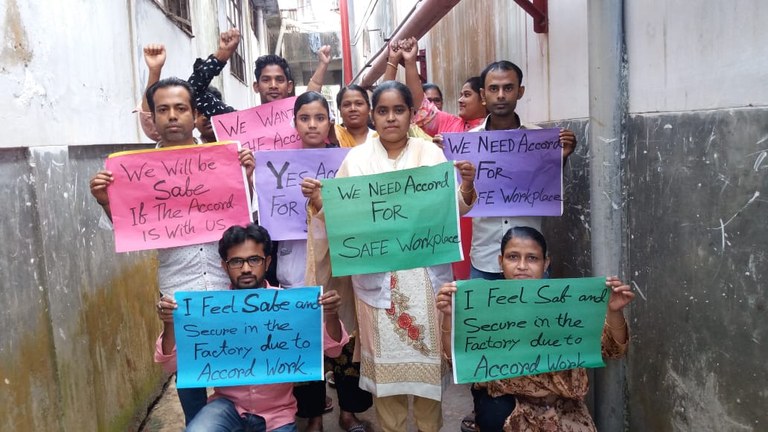 About the Bangladesh Accord & the International Accord

The Accord on Fire and Building Safety in Bangladesh, established after the Rana Plaza collapse of 24 April 2013, has done crucial work to make factories in Bangladesh safer. It could do so because brands signed a legally binding agreement with trade unions obligating them to fulfil their promises. Despite the clear successes of the Accord, it took many months to negotiate a new agreement, but at the end of August 2021 the negotiating brands and unions finally announced a new International Accord which will allow for expansion of the work beyond Bangladesh.
Read more about the Accord in this extensive Q&A.